Tweaking Traditional Thanksgiving Foods
Posted by Donna Rouviere Anderson |
November 22, 2021
Photos by Forrest Anderson
Thanksgiving is my favorite holiday for getting together with family and friends, but our family is a bit ambivalent about the food. Some of us are not huge fans of traditional roast turkey, cranberry sauce and candied yams.
On an ordinary day, our diet leans heavily toward Chinese, Mexican, Italian and barbecue foods, as well as salads. We almost never eat a classic roasted meat, gravy and potatoes meal. Dessert wise, we typically lean in the direction of French pastries, ice cream, brownies and peanut butter cookies, none of which are traditional for Thanksgiving.
Our diet is pretty typical. Worldwide, the world's most popular cuisine is Italian, with Chinese and Japanese food not far behind. American food ranks no. 7, but that typically means burgers, fries and hot dogs, not roast turkey.
Nonetheless, we can't give up the homey tradition of a nicely browned turkey with all the trimmings and pumpkin pie.
Instead, like most people, we tweak – adapting traditions to our tastes so we can enjoy both the traditions and eat what we like. Here are some of our adaptations:
Scarborough Fair Barbecued Turkey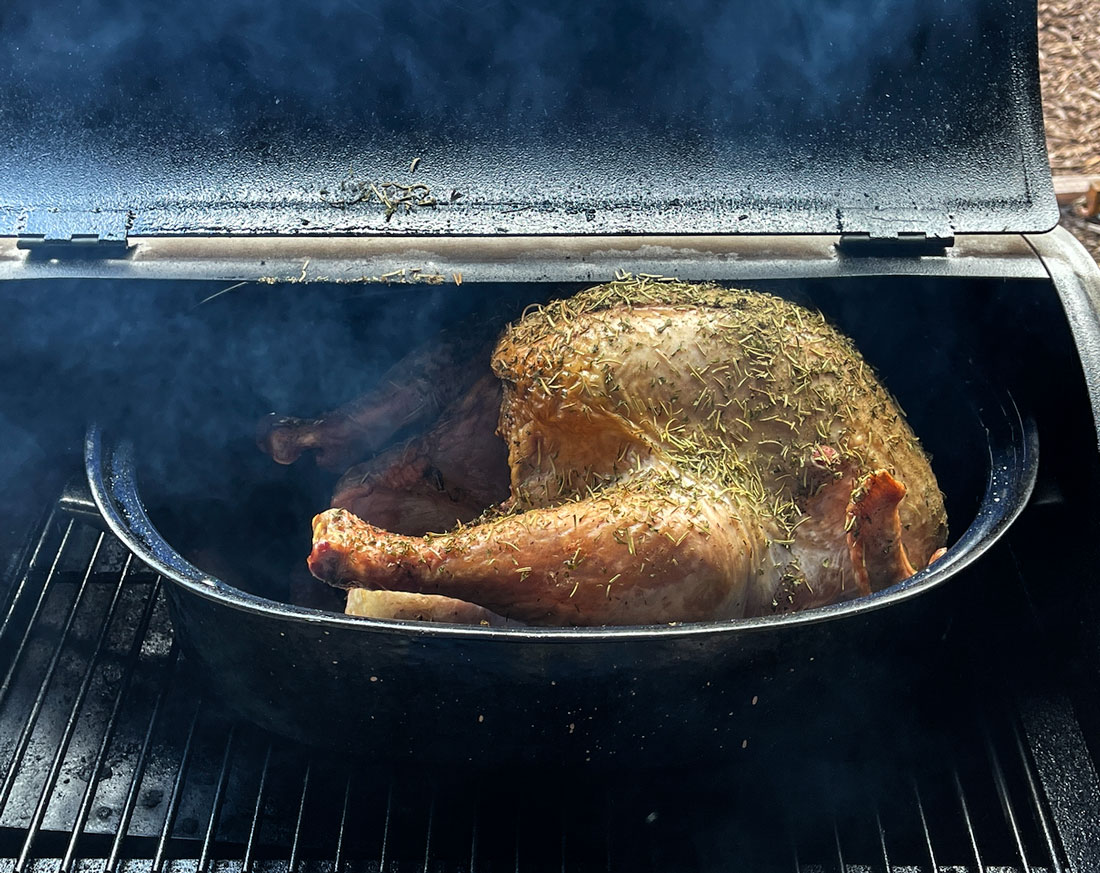 "Are you going to Scarborough Fair?
Parsley, sage, rosemary, and thyme…"
The 17th century English ballad Scarborough Fair, famously sung in the 1960s by Simon & Garfunkel and adapted by other artists such as Bob Dylan, is about a man trying to attain his true love. The herbs mentioned in the chorus were symbolic of the Middle Ages - parsley signified comfort, sage strength, rosemary love, and thyme courage.
The song, which evokes centuries of English tradition, has become the recipe for our family's barbecued Thanksgiving turkey.
Remove the innards and rinse the turkey. Rub olive oil, parsley, sage, rosemary and thyme on the turkey, pop it in a roasting pan and then onto the heated grill, lower the lid and barbecue it, following the instructions that come with the grill for your weight of turkey. Make sure you do this early enough for it to be done in time for dinner.
Our barbecued turkey comes out moist and tasty, with a smoked flavor. The leftovers are delicious in enchiladas, tacos, tamales, main-dish salads and sandwiches.
Cranberry Salad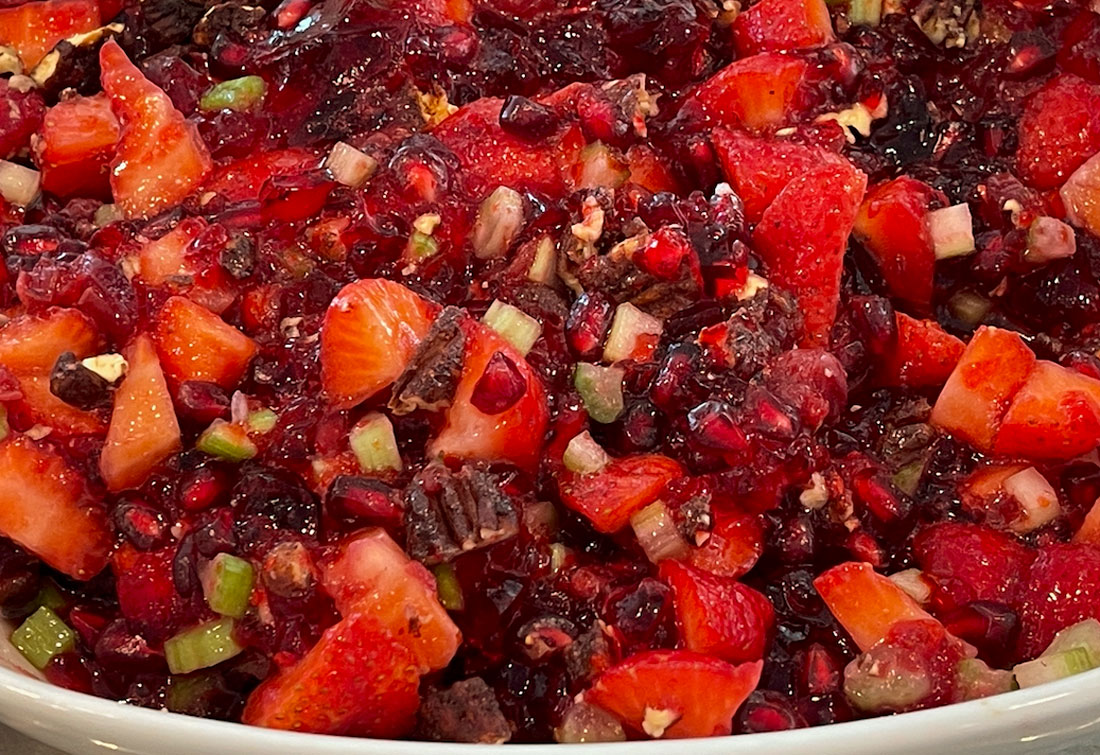 As young college students, my husband and I were befriended by our journalism professor Nelson Wadsworth and his wife Gayle. They remained among our dearest friends ever since. Gayle was a wonderful cook and she and Nelson opened their doors at Thanksgiving to poor starving students. She also shared her delicious recipes. This is my adaptation of her cranberry salad, for those who aren't crazy about standard canned cranberry sauce. I have made it every year since she shared the recipe with me. She passed away a few years ago, and we now make it at Thanksgiving in memory of her.
2 cups water
2 tbsp. sugar
1 12-oz. package fresh cranberries
1 6-oz. package strawberry, cherry or raspberry gelatin
1 8.25 oz. can crushed pineapple, with juice
11/2 cup chopped celery
1/2 cup walnuts or chopped pecans
Optional garnishes: sour cream and mandarin orange slices

In a medium saucepan, bring the water, sugar and cranberries to a boil. Boil for 5 minutes. Remove from heat and stir in the gelatin until dissolved. Refrigerate until set up. Add the crushed pineapple, celery and walnuts. If desired, garnish each serving with dollops of sour cream and orange slices.
Low-sugar Pumpkin Pie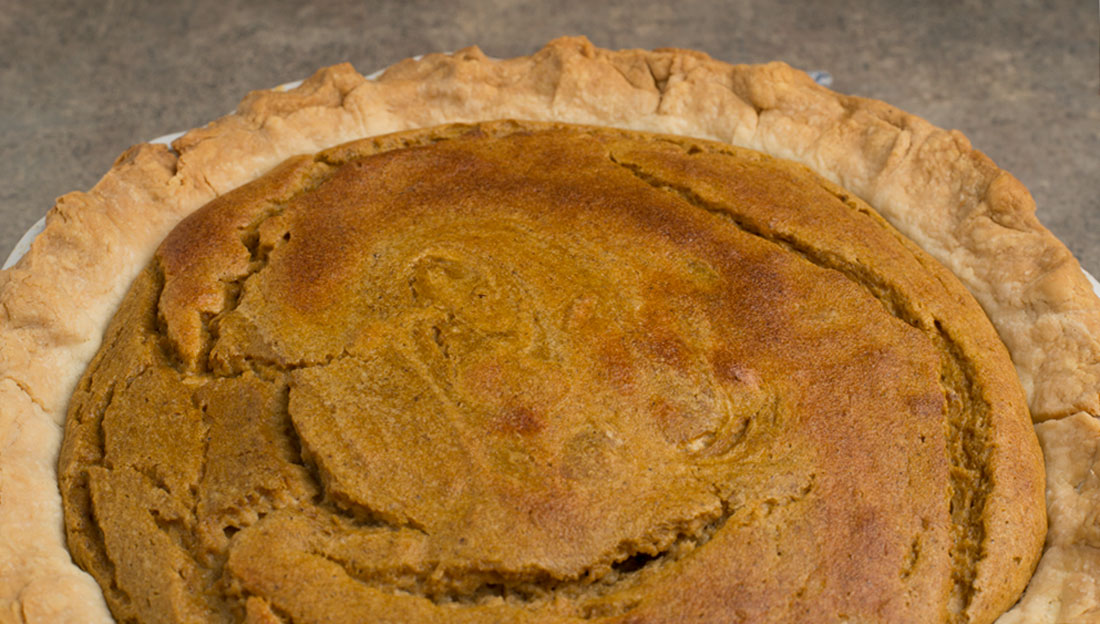 I came across this recipe while our family was young and forming our own holiday traditions, and I appreciated its relatively low sugar content. It has since been a family favorite. (Okay, okay, so it isn't the world's best looking pie. That's what whipped cream is for. It's still delicious.)

1 unbaked 9-inch pie shell
1 15-oz. can pumpkin
1/2 tsp. cinnamon
1/4 tsp. nutmeg
1/4 tsp. ground ginger
1/4 tsp. allspice
1/2 tsp. salt
1/4 cup sugar
1/4 cup brown sugar
1/2 tbsp. cornstarch
2 eggs
1 cup evaporated milk

Preheat oven to 375 degrees F.
Blend pumpkin, cinnamon, nutmeg, ginger, allspice, sugar, salt, cornstarch and brown sugar in a bowl. Add eggs and evaporated milk. Mix well.
Pour into unbaked pie shell. Bake for 50-60 minutes or until a knife inserted in the center comes out clean. Cool. Top with whipped cream and serve.

For a pumpkin cream cheese pie variation, beat 1 8 oz. package cream cheese and the sugar, salt and spices until fluffy. Add the eggs, one at a time, beating well for each, then beat in the pumpkin and vanilla. Pour into the pie shell and bake for 35 minutes at 350 degrees F. After the first 20 minutes of baking, place the pecan halves around the edges for garnish. Cool on a rack, chill for 3-4 hours and serve with whipped cream and a sprinkle of ground nutmeg.
Awesome Pie Crust

The above pie works well with store-bought pie crust, but if you want to make your own crust, here is our favorite pie crust. We use this crust for sweet and savory pies, turnovers and Cornish pasties. I have shared it before, but it's worth repeating.

1 cup all-purpose flour
1/4 lb butter
1/4 cup sour cream

Mix all ingredients and chill for 1/2 hour. Roll out and place in a pie pan. Bake 10 min. at 425 degrees F for a cream pie. For a fruit pie, bake as instructed in the recipe.
I find many of the traditional vegetable sides for Thanksgiving too heavy or sweet, so a solution is to add salads to the menu. Here are three options:
Cran-Orange Salad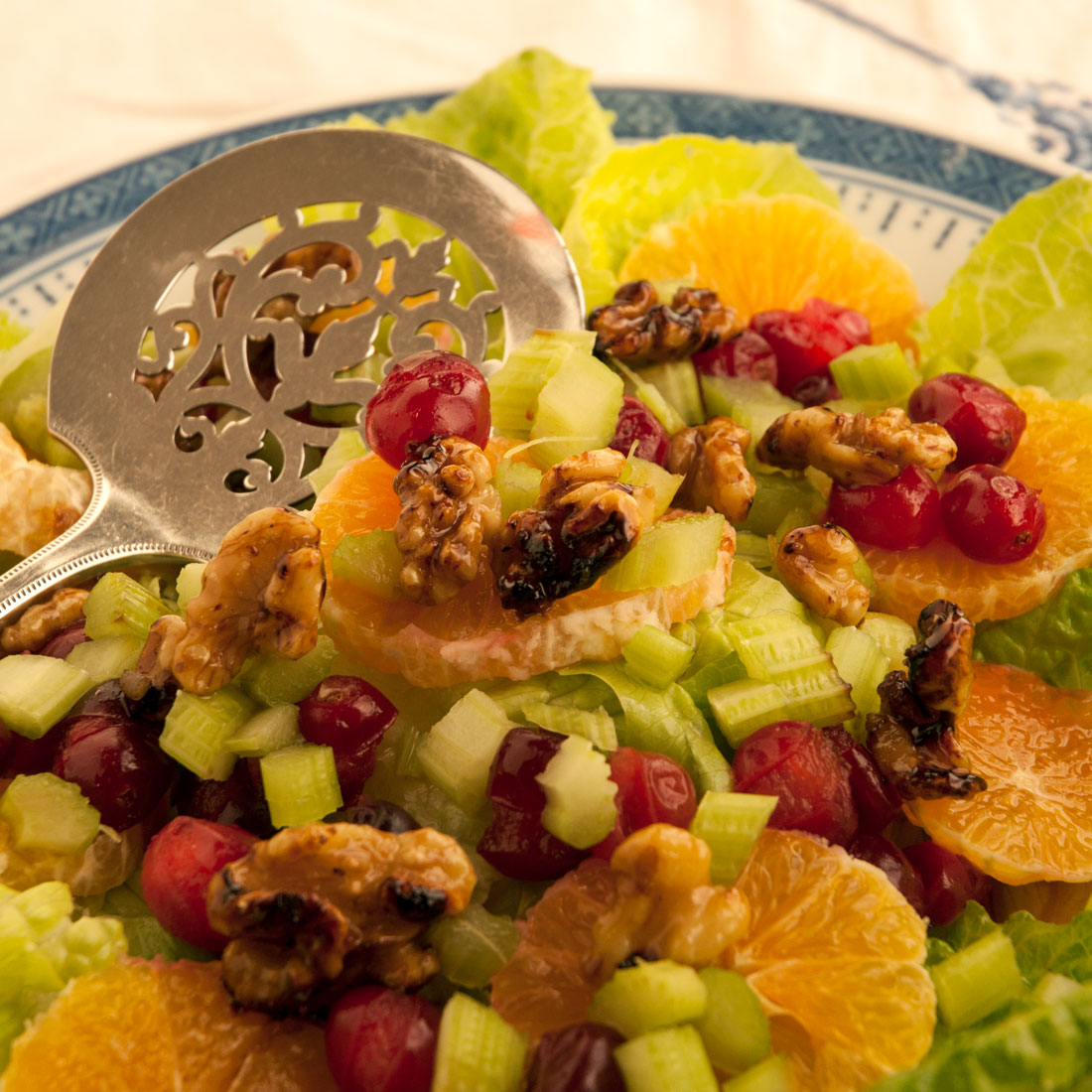 2 cups cranberries
1/2 cup water
1/4 cup sugar
1/4 cup white vinegar
2 tbsp. walnut or salad oil
2 tbsp. honey
6 cups torn spinach
3 oranges, peeled and thinly sliced
1/2 pound celery, in thin strips
1/4 cup broken walnuts, toasted

In a saucepan, combine cranberries, water and sugar. Bring to a boil, stirring, cover and gently boil about 5 minutes until cranberry skins pop. Transfer mixture to a mixing bowl. Cover and chill.

For dressing, drain cranberries, reserving 1 tbsp. liquid. Set cranberries aside. In a screw-top jar, combine reserved cranberry liquid, white vinegar, oil and honey. Cover and shake well.

Arrange spinach on salad plates or in a bowl. Arrange orange slices and cranberries atop lettuce. Top with celery and then walnuts. Shake dressing and pour over salad.
Mandarin Orange Salad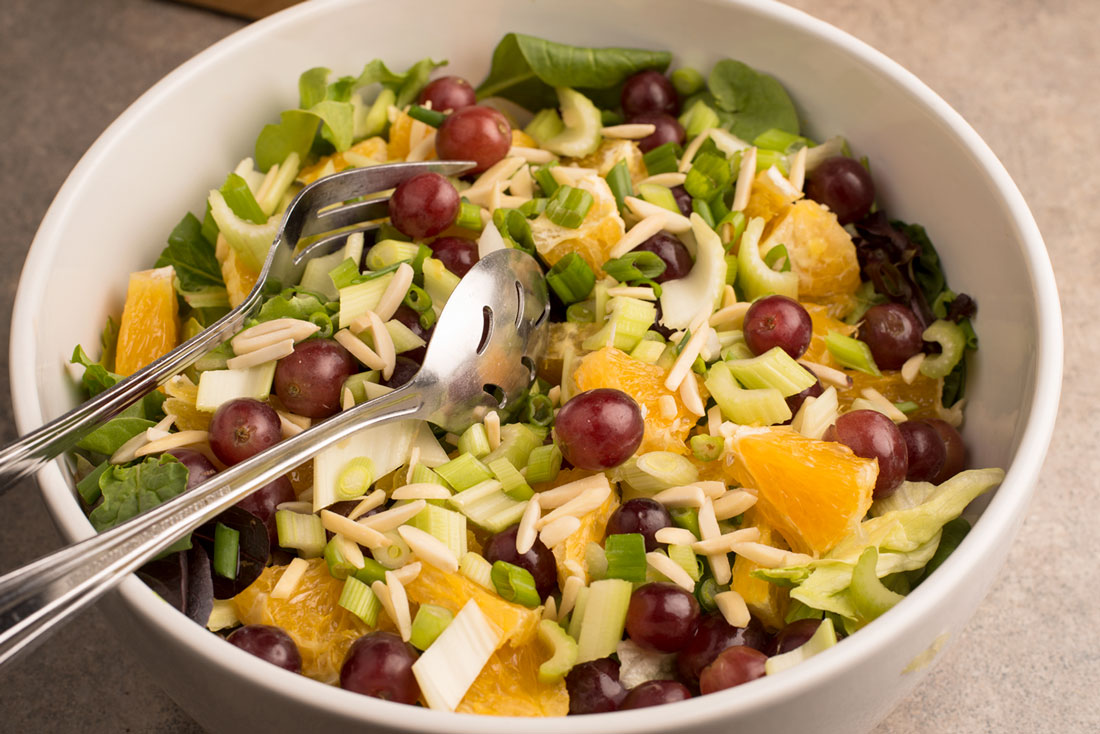 8 cups torn salad greens
2-3 ribs celery, cut diagonally
1 8-oz can Mandarin oranges, drained
2-3 green onions, chopped diagonally
1 cup seedless grapes
1 cup almonds or pecans, chopped

Dressing:
2 tbsp. sesame seeds, toasted
1 tbsp. sugar or honey
1 tsp. salt
Dash pepper
1/2 cup salad oil
2 tbsp. vinegar

Clean and dry greens. Toss all ingredients except dressing together. Mix dressing ingredients. Just before serving, shake dressing well and toss the salad with just enough to moisten it.
Fruit Coleslaw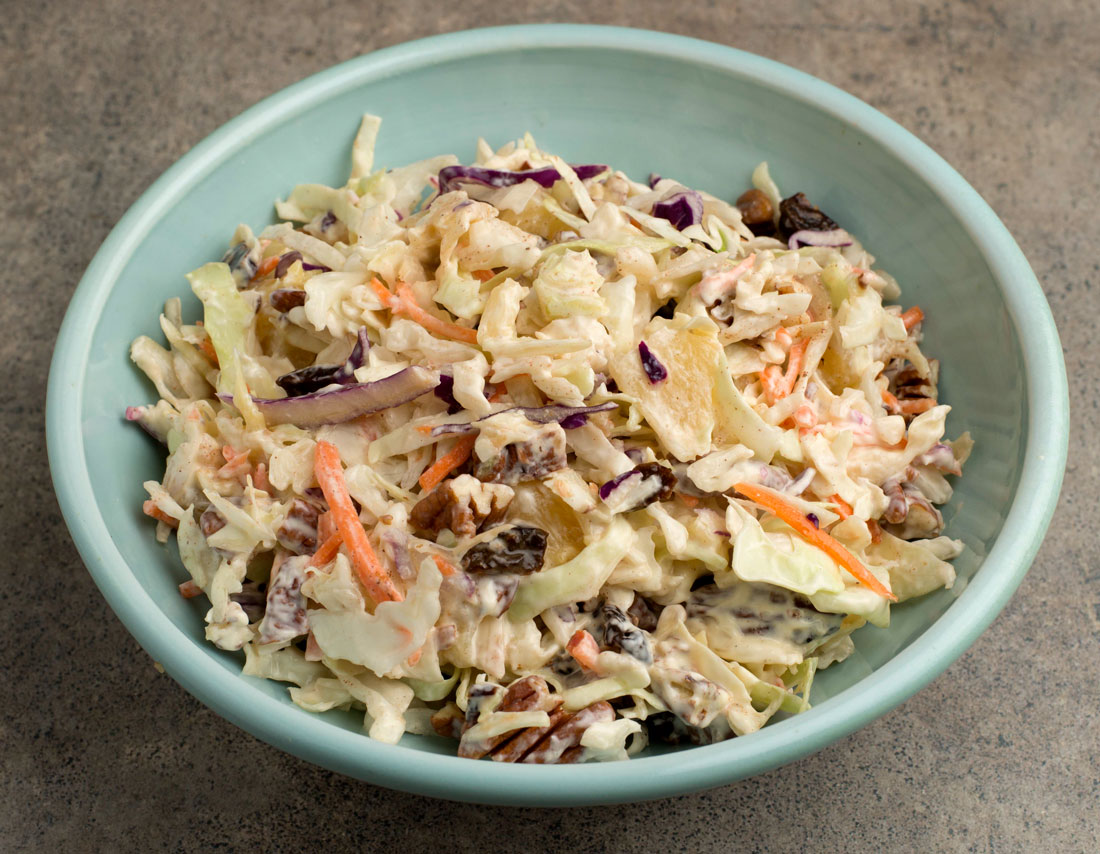 Coleslaw at Thanksgiving? The key to transforming this easy everyday salad into a popular holiday dish is festive-looking fruit such as pomegranate seeds, oranges, and pineapple. For time-crunched cooks, it's incredibly easy and everyone loves it.
3 cups prepared coleslaw mix
Pineapple chunks, an orange, a nectarine or an apple cut into chunks, grapes, blueberries, cherries, pomegranate seeds or dried fruit
Chopped walnuts, pecans or slivered almonds
1/3-1/2 cup mayonnaise
1 tsp. cinnamon

Toss the lot into a bowl and stir to mix. Experiment with fruits, nuts and dressings depending on what is in season and close at hand. I make this salad in half a dozen different ways.
Baked Sweet Potatoes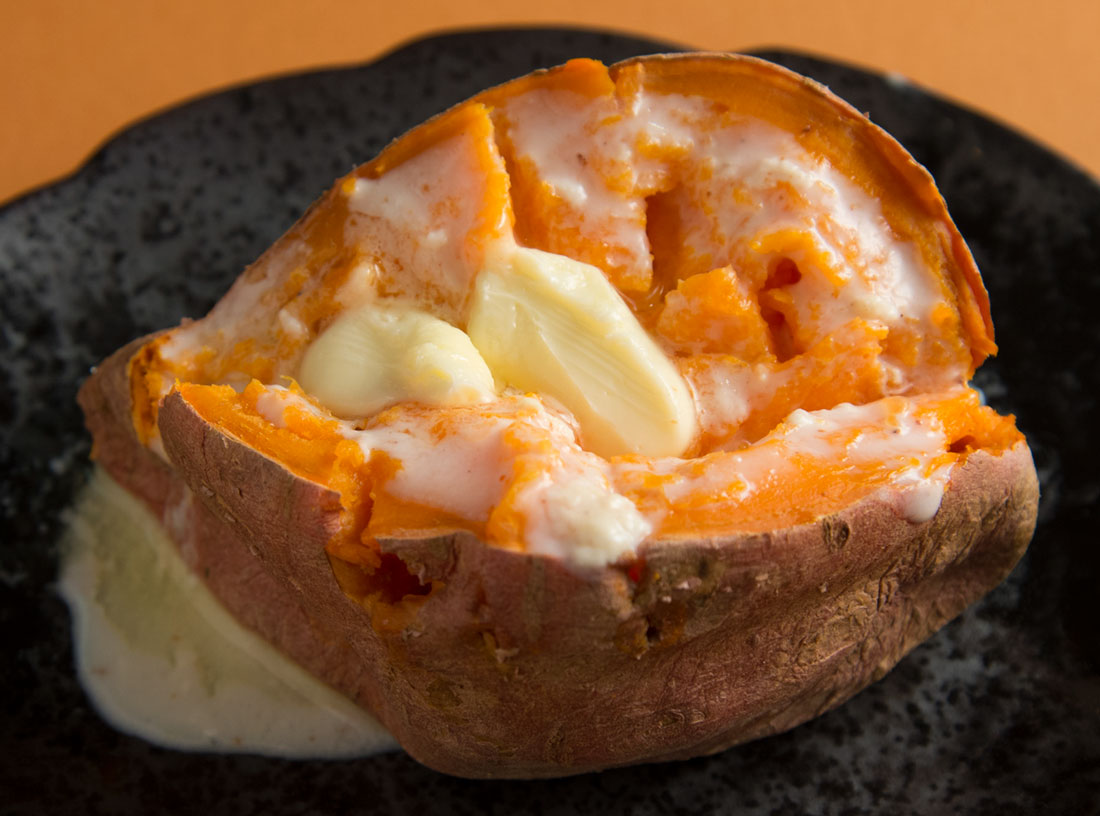 Candied yams are traditional and some people love them, but others find them too sweet. If you have family members who like sweet potatoes but not candied yams, offer them an easy option – bake sweet potatoes in their skins until soft and serve them with butter and salt and pepper.
I'm all for holiday traditions, but they need to pull their weight from a culinary point of view. If you have long-standing traditional recipes that your family isn't crazy about, don't feel like you have to keep soldiering through them year after year. It's time to tweak them and bring them closer in line with what you enjoy eating. After all, a holiday is all about enjoying time and food with family and friends.
My solution for family members who balk at changing traditional holiday menus and recipes is to ask them to bring a dish or two that they especially want to have at the dinner. Then I also serve other options that the rest of the family enjoys.
Check out these related items