Cozy Soups
Posted by Donna Rouviere Anderson |
January 01, 2016
Photos by Forrest Anderson
The winter weather is past, but there is still room an occasional bowl of soup. Here are three recipes that are ideal for an evening meal and leftovers for lunch the next day:
Let's start with the soup pictured above:
Chili with Chicken
INGREDIENTS
1 pound dry navy beans, other white beans or mixed beans, presoaked
6 cups chicken broth
1/2 large onion, chopped
4 cloves garlic, minced
1 tsp. white or black pepper
1 tsp. dried oregano
1 tsp ground cumin
1 can (4 oz) diced green chiles, drained
3-4 cups shredded or diced cooked chicken
1/2 tsp. salt
TOPPINGS
Mango or Tomatillo Salsa
Sour cream
Chopped green onions
Grated cheese
Lime wedges
Tabasco sauce
Doritos or tortilla chips
In a large soup pot over high heat, combine drained beans, 5 cups of the water, onion, garlic, pepper, oregano and cumin and bring to a boil. Reduce heat to medium low and simmer, covered, for 1½ to 2 hours until beans are tender. Stir occasionally. Add chiles, chicken and salt. Simmer, uncovered, ten minutes longer. Add 1 cup of water if too thick. Pass around toppings.
Curried Salmon Soup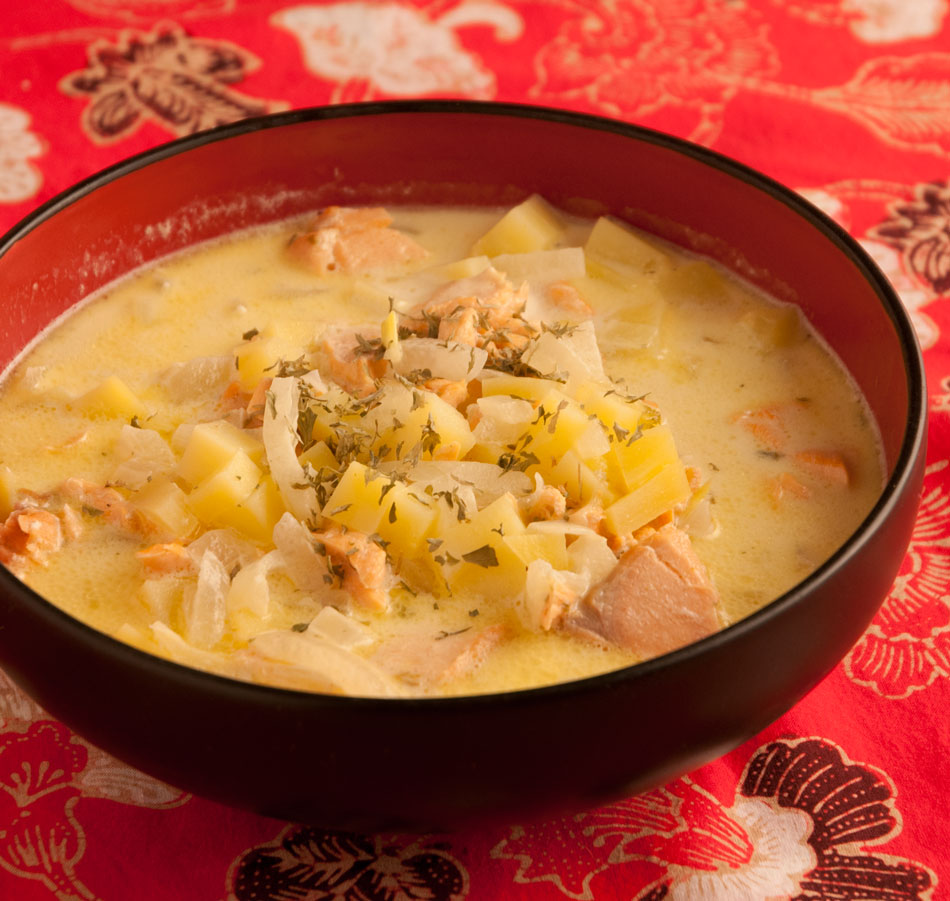 INGREDIENTS
1/4 cup butter
2 onions, roughly chopped
1/2 tsp. mild curry paste or 1 or 2 tsp. curry powder
2 cups water
2/3 cup apple sauce
1 1/4 cups cream
1/2 cup creamed coconut, grated or 1/2 cup coconut cream
2 potatoes, cubed
1 lb. salmon fillet, skinned and cut into bite size pieces
4 tblsp. chopped fresh flat leaf parsley or 4 tsp. dried parsley
Salt and black pepper
DIRECTIONS
Melt the butter in a large pan, add the onions and cook for 3-45 minutes, until they begin to soften. Stir in the curry paste or powder. Cook for one minute more.
Add the water, apple juice, cream and coconut cream and salt and pepper. Bring to a boil, stirring until the coconut cream has dissolved.
Add the potatoes. Simmer, covered, for about 15 minutes or until they are almost tender.
Add the fish. Simmer for 2-3 minutes until just cooked. Add the parsley and adjust the seasoning. Serve immediately.
Creamy Shrimp and Spinach Stew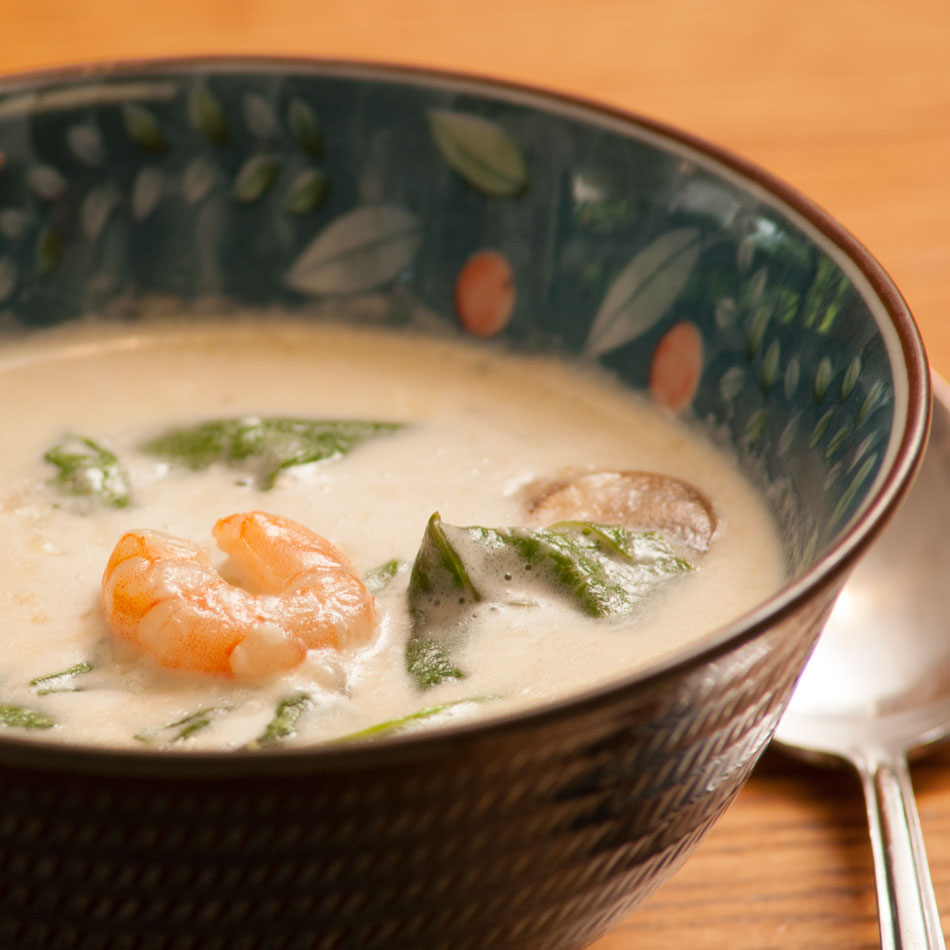 INGREDIENTS
8 oz. shrimp, peeled and deveined
1 cup mushrooms
1 medium onion, chopped
1/4 tsp. minced garlic
2 tblsp. butter
3 tblsp. all purpose flour
1 bay leaf
1/8 tsp. ground nutmeg
1/8 tsp. black pepper
2 cups chicken broth
1 cup half and half, light cream or milk
3/4 cup shredded cheese (3 oz.), mozzarella or other similar cheese
2 cups torn fresh spinach
DIRECTIONS
Rinse shrimp and set it aside.
In a medium saucepan, cook mushrooms, onion and garlic in butter over medium heat until tender. Stir in flour, bay leaf, nutmeg and pepper. Add broth and half and half. Cook and stir until mixture is thickened and bubbly.
Add shrimp. Cook for 2 minutes more. Add cheese and stir until it melts. Discard bay leaf. Stir in spinach. Serve immediately.
Check out these related items