The World is Flat (Bread)
Posted by Donna Rouviere Anderson |
August 19, 2019
Photos by Forrest Anderson
I had a small bread baking business when I was a teenager, helped along by an extended trucking strike that emptied the bread section of our local grocery store. My parents happened to have a supply of flour and wheat on hand, so they told me to go for it. I made bread when I got home from school, it rose and baked as I did my homework, and it was hot out of the oven and ready to sell to neighbors and friends by 5 p.m.
This began an obsession with artisan bread baking that has accompanied me around the world. No matter where we travel, one of the first things I do is to find out what kind of bread is available locally and sample it. A subset of that obsession is flatbread.
Flatbread is the simplest, most satisfying and most versatile type of bread. It can be made with a variety of grains, be leavened or unleavened, baked in an oven, fried, grilled over hot coals or cooked on a skillet or griddle. It can be eaten fresh or frozen and thawed later to eat. Unlike many more finicky types of breads, it doesn't have to look perfect. An infinite variety of toppings, from butter and jams to salsas, dips, meat sauces, cheeses and salads can be eaten on or with flatbreads.
Flatbread probably was the first bread. Among the earliest evidence of flatbread were crumbs found at a site in Jordan that has been dated to 12,400 BC. Remnants of flatbreads have been found in tombs and archaeological sites and some have been analyzed to make modern recipes for flatbread. Flatbread is part of almost every culture – as tortillas in Mexico; oatcakes in Scotland; chapati and naan in India; laobing, mushu pancakes and a wide variety of other breads in China; flattbrod in Norway; injera in Ethiopia; matzoh in Israel; pita in the Middle East and on and on around the globe.
Bread, often in the form of flatbread, has been the staple of life from ancient times. Food historians believe that the custom of eating flatbread was spread by ancient nomads because it could be prepared quickly over a fire while on the move. It became a distinguishing characteristic of nomad societies and historians believe that the making of it diversified as people migrated from one area to another and traded with one another.
Grain was revered and associated with gods who were worshipped by the ancient Egyptians, Greeks, Romans and others. Its growing cycle and the process of baking were symbolic of life, resurrection and death; among the most common symbols of death is the sickle that was used for harvesting grain. In Judaism, flatbread takes the form of matzo, a rectangular crisp cracker known as the "bread of haste" because the early Israelite slaves took it with them when they fled bondage in Egypt. Matzoh is used during the Passover in commemoration of that event. In some Western Christian traditions, among them Roman Catholicism, unleavened bread is used for the central rite of the Eucharist. The Eucharist is derived from the Last Supper when Christ broke what is believed to have been unleavened bread during the Passover Seder just before his death. Bread is a symbol of both Christ and sharing for Christians. Christ's birthplace, Bethlehem, means "house of bread." The usage of unleavened vs. leavened bread was a significant source of contention between Western and Eastern Christian traditions, as Eastern Christians consider the use of leavened bread a symbol of the new covenant that Christ ushered in. The dispute was among the causes of the great schism of 1054 between Eastern and Western churches.
In many cultures in the Islamic world, flatbreads are one of the most common foods. Bread is respected as a blessing of God and a food to be shared with the less fortunate. Flatbreads are among the foods offered to ancesters on home altars in some areas of Asia.
Flatbread is at the same time a thoroughly modern, easy and satisfying base for breakfast, lunch or dinner. Flatbreads are eaten daily by a large percent of the world's population, including in the United States where pizza and tortillas are among the most popular foods.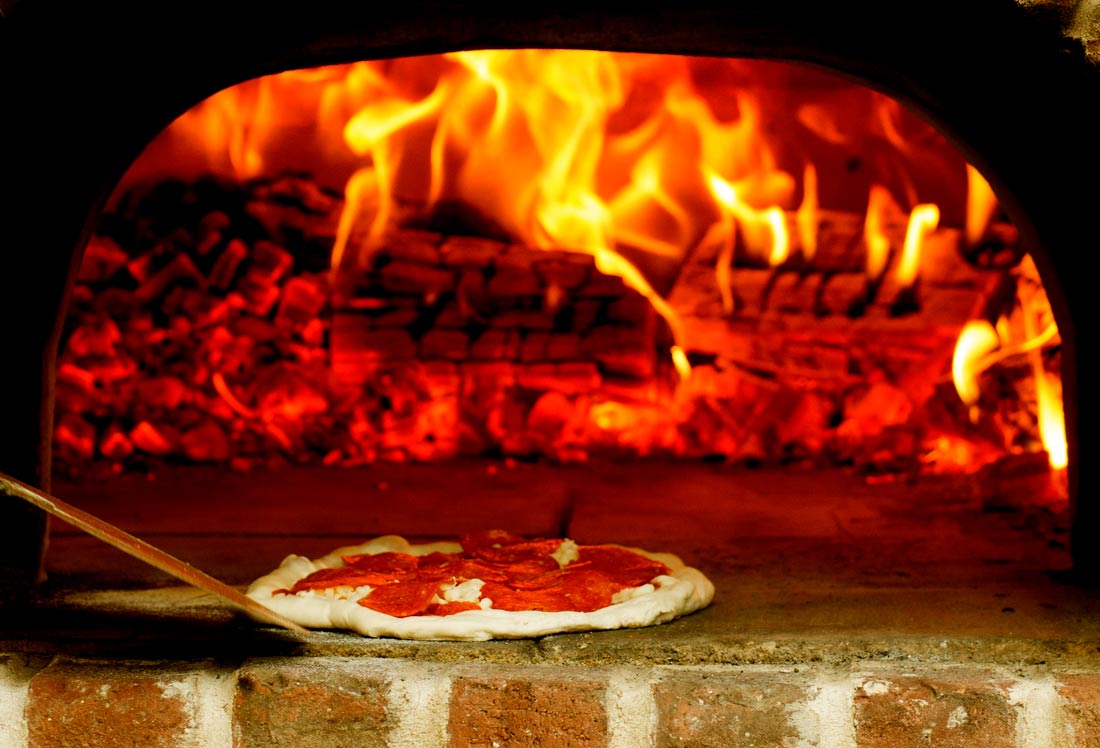 Pizza ready to go into a hot pizza oven.
At the time of the Spanish conquest, the Aztecs' main bread was corn "tlaxcallim," a flatbread that dates back thousands of years BC. The Spanish called the breads tortillas or little cakes, and introduced wheat for the making of flour tortillas. Today, Americans consume some 85 billion tortillas annually, not including tortilla chips. They are the most popular ethnic type of bread.
In cold, damp European climates, rye and oats grow better than wheat does, and flatbreads developed that were made of those grains. Scandanavians made grain into flatbreads, poked holes in it and strung it up in their houses to use until the next harvest because the bread kept better than the grain in its natural state.
These are some of my favorite flatbread recipes:
Naan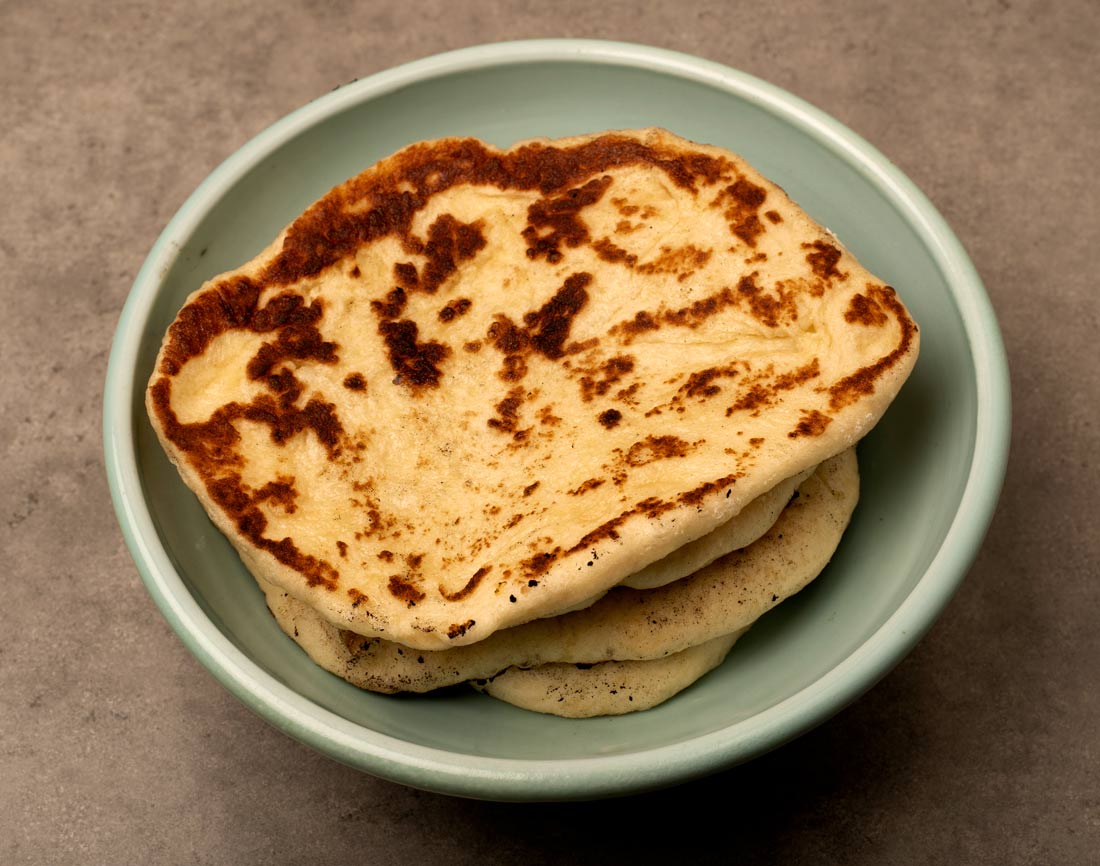 This delicious bread is eaten all over South Asia, stuffed with meat or vegetables, fruit, nuts, or just buttered. It traditionally is baked in a tandoor oven which heats up to 900 degrees F. I make it in a regular oven cranked up to its highest heat, but some people prefer to make it in a skillet instead. You also can cook it on a grill. The word "naan" in Old Persian means bread. Naan traditionally was made all across central Asia – India, Pakistan, Afghanistan, Myanmar, Uzbekistan, Tajikistan, Iran and Xinjiang, China - but now is eaten all over the world. Naan often contains milk or yogurt, which give it a sourdough-type flavor and soft texture. The difference between homemade naan and naan bought at the store is enormous.
INGREDIENTS
1 package active dry yeast
1 cup warm water
1/4 cup sugar
3 tbsp. milk or yogurt
1 egg, beaten
2 tsp. salt
4 1/2 cups bread flour
2 tsp. minced garlic, optional
DIRECTIONS
In a bowl, dissolve yeast in warm water. Let stand about 10 minutes, until frothy. Stir in sugar, milk, egg, salt and enough flour to make a soft dough. Knead for 6 to 8 minutes on a floured surface. Place dough in an oiled bowl, cover with a damp cloth, and set aside to rise. Let it rise 1 hour, until the dough has doubled.
Punch down the dough, and knead in garlic. Pinch off handfuls of dough about the size of a golf ball. Roll into balls, and place on a well-oiled baking sheet. Cover with a towel, and allow to rise until doubled in size, about 30 minutes.
Lightly oil a griddle or skillet. Place the dough on it, cook for 2-3 minutes or until puffy or lightly browned. Brush the uncooked side with butter and turn it over. Brush cooked side with butter, and cook until browned, another 2 to 4 minutes. Remove from griddle or skillet, and continue until all the naan is cooked.
Alternatively, you can bake it in an oven on the highest heat. Cook it for 2-3 minutes, then turn it over and bake it for 2-4 minutes. Take it out and brush it with butter.
Chapati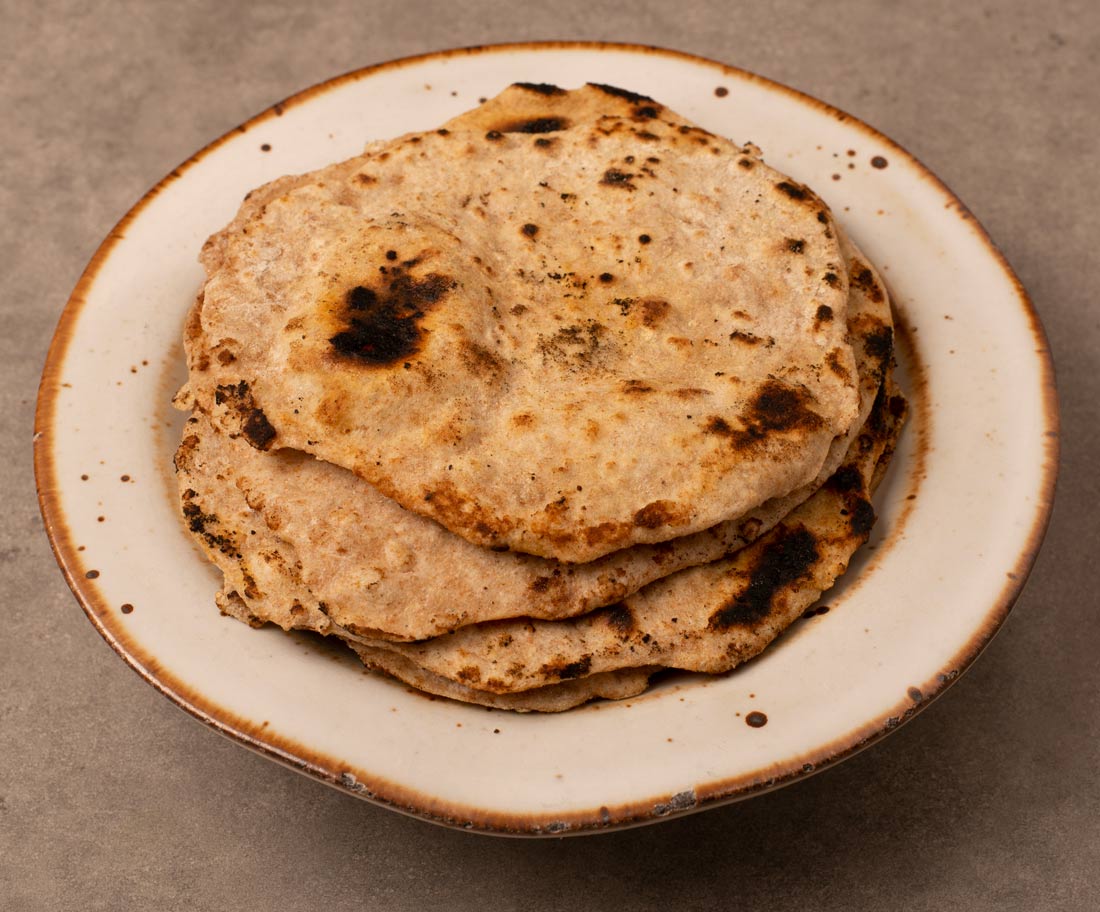 Chapati, made without yeast, is a traditional bread of South Asia and parts of Africa. It is a great side for meat dishes with sauces and soups, stews and curries.
INGREDIENTS
1 cup whole wheat flour plus 1 cup unbleached all-purpose flour
1-1 1/4 cups water
All-purpose flour for rolling
Butter for serving
DIRECTIONS
Mix the flours in a bowl. Add 1/2 cup of the water and mix. Add another 1/4 cup and mix. Add water, a little at a time, untl the dough forms a ball. Knead the dough on an unfloured work surface until it is soft and slightly sticky, about 5 minutes. If it is dry, dip your fingers in water and knead the water into the dough. Put the dough into a clean bowl, cover with a damp towel and let rest at least 10 minutes and up to 30 minutes.
When the dough has rested, prepare a bowl of all-purpose flour. Break off a piece of dough a lttle smaller than a golf ball. Toss it in the bowl of flour and roll it in your hands to make a ball. Flatten the ball into a 2-inch disk. Roll the disk into a thin round 5-6 inches in diameter. Repeat with the other chipatis as you cook them on a griddle or skillet over medium high heat until the top darkens slightly and bubbles from under the surface, about 1 minute. Flip the chapatis and cook on the other side until you see more bubbles, about 30 seconds. Keep cooking and pressing them down until they are well browned and swell like a balloon.
Bhaturas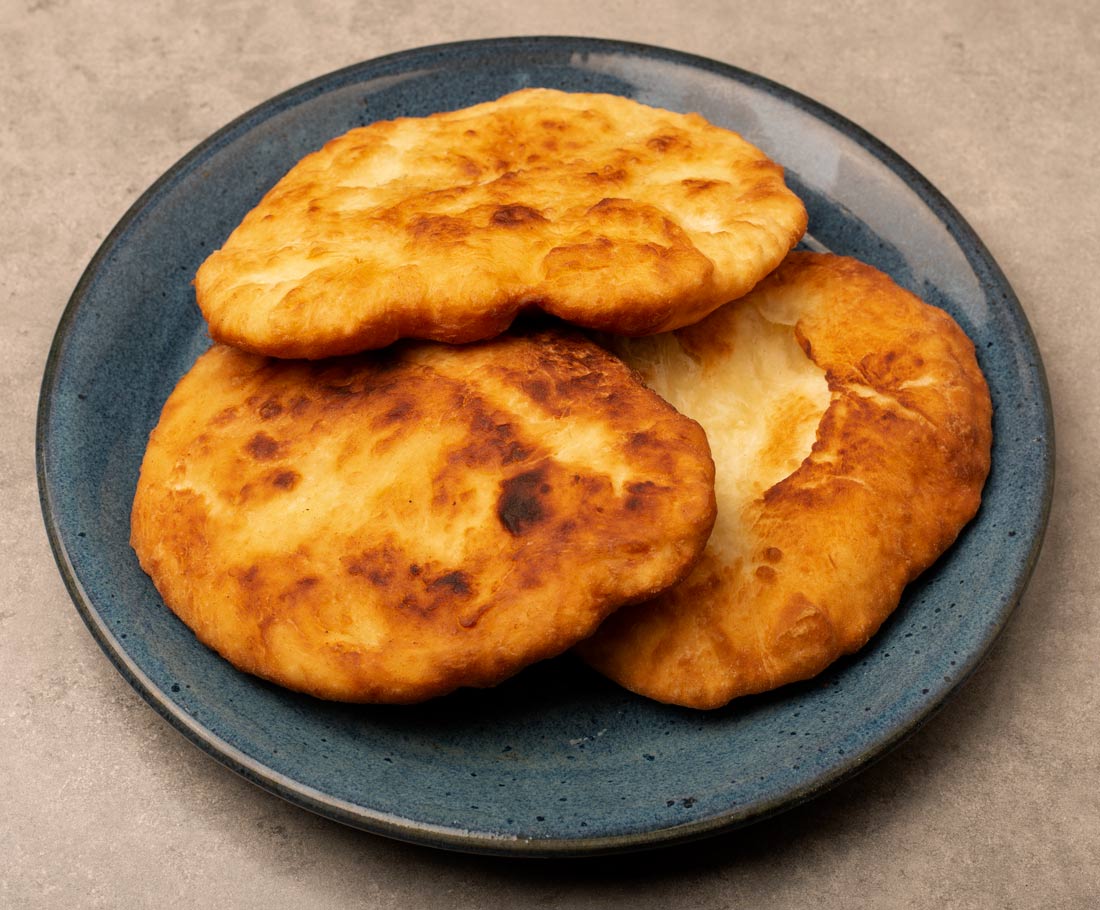 Bhaturas are a North Indian Punjabi bread that is fried.
INGREDIENTS
2 cups all-purpose flour
1 tsp. baking powder
1 tsp. salt
1 tsp. sugar
1 egg
1/2 cup plain yogurt
3-4 tbsp. warm water
1 tbsp. softened butter
Oil for deep-frying
DIRECTIONS
Combine the flour, baking powder, salt and sugar in a bowl and mix. Make a well in the center of the dry ingredients. Add the egg, yogurt and 3 tbsp. of the warm water to the well and stir to combine. Put in the dry ingredients and mix to form a soft dough. Add a tbsp. of water if it is too dry. Turn it out onto a unfloured work surface and knead 5 minutes to make a smooth, soft dough. Rub the butter onto your palms and knead it into the dough. Cover the dough with a wet paper towel and let rest at room temperature for 3 hours.
When you're ready to cook the breads, divide the dough into 12 parts and roll each into a ball. Set the dough balls on a baking sheet and cover with a damp paper towel.
Heat 2 inches of oil in a skillet over medium heat to 325 degrees F. Flatten one of the balls on an unfloured work surface. Roll it into a thin round, 4-5 inches in diameter and 1/8 inch thick. Put the bhatura on a plate and cover with a sheet of plastic wrap. Keep rolling all of the dough into bhaturas.
Gently slide a dough round into the hot oil. Press down on it with a slotted spoon to keep it submerged in the oil so it will brown evenly. When it is a light golden brown and puffed, after 16-30 seconds, turn the bhatura and cook to brown the other side. Remove to a paper towel-lined plate and serve. Repeat with the others.
Scallion Pancakes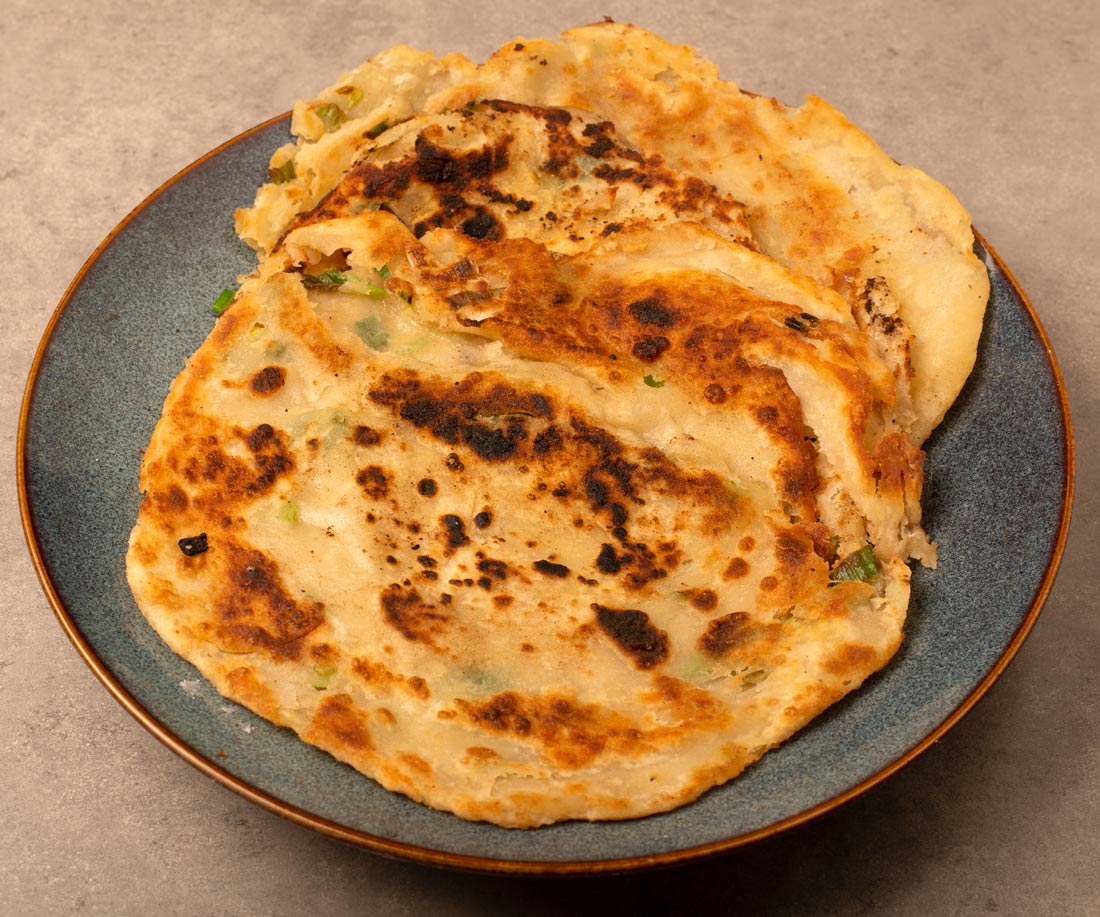 A wide variety of breads are called "bing" in China, including fairly recent imports such as pizza, crepes and tortillas. These scallion pancakes are called laobing. They are eaten with Chinese sauces and sesame oil.
INGREDIENTS
For the bread dough:
1 1/2 cup all-purpose flour, plus more as needed
1 cup unbleached pastry flour
1 cup boiling water
For the paste and seasonings:
1/2 cup all purpose flour
1 tsp. salt
1/4 cup shortening
2 tbsp. vegetable oil
4 scalliions, trimmed and finely chopped
Vegetable oil for frying
DIRECTIONS
To make the dough, place the flour in a bowl. Stir in the boiling water. Turn the dough onto a floured counter and knead it gently, adding extra flour as needed, until it is soft. Rinse the bowl, wipe it dry, and pour in a little oil. Toss the dough in the oil, cover the bowl with plastic wrap and let it rest for 20-30 minutes.
Mix the flour, salt, shortening and oil into a thin paste.
Divide the dough into 6 portions and roll each into a ball. Keep them covered and take out one at a time. Roll it into a strip about a foot long. Pull it gently on both ends to create an 18-inch long strip. Spread a sixth of the paste on the strip and sprinkle a sixth of the scallions down it. Roll the strip from one side to form a rope, and pull it gently to form a 24 inch-long strip. Repeat with the rest of the dough until you have 6 strands. Coil each strand into a flat circle and roll it out into an 8-inch disk.
Heat a frying pan over medium-high heat and swirl oil in it. Place one of the breads in the pan, cover it and fry it untilt the bottom is golden and the bread is puffy. Flip it over, cover it again and fry it until the second side is golden. Remove to a plate lined with paper towels and keep it warm in a 250 degree F oven while cooking the other pieces. Cut each into 6 wedges and serve.
Variation:
Substitute butter for the oil and roll the pancakes thinner. Cook them until they are crisp. Smear each with hoisin sauce and top with a layer of roast beef and scallions. Roll it up and serve.
Mu Shu Pancakes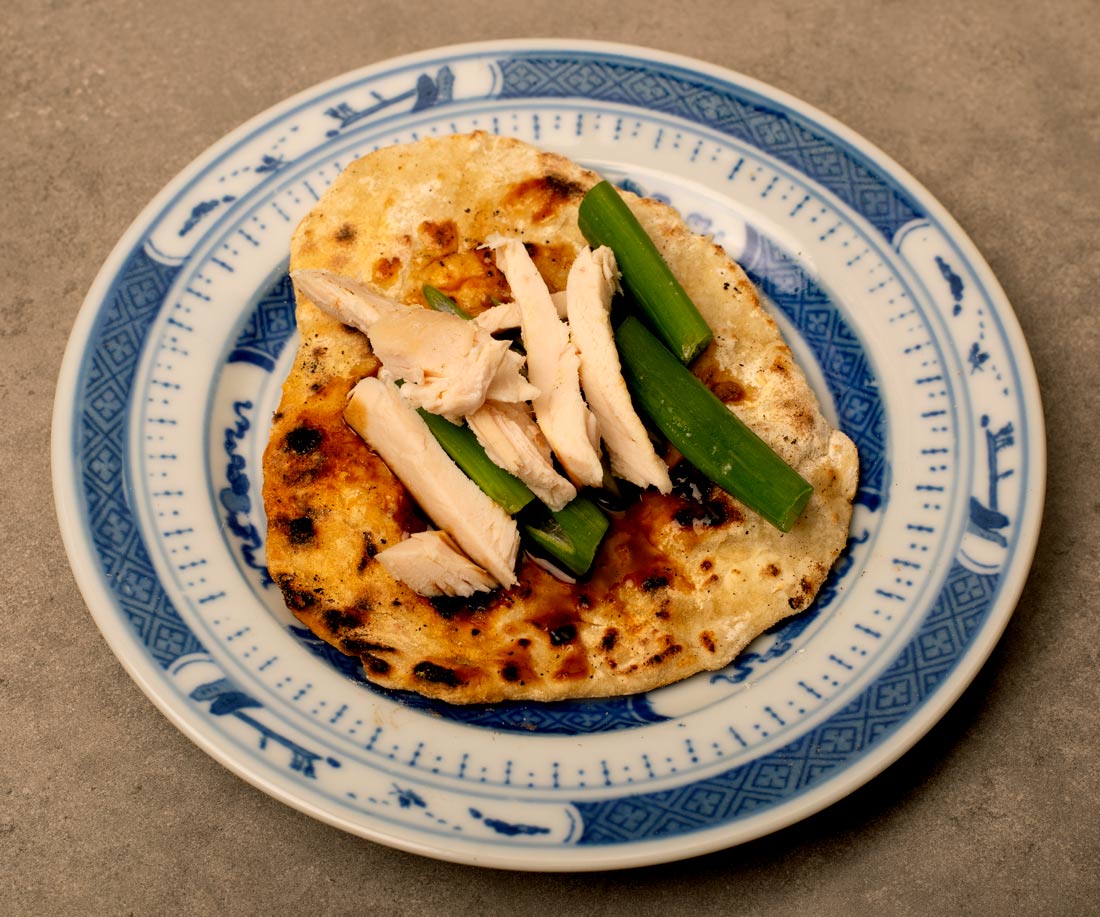 We traditionally eat these at New Year's. We sometimes make a turkey Peking duck-style and eat it with these pancakes, a plum sauce, and julienned cucumbers or scallions.
INGREDIENTS
2 cups all-purpose flour
3/4 cup boiling water
1 tbsp. sesame oil
DIRECTIONS
To make the pancakes, put the flour in a bowl and create a well in the center. Pour the boiling water into it and work the flour into the water with a fork. Knead the dough with your hands as it cools. Knead for 1 minute, then turn onto a floured counter and knead for another minute until it is smooth and soft.
Roll it into a rope about a foot long. Cut into 12 equal pieces and roll each into a smooth ball. Using a rolling pin, roll each into a 6-7 inch round. Heat a skillet over medum low heat for 2 minutes. Lay a pancake in the pan and cook until the bottom is browned and the top is starting to show small bubbles, 2-3 minutes. Flip the pancake and cook for about 1 minute, until browned.
Eat with leftover pork, rotisserie chicken, cucumbers and scallions cut in 1-inch strips and hoisin/plum sauce.
Round Uyghur Bread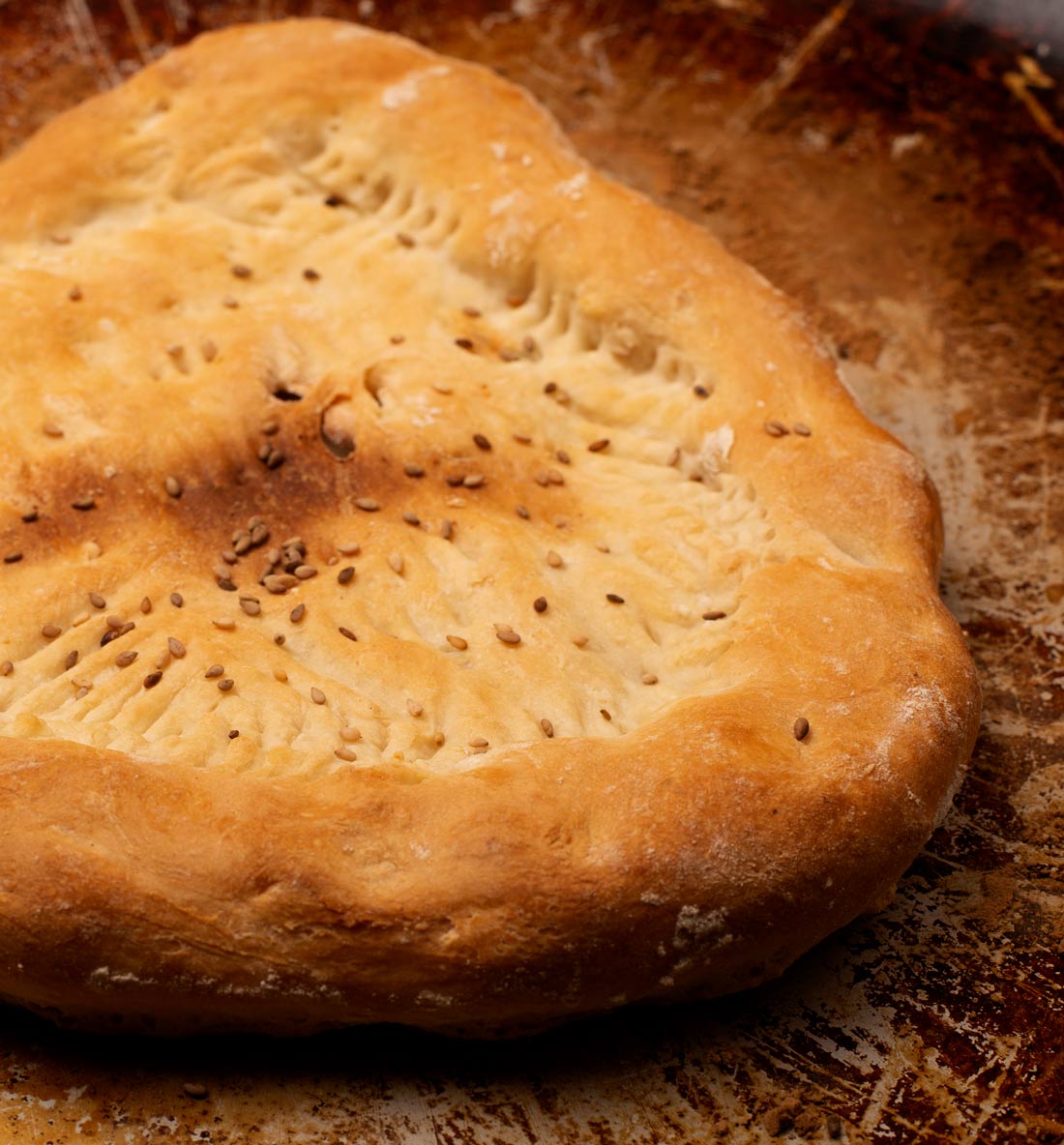 We used to buy this bread when we lived in Beijing, China. It is great fresh, but it gets hard quickly.
INGREDIENTS
1 1/4 cups warm water
1 1/2 tsp. active dry yeast
1 tsp. sugar
1 tbsp. toasted sesame oil
1 1/2 cups all-purpose flour
1 cup pastry flour
2 tbsp. butter, softened
Toppings - toasted sesame seeds, fennel seeds, or salt
DIRECTIONS
Pour the water into a bowl, sprinkle the yeast and sugar over it and set aside for 20 minutes.
Stir the oil and about 2 cups of flour together. Knead the dough on a floured counter until it is soft and not tacky, adding more flour as needed to keep it from sticking. Form the dough into a ball, rinse and dry the bowl and rub the inside of it generously with the softened butter. Place the dough back into the bowl and toss it around to thoroughly coat it. Cover the bowl with plastic wrap and a towel, and let the dough rise until doubled, about an hour. Punch the dough down, then fold its edges onto the top. Flip it over, cover it with the plastic wrap and towel, and let it rise again until doubled, 30-45 minutes. Lightly knead it and cut it into 4 equal pieces. Form each into a ball. Let them rest for about 15 minutes and roll each piece out on a floured counter forming circles. Place the circles on lightly floured baking sheets and brush each with water. Cover with plastic wrap and let rise for about 30 minutes until puffy.
Heat the oven to 500 degrees F. Shape the circles into flat breads, lightly patting the inside of each circle to leave a rim around the edge about 1 inch wide. Use a fork to perforate the inside of the circles to the rim. Lightly brush the circles with water and sprinkle on the optional toppings. Bake one or two breads at a time for about 7 minutes, until golden brown around the edges. Serve immediately.
Utah Scones, Sopaipillas and Navajo Tacos
This recipe makes Navajo tacos, sopaipillas or Utah scones. If you are making Navajo tacos, make each one about the size of a taco and top them with the same toppings as tacos – flavored ground beef, cheese, lettuce, sour cream and salsa. In some Native American households, the dough is made in the mornings and rises throughout the day before being cooked for dinner. This type of bread entered Navajo cuisine when Navajos were forced onto reservations in New Mexico and provided white flour and lard by the U.S. government. It is possible that Navajos got the recipe from people of Mexican descent who made sopaipillas, which can be used the same way. Sopaipillas have been eaten in a number of countries in Latin America for several centuries and in New Mexico for about 300 years.
If you use the recipe to make Utah scones, provide whipped honey butter with it or use it as the bread base for a sandwich. Utah scones are a popular traditional food that harks back to Mormon pioneer days when women would pull off a section of rising bread and fry it. Whether they got the idea from Navajos is anyone's guess. Utah scones are deep-fried bread that bears no resemblance to the biscuits called scones that are served with tea in the United Kingdom, named after the Scottish town of Scone where medieval kings were crowned. I make them fairly small, but many Utah scones are the size of a plate.
This type of bread is called fry bread in Arizona and many Arizona residents consider it the state dish. It is popular at fairs and festivals in Arizona and surrounding states. In Utah, it is sold at cultural festivals as both Navajo tacos and Utah scones.
INGREDIENTS
4 cups buttermilk
2 tbsp. active dry yeast
1/4 cup lukewarm water
1/4 cup sugar
2 eggs, beaten
2 tbsp. oil
1 1/2 tsp. salt
3 tsp. baking powder
1/2 tsp. baking soda
8 cups flour
Oil for frying
DIRECTIONS
Heat buttermilk to warm. Soften yeast in water. In a bowl, mix buttermilk, sugar, eggs, oil, salt, baking powder, baking soda, and 4 cups flour. Add yeast and mix until smooth. Add remaining flour to make a soft dough. Let rise, covered, until double. Punch down and refrigerate overnight.
When ready to fry, heat oil to 375 degrees F. Roll dough out on floured board. Cut into squares about 2x2 inches. Stretch each piece and drop into the hot oil. Fry on one side until golden, turn and fry on the other side. Drain on paper towels. Serve hot with honey butter.
Honey butter - Whip 1/2 cup softened butter until light and fluffy. Mix in 1/2 cup honey and 1/2 tsp. vanilla. For raspberry honey butter, also mix in 1/2 cup raspberry jam.
Check out these related items