Creating an Easy Cooking System
Posted by Donna Rouviere Anderson |
June 11, 2020
Photos by Forrest Anderson
Because I have a severe allergy to tomatoes, I got a head start on having a functional cooking system for sheltering at home.
Having a life-threatening allergy to a ubiquitous food means that you have to eat out less, make more food from scratch and plan food more carefully. Eating out or in social situations can cause me to get sick if I am not careful, so I'm used to being on guard about my health when I'm out. It took me years to devise an efficient cooking system, but it was relatively easy to adjust to cooking at home all the time when the coronavirus shutdown came along. Here are some of the things I've learned:
The key is storing food like a grocery store and cooking like a fast food restaurant. This type of system isn't for the meticulous gourmet who enjoys spending hours in the kitchen chopping fresh herbs and deveining shrimp. It's for the time-crunched cook who needs to get a tasty, nutritious, safe dinner on the table every night without a lot of prep time.
Store food like a grocery store
I'm not talking about hoarding food in huge quantities. I'm talking about keeping basic ingredients on hand and organizing them so they are easy to use. Most cuisines share a similar base of ingredients – meats, vegetable and fruits, grains and other baking ingredients, dairy products and spices. Cooking is easier when you keep basic ingredients that you can use in a variety of dishes.
Store all items in logical, easily visible places
Organize your kitchen and pantry like a mini-store in which you can quickly 'shop' for ingredients to prepare a meal, with everything visible and located close to where you use it. Start with spices, oils, sauces and vinegars.
HERBS AND SPICES
These are the key to simple, flavorful cooking, so equip your kitchen with a variety. I mostly use dried ones for convenience (don't faint, chefs), but feel free to use fresh ones if you're willing to chop and peel more. I freely admit fresh ones taste better but I often don't have time to bother with them.
Basics are basil, bay leaves, black pepper, chili powder, cinnamon, coriander or cilantro, cumin, curry powder, garlic, ginger, nutmeg, onion powder or dried minced onions, oregano, parsley, rosemary, Spanish paprika and thyme. You can acquire them as you need them in recipes until you have a good set.
COMMERCIAL SEASONING MIXES
Having basic herb mixes such as Italian, taco, steak and hamburger seasonings in your kitchen simplifies cooking dramatically.
COMMERCIAL SAUCES
Steak and barbecue sauces, pasta and pizza sauces and enchilada sauces give you a variety of ways to create quick meals on busy days.
Flavored olive oils, such as lemon, orange and Mediterranean, make it simple to cook flavorful pork chops, chicken or fish.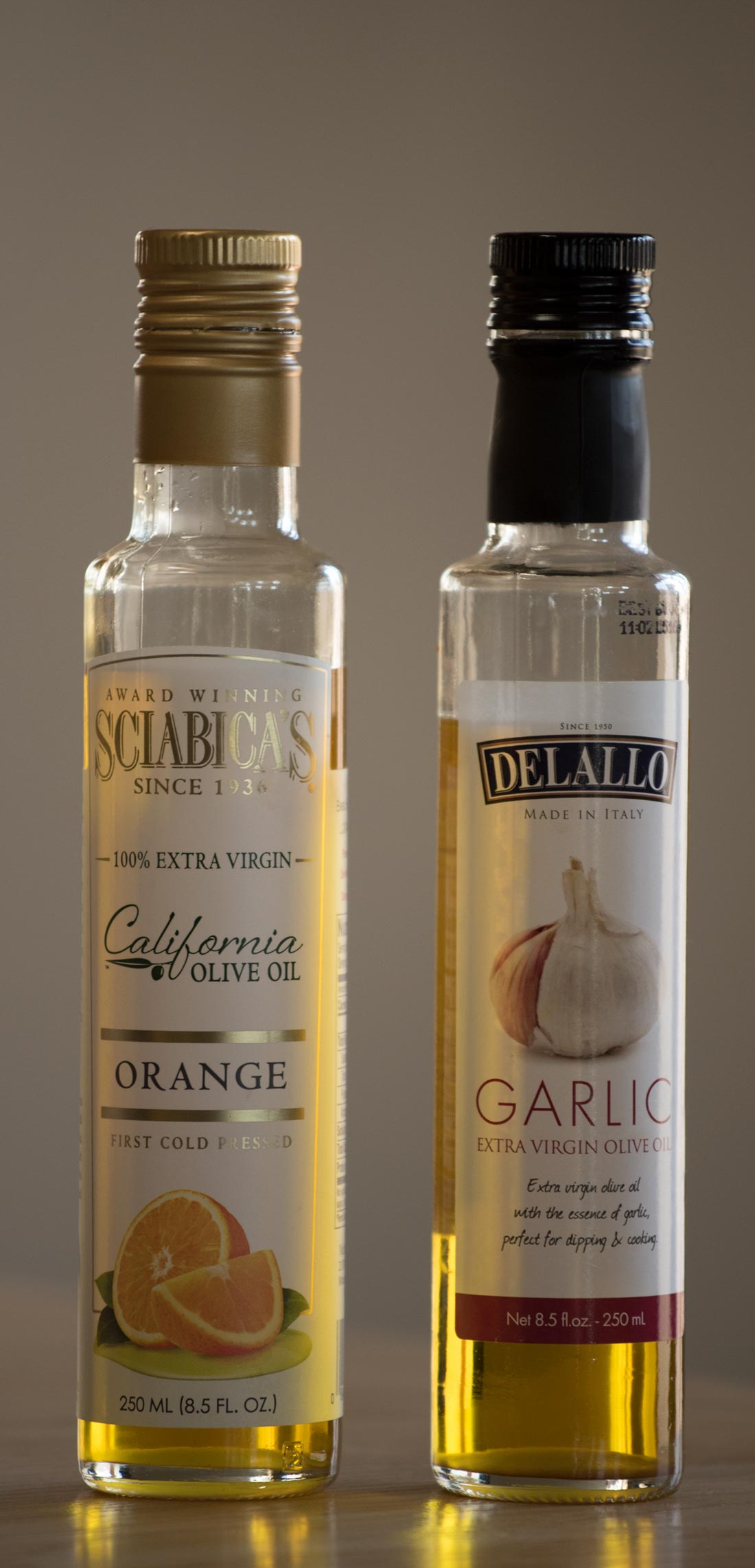 I keep soy sauce, sesame oil, mayonnaise, molasses, Worcestershire sauce, mustard, maple syrup, ranch dressing and several kinds of vinegar to use in recipes.
KITCHEN ORGANIZATION
I have a baking center stocked with baking ingredients, pans, bowls, a mixer and utensils in an antique Hoosier cabinet that I inherited from a relative and refurbished with a laminate countertop. Having all or most baking ingredients and tools in one center and visible saves prep and cleanup time. My baking center is next to the oven.
In all cupboards and drawers, place frequently used items close to where you use them and rarely used ones out of the way in high or low cupboards so heavy use areas are uncluttered and it is easy to see what you need to buy before shopping. Group items that you use at the same time. We have a bread basket for breads and tortillas, a snack shelf for chips, crackers and nuts and a breakfast area with cereals and bowls.
I've always loved those small service areas called butler's pantries that are stocked with items needed to quickly prepare and serve a meal. We made a butler's pantry from an old cupboard, reclaimed boards, leftover pieces of laminate countertop, plastic containers and wire baskets. My favorite part of it is two drawers with containers of nuts, dried fruits, snack mixes and salad toppings. I can set a salad, soup or ice cream sundaes on the counter above the drawers and add nuts or other items from the drawers as toppings. I also head for these drawers for a snack. An electric wheat grinder, crock pot, rice cooker and yogurt maker are on the countertop near an electric outlet so I can use them there.
Above the counter is a shelf with containers of dried peppers, mushrooms and onions. When I want to make soup, I scoop some of the dried vegetables, beans and rice from the containers and toss them in the crock pot. I add meat, spices and water, plug the crock pot in and turn it on and leave it to cook for dinner. I also steam rice in the rice cooker there. On high shelves are less used items for entertaining – punch bowls and ladles, platters, tablecloths, runners and less frequently used small appliances.
REFRIGERATOR STORAGE
Organize your refrigerator according to what goes together, similar to the cold section of a store, so everything has maximum visibility. Refrigerators and freezers are challenging because other members of the household who aren't responsible for cooking duties have a tendency to just cram things in. One way to mitigate this is to place items they frequently use in the door trays so they can grab them without rummaging through the refrigerator.
CANNED AND DRY GOODS STORAGE
I group these items together by how we use them and so I can see all ingredients at a glance. I put taller items in the back and shorter ones in the front on shelves.
Use a phone app to create shopping lists by stores
We keep a master list of ingredients, organized by store, in a shopping app on our phone so we can quickly assemble a shopping list by store. We shop at a discount supermarket for basic weekly purchases and then only every several weeks at a good bakery for bread (which we freeze), Asian and Mexican stores for specialty items, and a warehouse store for bulk items.
Cook like a fast food restaurant
I set up our kitchen using three "fast food" principles: don't cook daily from scratch, take advantage of small appliances and use commercially prepared foods when they are useful.
Don't cook daily from scratch
Instead of cooking daily from scratch, make extra one day and repurpose the leftovers on a couple of other days. This saves preparation and cleanup time and can be versatile enough that your family thinks you are cooking something different every day. Here's how it works:
When you cook, chop extra vegetables such as green peppers, olives, canned pineapple or stir fry ingredients and put them in a container in the refrigerator. If I am making a Hawaiian-style pizza, for example, I chop extra ham, pineapple and peppers. The next day, I use these leftovers to top a chef salad. If I still have extra ham, I pop it into a chowder on the third day. I do this with all kinds of meats and vegetables, so when I prepare a meal, I often have all or most of the ingredients already chopped.
Grill meat or chicken once to use for two-three days. I serve grilled beef and grilled potatoes the first day, then cut the leftover beef into strips and use it in fajitas the second day. The third day, remaining strips can go in an Asian noodle soup, atop a salad, in a gourmet sandwich or into burritos.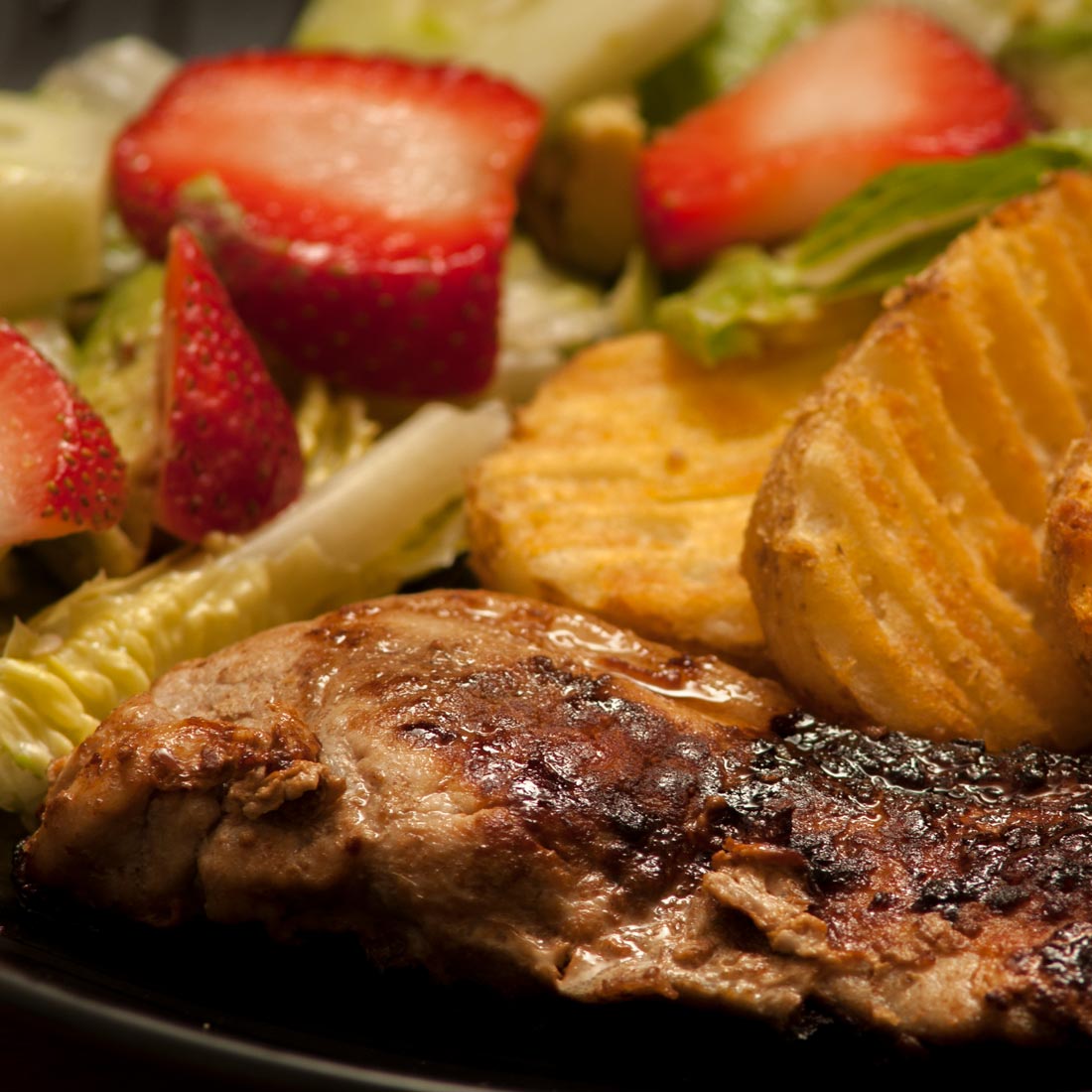 This meal looks fancy, but it actually was very simple. The beef was grilled on an indoor grill. Leftover beef was repurposed in two other meals. The potatoes were frozen packaged ones that were roasted in the oven. The salad is a simple lettuce one to which strawberries and nuts were added.
Make large batches of sauces and repurpose them the second and third day or pop the leftovers into a container and in the freezer for use on a future busy day. My favorite is to make a large pot of Texas chili in a crockpot and serve it with cornbread the first day, then make enchiladas out of it the second day and use the last of it for tacos or a taco salad the third day.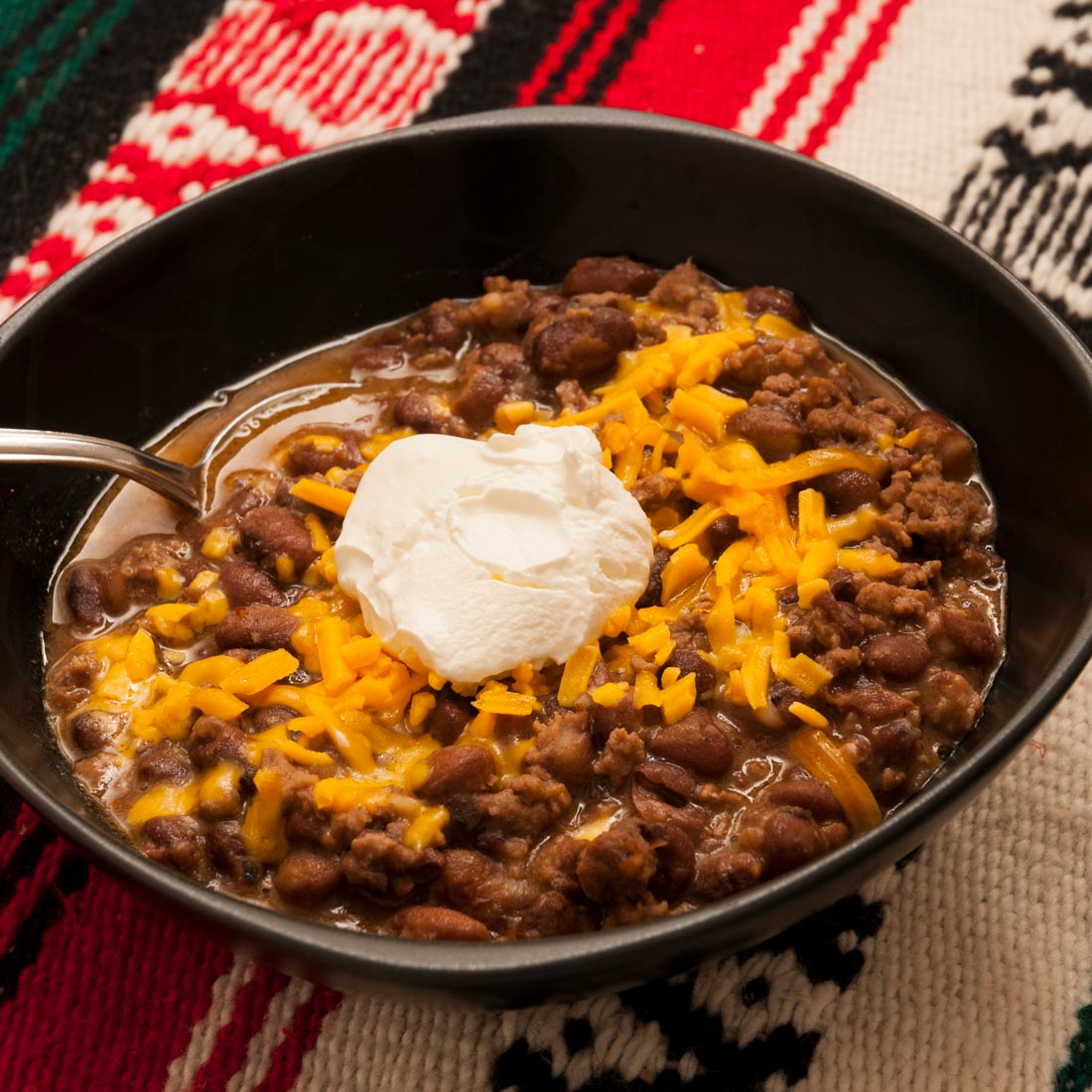 A large pot of chili can be served with bread or cornbread the first day and then repurposed as the sauce in enchiladas the second day. On the third day, it can be used in tacos or to top a taco salad.
I make spaghetti sauce in large batches (I use a pepper paste instead of tomato paste) and serve it the first day as a spaghetti dinner, the second day as the sauce on homemade pizza and the third day as the base for an Italian soup. Or freeze the spaghetti sauce leftovers. You'll be glad you did on a swamped day when all you have to do is boil water for pasta and make a quick salad while the sauce thaws in the microwave.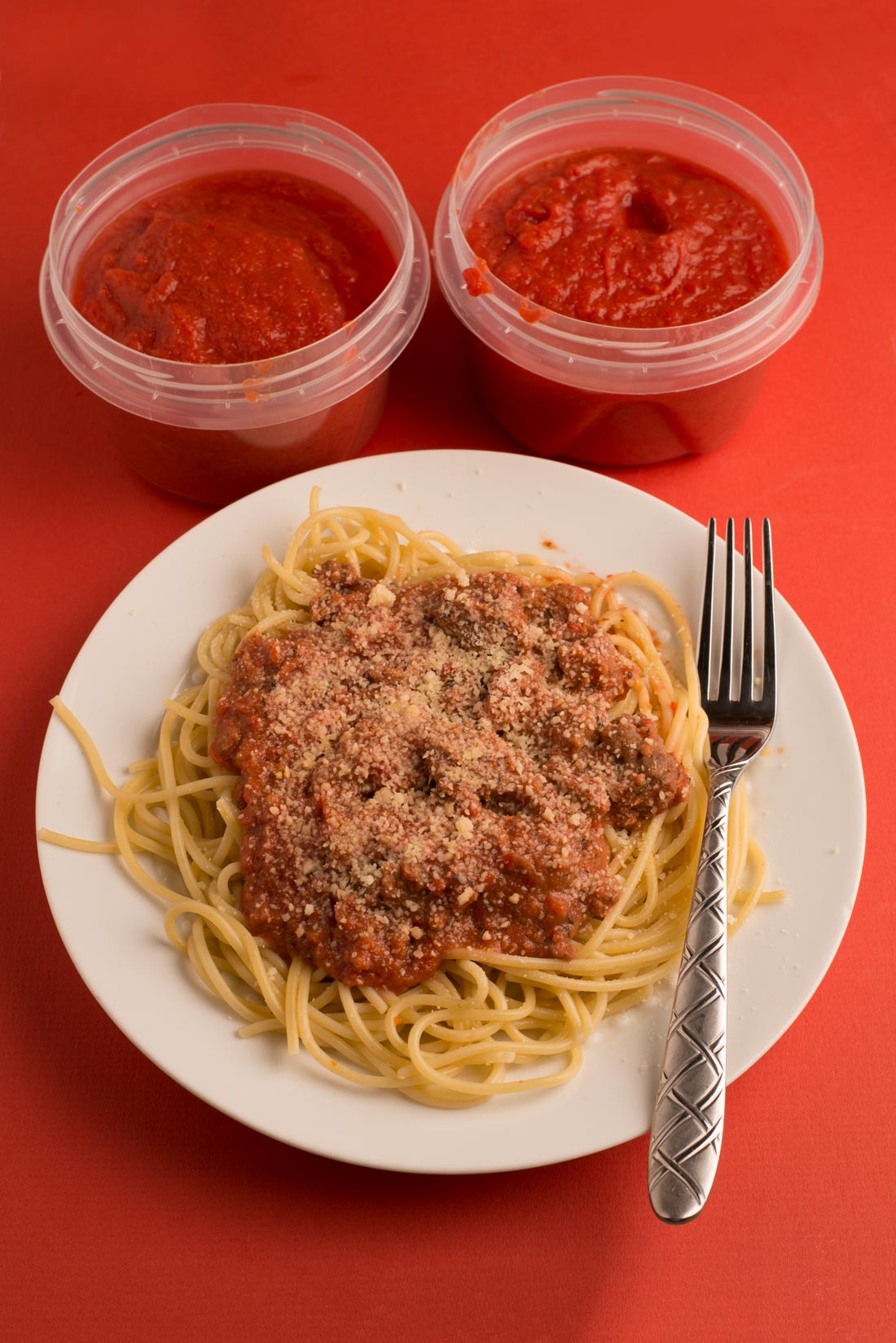 Spaghetti sauce. Extra sauce can be used on pizza, in soup or frozen to be eaten later.
Because I can't eat most commercial barbecue sauces as they contain tomatoes, I make and freeze my own mango or apple barbecue sauces in meal-sized portions. When it's time to cook dinner, I braise some pork, beef, chicken or shrimp and add a container of barbecue sauce to it. I serve it with steamed rice or potatoes and a salad.
Some soups can be used the second day as sauce. I already mentioned chili, but I also make a curry chicken soup by dumping two large chicken breasts, a can of cream of chicken soup, a can of coconut milk, a package of mixed vegetables, a tbsp. of curry powder and 2-3 cans of water in a crockpot and cooking it on slow all day. It is great with bread or naan the first day and makes a good sauce on rice or pasta the second day. You can add extra vegetables such as chopped red peppers along with some chopped pinapple to it if you want. It can be served on grilled potatoes as a side dish the third day.
When I make an Asian-style soup stock in the crock pot, I use it for a noodle soup the first day and stir fry the leftover broth with fresh vegetables, sliced meat, tofu, an Asian sauce and cashews or almonds the next day.
SALADS
For a variety of easy salads, think like a salad bar. There is a whole world of easy salads beyond lettuce and tomatoes.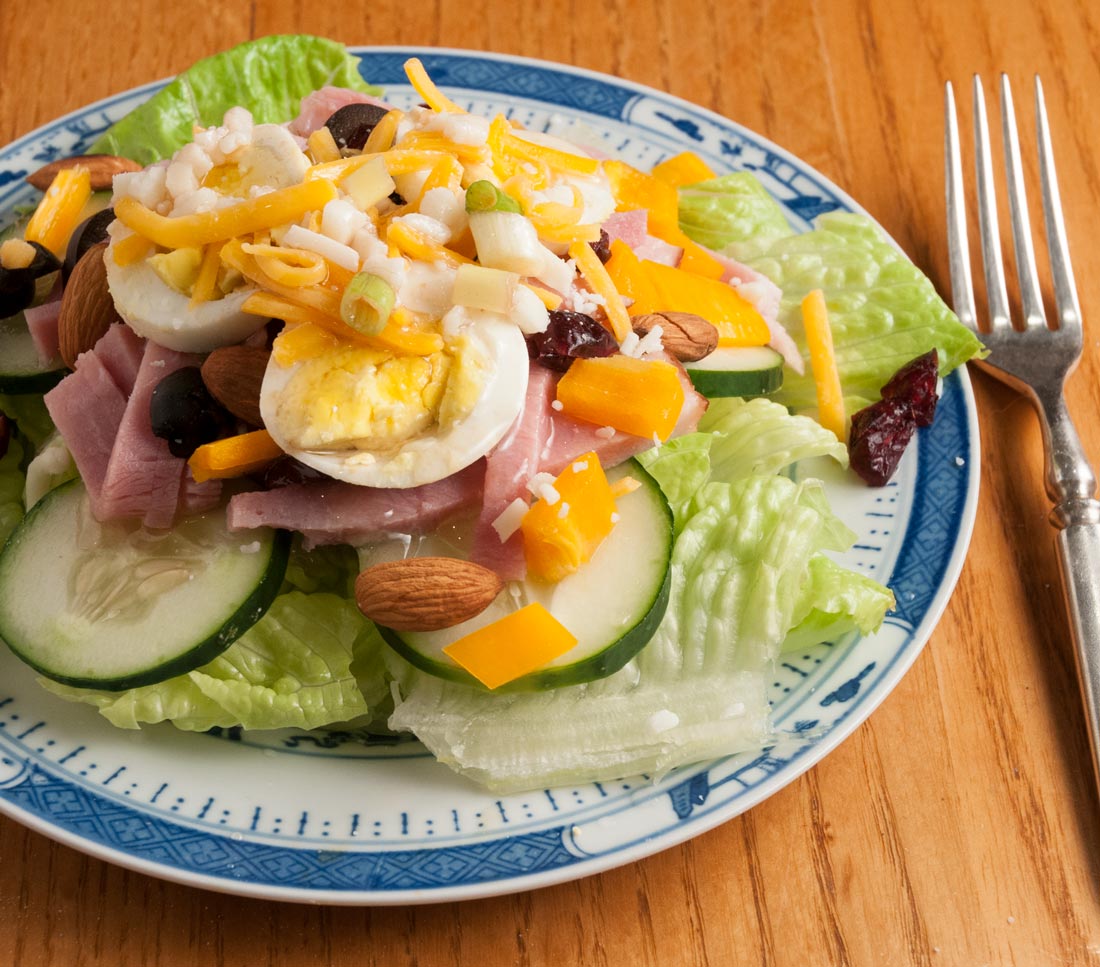 A chef salad.
Use lettuce, cucumbers and shredded carrots as a base, then add a few of the following ingredients:
Canned mandarin oranges
Canned corn
Canned beans
Canned chickpeas
Canned water chestnuts
Canned pineapple
Dried blueberries
Dried cranberries
Nuts
Corn nuts
Pumpkin seeds
Sunflower seeds
Bacon bits
Shredded cheese
Parmesan cheese
Fresh vegetables and fruits such as peppers, mushrooms, broccoli, scallions, sliced peaches, fresh strawberries, raspberries, blackberries, blueberries, pomegranate, canteloupe, grapes or apples.
Frozen peas
Hard-boiled eggs
Add a selection of dressings and you can make a different type of salad every day of the week in a few minutes.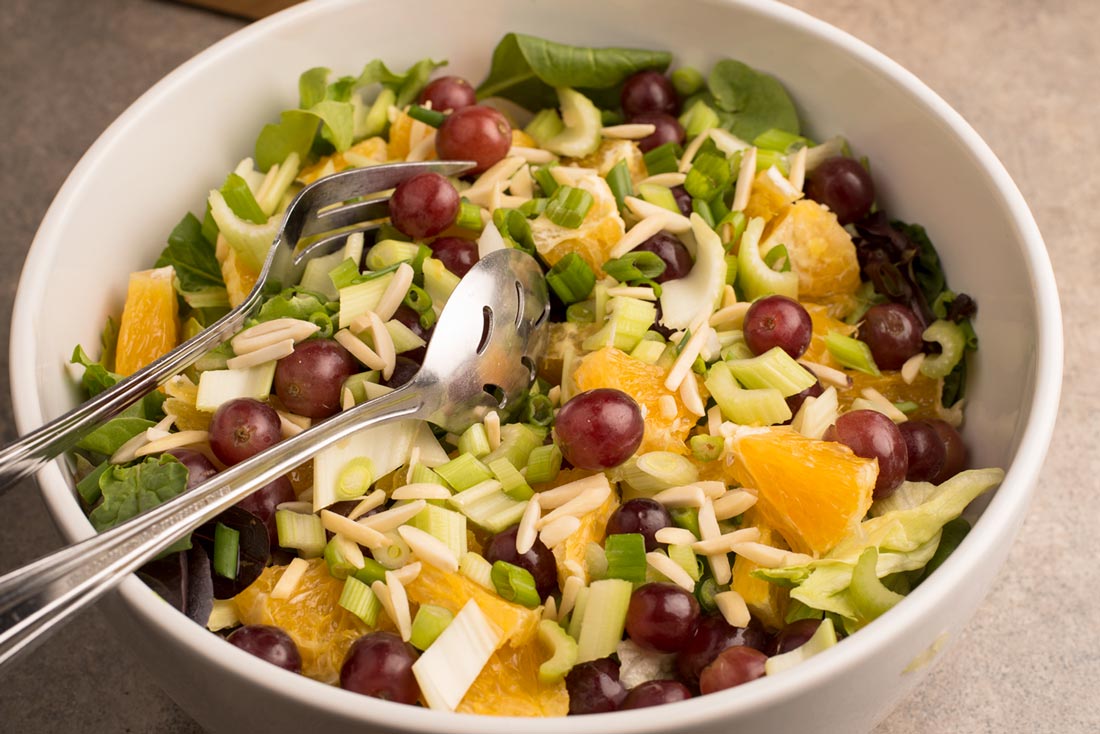 Lettuce and celery form a base for this salad, which also includes scallions, grapes, mandarin oranges and slivered almonds.
For an Asian salad, top lettuce and shredded carrots with water chestnuts, bean sprouts, snow peas, slivered almonds, chopped scallions, Mandarin oranges, chow mein noodles and an Asian dressing.
My favorite recipe for coleslaw is to throw a coleslaw mix into a bowl and mix in a couple of spoonfuls of mayonnaise, some chopped apples, fresh blueberries or sliced strawberries. Add some pecans or almonds, perhaps a tsp. of cinnamon and salt and pepper to taste. This recipe works all year round when you swap out fruit and nuts for what is in season.
SIDE DISHES
Potatoes: Buy frozen French fries and air fry or bake them in the oven. If you spray them with oil and salt them first, they taste better. If you sprinkle them with some rosemary, they taste gourmet.
Microwave or bake enough potatoes for three days, and then eat them with different toppings on different days – chili or taco sauce the first day, then as a potato bar with chopped ham or bacon bits, sour cream, chopped red peppers and cheese the second day. Chop the remaining potatoes up for a baked potato salad or make twice-baked potatoes with them the third day.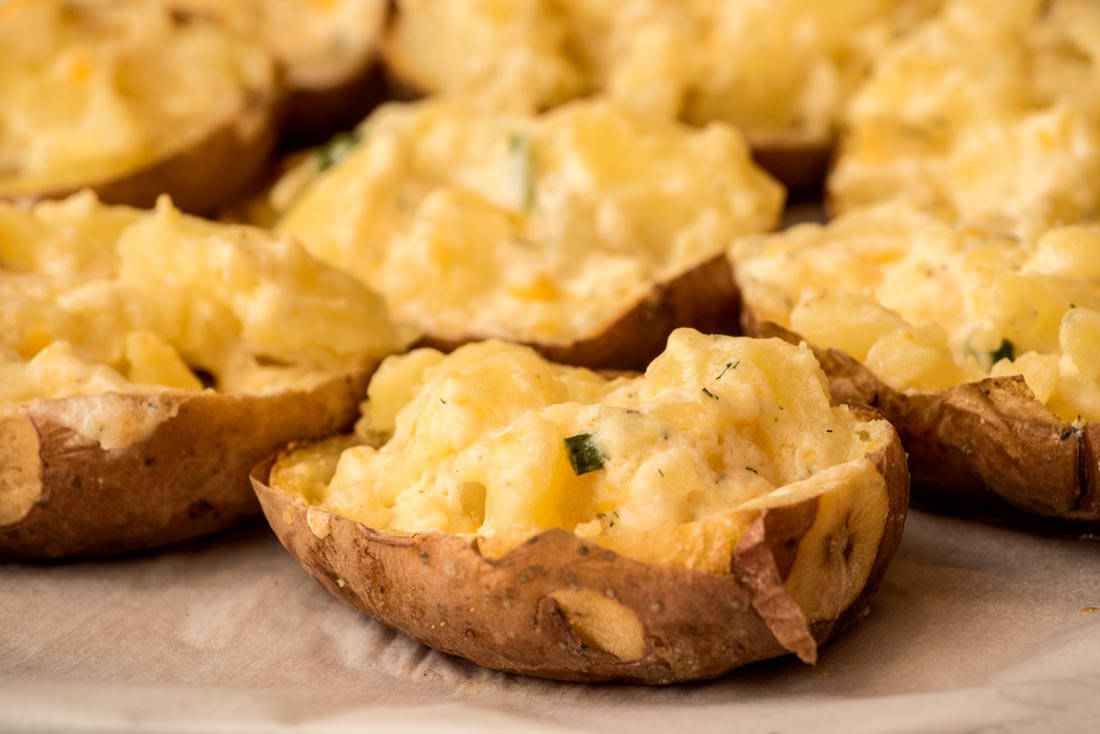 Twice-baked potatoes, made from leftover potatoes baked earlier.
Rice: Steam rice in a rice cooker and eat it fresh the first day with a sauce and meat and vegetables. The second day, heat some of the remaining rice, stir in some butter and sprinkle it with a seasoning mix for a side dish. Or use it to make Mexican or Spanish rice. The third day, add a can of black or pinto beans and some leftover taco sauce to it, sprinkle it with cheese, wrap it in flour tortillas for burritos and microwave or bake them. Eat them with sour cream and salsa. Or you can go a different direction on the second day and make fried rice as a side dish for a couple of Asian meals.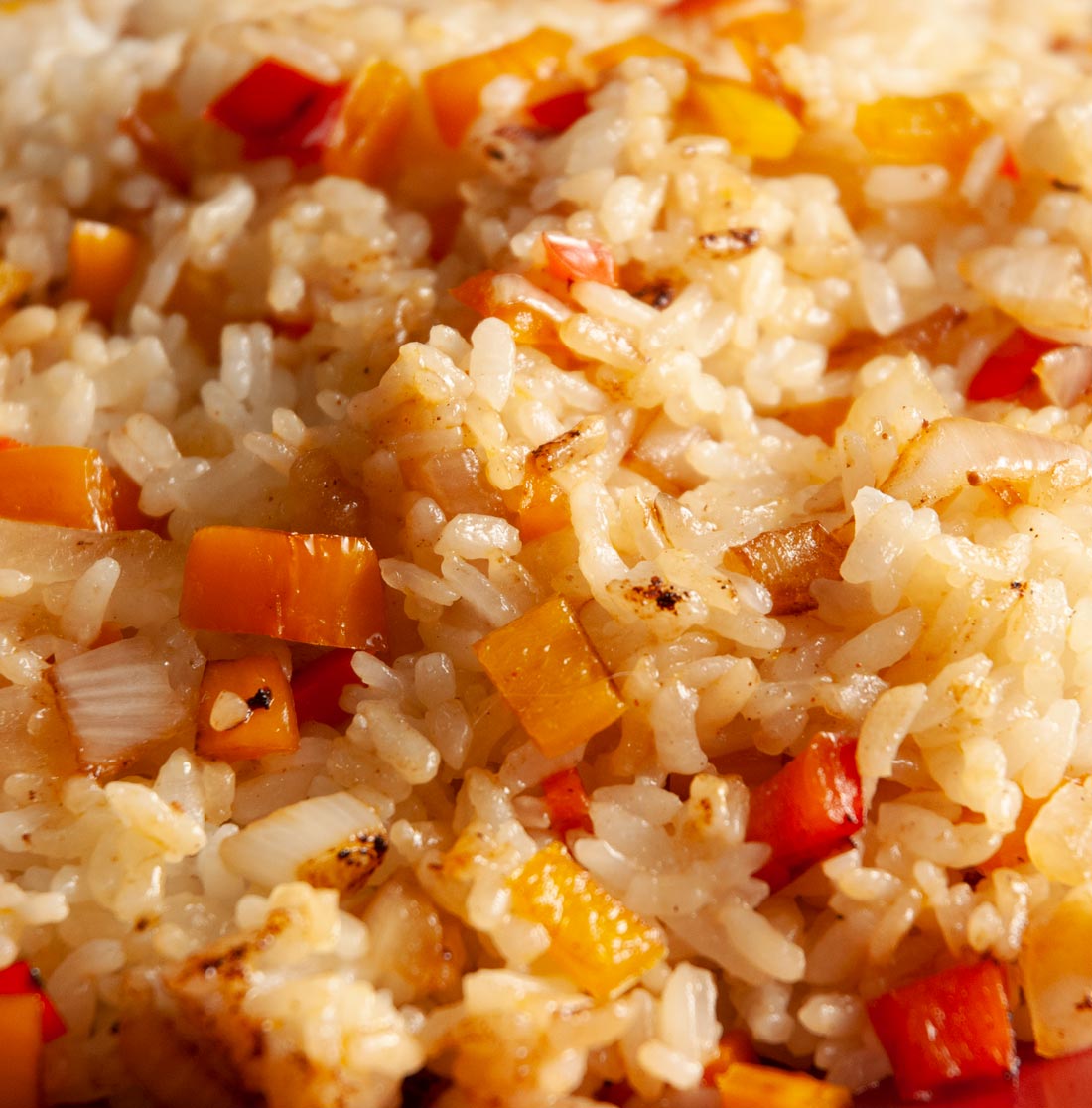 Mexican Rice.
Pasta: Pasta is similar. Eat it the first day with a sauce. The second day, add some butter or olive oil and a simple seasoning mix to it for a side dish. The third day, add the leftover pasta to a soup.
Bread: Don't ignore a good bakery if you have access to one and can shop there safely amid the pandemic. When I buy good bread from a bakery, I get extra and wrap it in aluminum foil and then slip it into a zipped plastic bag and into the freezer. When you need it, let it thaw on the counter before using it – don't microwave it.
I also bake bread about once a week. To simplify it, I use simple basic bread recipes but make variations of them by adding white chocolate and pecans, Asiago cheese, raisins and walnuts or chopped olives to the dough. See my blog on no-knead bread for the simplest way to make good bread on an on-going basis.
I also use a basic roll recipe to make orange rolls, cinnamon rolls, cheese rolls and fried scones. I keep small jars of low-sugar fruit jams in different flavors and good light honey, which can transform a slice of toast, muffin or roll into a treat.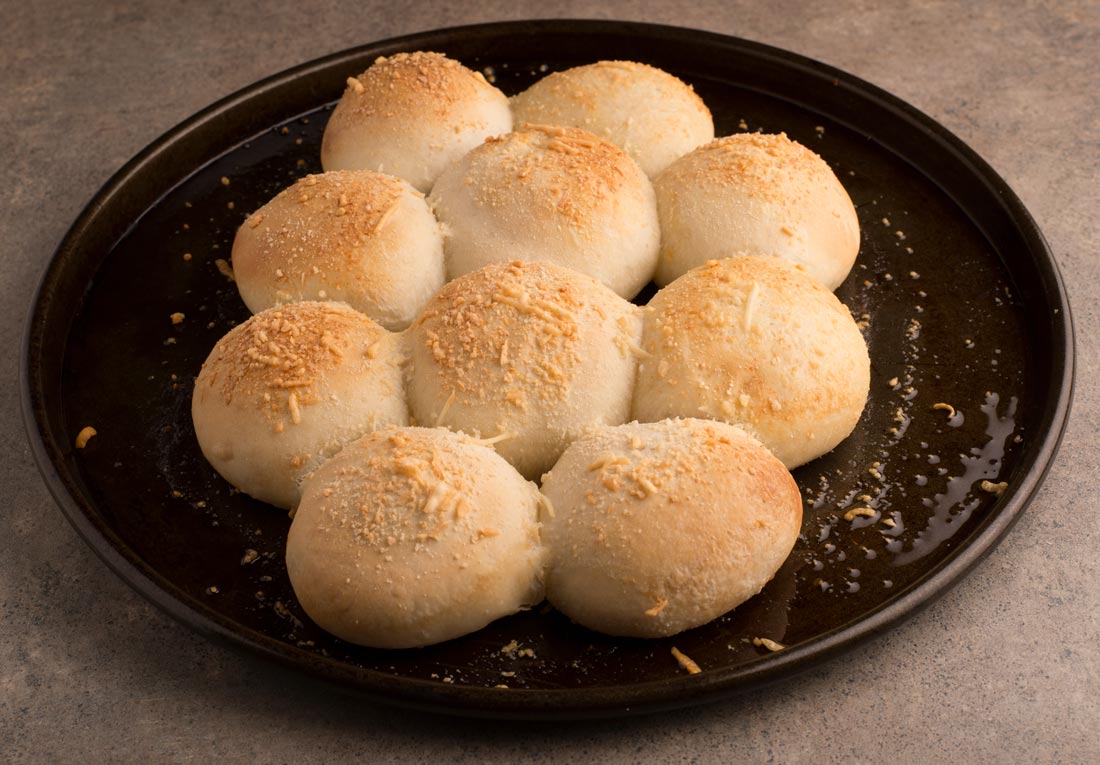 Cheese rolls. The same basic recipe can make cinnamon rolls, orange rolls and scones.
Another good bread option is refrigerator bran muffins, which you can keep in the refrigerator for up to two weeks. You can add bananas and nuts to them, blueberries, chocolate chips or raisins as desired, so you can make one recipe and get several varieties for different meals.
When you're really strapped for time, biscuits and cornmeal biscuits are an easy option that you can warm in the microwave on the second and third days. They are good with chicken the first day, soup the second and with a gravy over them the third day. I keep a variety of homemade jams to eat with biscuits and serve different ones at different times, as well as honey. With whipped cream, biscuits also make a great base for strawberry or raspberry shortcake. So far, no one has ever complained about me serving too many biscuits.
Tortillas: Serve warmed tortillas or a bowl of tortilla chips as a side dish with a Mexican soup along with salsa. Or you can sprinkle tortillas with cheese and heat them in the oven for nachos. Add a simple salad and you have dinner.
DESSERTS
I like to make fancy desserts when I have time, but that doesn't happen often. Prepared or semi-prepared products taste good and save time - brownie and cake mixes, pie fillings, whipped dairy toppings and ice cream.
Another simple option is chocolate chip cookies, which I shared a recipe for in an earlier blog. You can add nuts, chocolate chips or peanut butter to the brownies, toppings to the ice cream and a variety of nuts and chopped up candy bars or chocolate varieties to the chocolate chip cookies. You can combine ice cream with other desserts – a bowl of ice cream with a cookie on the side or two cookies as the outside of an ice cream sandwich. You can add toppings such as fresh fruit, nuts and sauces for an ice cream sundae or banana split. You can serve ice cream and toppings atop a brownie. I add nuts, peanut butter, caramel topping, cream cheese and sweetened condensed milk to brownie mixes for variety.
I make double batches of cookies and store the extra dough in the freezer in long rolls wrapped in plastic wrap. When I need a fast dessert, I slice cookies off of a roll, place them on cookie sheets and pop them into the oven for 10 minutes. Making my own cookies enables me to cut down the sugar and make them smaller than many commercial cookies are wont to be.
I also add chocolate or white chocolate chips, nuts or dried berries to standard recipes for banana or pumpkin bread, pancakes and waffles.
I make pies, cobblers, fresh fruit French tarts and cheesecakes when I need a nice dessert. I have a pie crust recipe that works for all kinds of pies, and it's easy to use canned pie filling with it or toss five cups of fresh berries into a pan on the stove, add ¼ cup of sugar, 1-2 tbsps. of cornstarch in ½ cup of water and cook it until it thickens a little before adding it to the pie crust. I often cut out pieces of the extra pie crust with cookie cutters and decorate the top of the pie with them. It only takes a few minutes and looks fancy. I then cook it for 40 minutes at 400 degrees.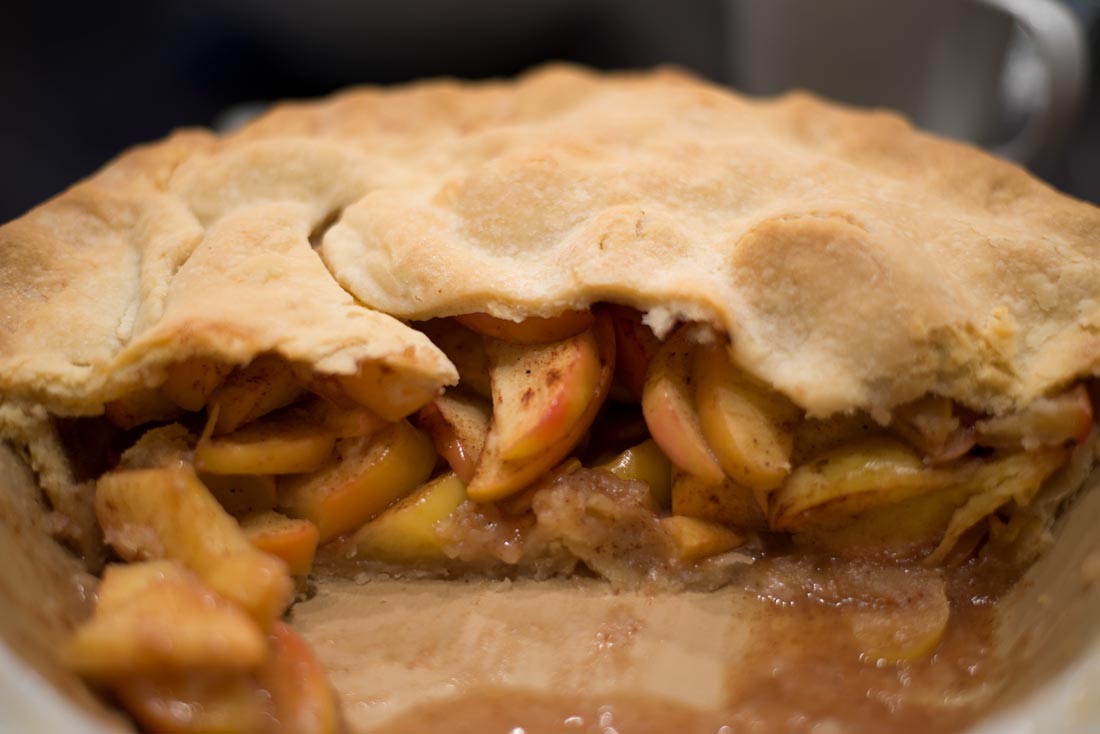 I have a simple French cheesecake recipe that I use with or without a crust. It can be topped with chocolate sauce or fresh fruit. You can mix pumpkin or peanut butter into it. Cheesecake is always a hit and once you get a basic recipe down, you can combine it with a wide variety of crusts and toppings to make many different desserts. Our daughter combined it with a recipe for carrot muffins to make a delicious carrot cake recently. I like using a French cheesecake recipe because it isn't as thick as American cheesecake and the emphasis is on great taste rather than sweetness and whether it falls or not.
Fresh berries or canned pie fillings work great in pies, crisps and cobblers, on ice cream, on cheesecakes and in éclair cakes.
For cream pies, I use my pie crust recipe with commercial cream pie fillings or a basic homemade cream pie filling recipe to which I add coconut, bananas, chocolate, peanut butter or other flavors for variations.
When you really have no time, concentrate on presentation and skip the baking. Buy a $3 box of small chocolate croissants at the store, slice them in pieces and serve them with fresh fruit and nuts on a board or pretty plate. I can guarantee people will clean the plate.
Use small appliances liberally
Small appliances are real time savers. Since cuisines share preparation and cooking methods – mixing, marinating, coating, baking, roasting, grilling, frying, stir frying and boiling - equipment and appliances can be used for different cuisines. I use equipment commonly associated with one type of cuisine to prepare another. I fry chicken in a wok, use sharp Chinese cleavers to prepare most vegetables and grill North American, Mexican and Asian meat dishes on an indoor or outdoor grill.
Saving money
The best way to save money on food is to not to eat out much. I buy good quality basic ingredients and then cook simple meals using them. If you have pretty dishes and nice paper napkins and the food tastes good, you don't need anything else.
Preserving food
I am not the type who grows a huge garden and cans 35 quarts of peaches every summer. However, when peppers, mangos and tomatillos are in season and inexpensive, I sometimes can small batches of 6-8 pint jars of mango or tomatillo salsa or roasted red peppers in a little pressure cooker. Canning in small amounts is fast and simple.
When I have surplus vegetables, I dry a few trays of sliced vegetables in a small dehydrator. I put the dried items in bins in the pantry to toss into soups.
Check out these related items