Apple Options
Posted by Donna Rouviere Anderson |
November 19, 2020

Honey Crisp, Granny Smith, Red Delicious, Gala. Supermarket fruit counters are overflowing with one flavor - apple - at this time of year. Here are some old-fashined recipes for different ways to use them. Some of them combine well with left-over Thanksgiving turkey and others just give you a healthy option after an indulgent holiday.
Australian Chicken (or Turkey) Salad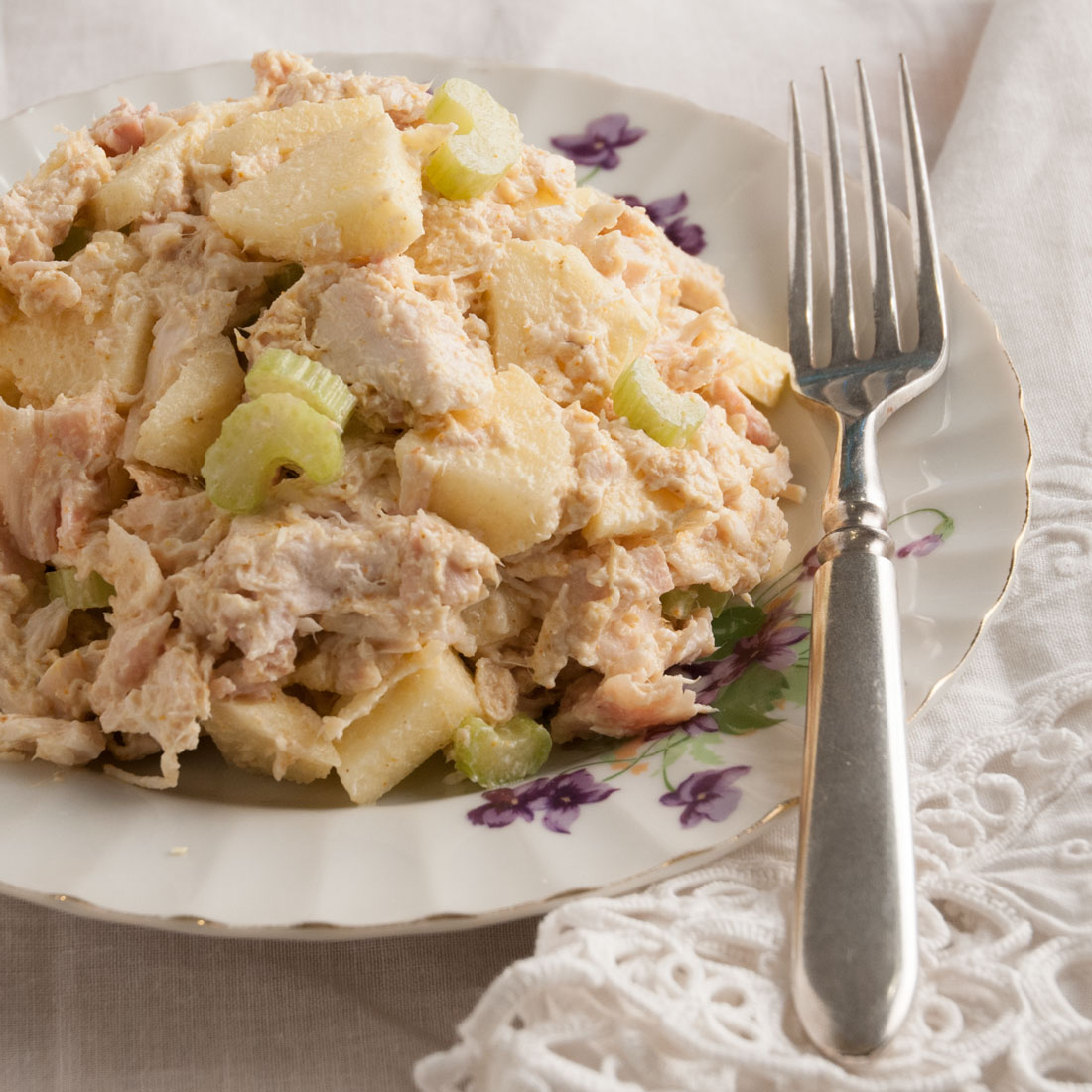 INGREDIENTS
1 cup nonfat plain yogurt
1 tsp. curry powder
Grated zest of 1 lemon
1 tbsp. lemon juice
1/2 tsp. salt
1 1/2 cups diced celery
1 tsp. dried cilantro or parsley
3 1/2 cups cubed cooked chicken (rotisserie chicken works great or you can substitute left-over Thanksgiving turkey)
1 apple, peeled and cubed
Pepper
DIRECTIONS
In a large bowl, combine the yogurt, curry powder, lemon zest, lemon juice, and salt. Whisk to blend. Add the celery, cilantro or parsley, chicken or turkey and apple. Toss to coat. Season with pepper. Taste and adjust other seasonings.
Chicken (or Turkey) Waldorf Salad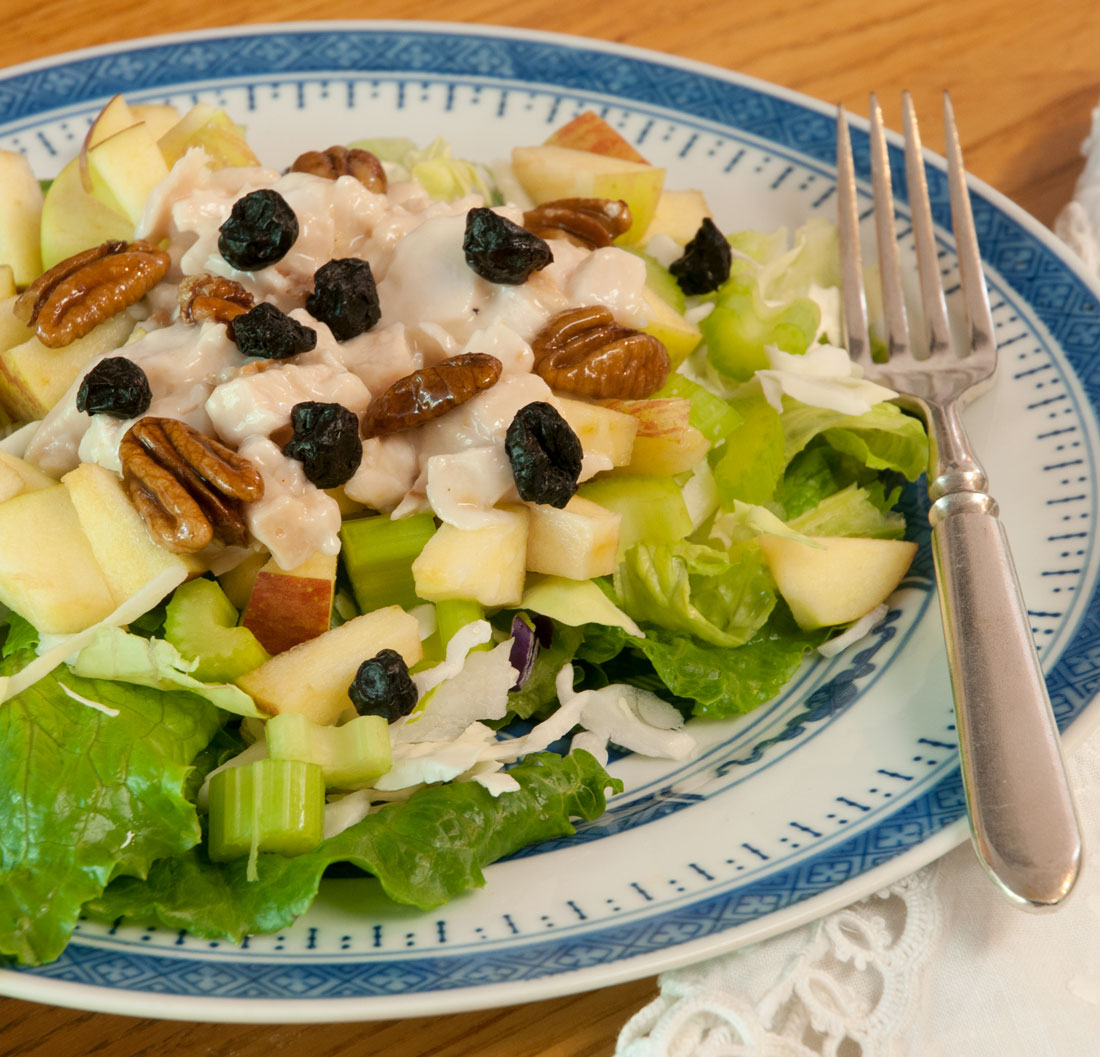 INGREDIENTS
1/3 cup mayonnaise or salad dressing
2 tbsp. honey
1 tbsp. lemon juice
4 grilled boneless cooked chicken breasts (or substitute rotisserie chicken or left-over turkey)
1 1/2 cups chopped apple
1 cup seedless grapes
1/2 cup celery, sliced thinly
1/4 cup chopped walnuts or pecans
1/4 cup raisins
Lettuce or cabbage leaves
DIRECTIONS
In a small bowl, stir together mayonnaise or salad dressing, honey and lemon juice.
Cut chicken or turkey into 1-inch pieces. In a salad bowl, combine chicken, apple, grapes, celery, walnuts and raisins. Pour dressing over the salad. Toss lightly to coat. Line salad plates with lettuce or cabbage leaves. Divide the chicken mixture among plates atop the greens.
Variations:
Add dried cherries instead of grapes and raisins, substitute pine nuts for walnuts and add 2 tbsp. sour cream. This version is delicious on sourdough toast.
Vegetarian side dish: Eliminate the chicken and add 1/3 cup slivered almonds or chopped pecans, toasted and 1/4 cup dried cherries. To toast the nuts, lay them on a baking pan and bake for 5-10 minutes in a 350-degree F oven until they are light golden brown.
Fruit Slaw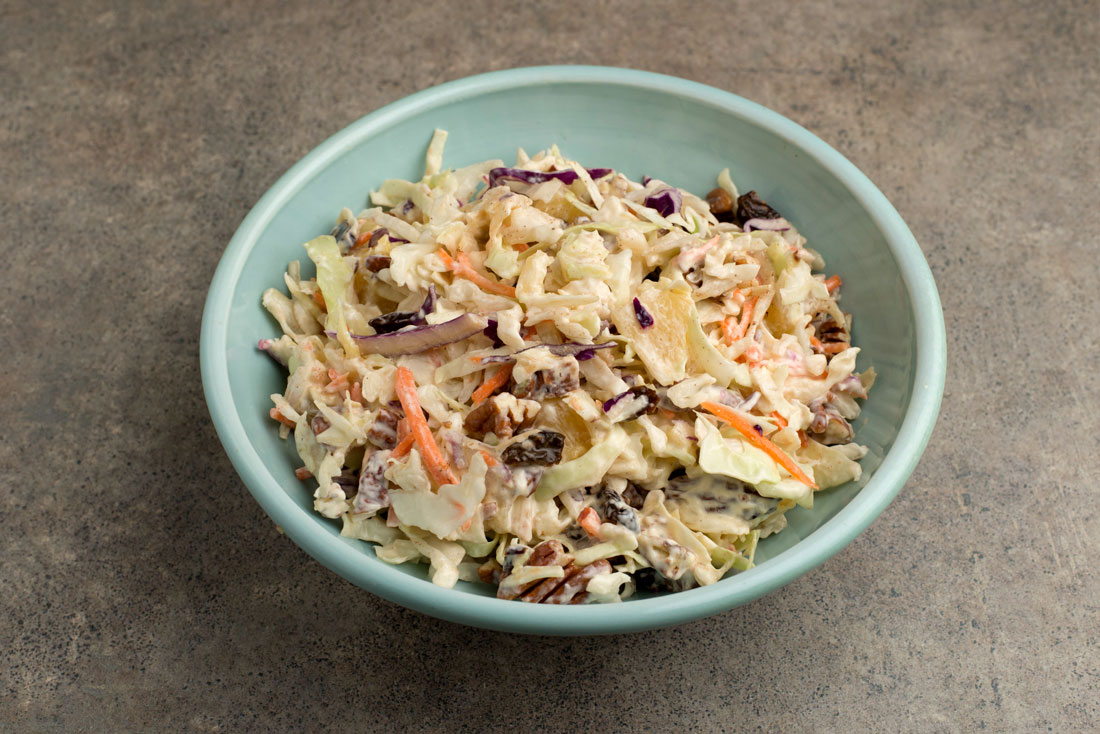 This is one of the easiest and most versatile ways to make a fruity coleslaw with any kind of fruit. The version shown above uses pineapple, but apples work great in this recipe as well.
INGREDIENTS
3 cups prepared coleslaw mix
Pineapple chunks, an orange, a nectarine and/or apple cut into chunks, grapes, blueberries, cherries or dried fruit
Chopped walnuts, pecans or slivered almonds
1/2 cup mayonnaise
1 tsp. cinnamon
DIRECTIONS
Toss the lot into a bowl and stir to mix. Experiment with fruits, nuts and dressings depending on what is in season and close at hand. I make this salad in half a dozen different ways depending on what fruit is in season.
Apple, Nectarine, Walnut and Cheese Salad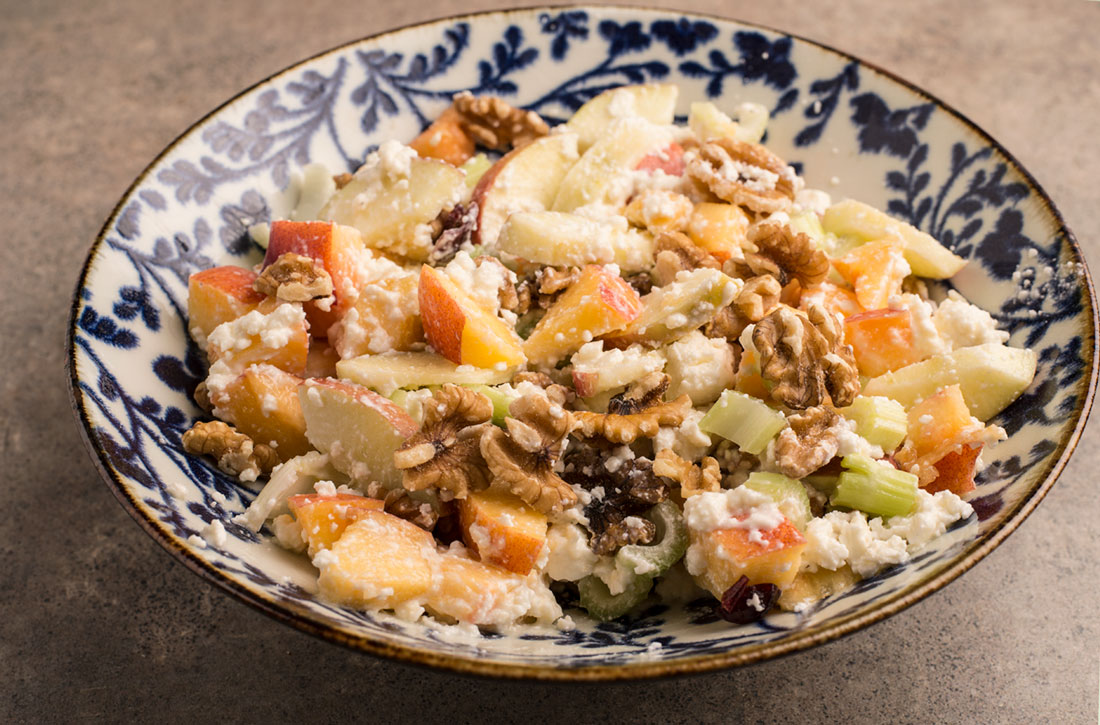 INGREDIENTS
6 oz. crumbly cheese
1 tbsp. olive oil
1 tbsp. red wine vinegar
2 tbsp. cream
Black pepper
3-5 apples and/or nectarines, unpeeled, cored and cut into 1/2-inch cubes
4 celery stalks, thinly sliced
2 tbsp. dried cranberry raisins
1 tbsp. fresh lemon juice
1/2 cup chopped walnuts, toasted
DIRECTIONS
Place one-third of the cheese in a large bowl. Add the olive oil and mash the cheese with a fork. Add the vinegar and mash it in. Add the cream and 1 tsp. black pepper and mix well to make a thick dressing.
Add the fruit, celery, cranberry raisins and lemon juice and mix well. Crumble the remaining cheese and sprinkle it over the salad along with half of the walnuts. Mix them into the salad.
Garnish with the remaining walnuts and celery. Serve.
Apple and Avocado Salad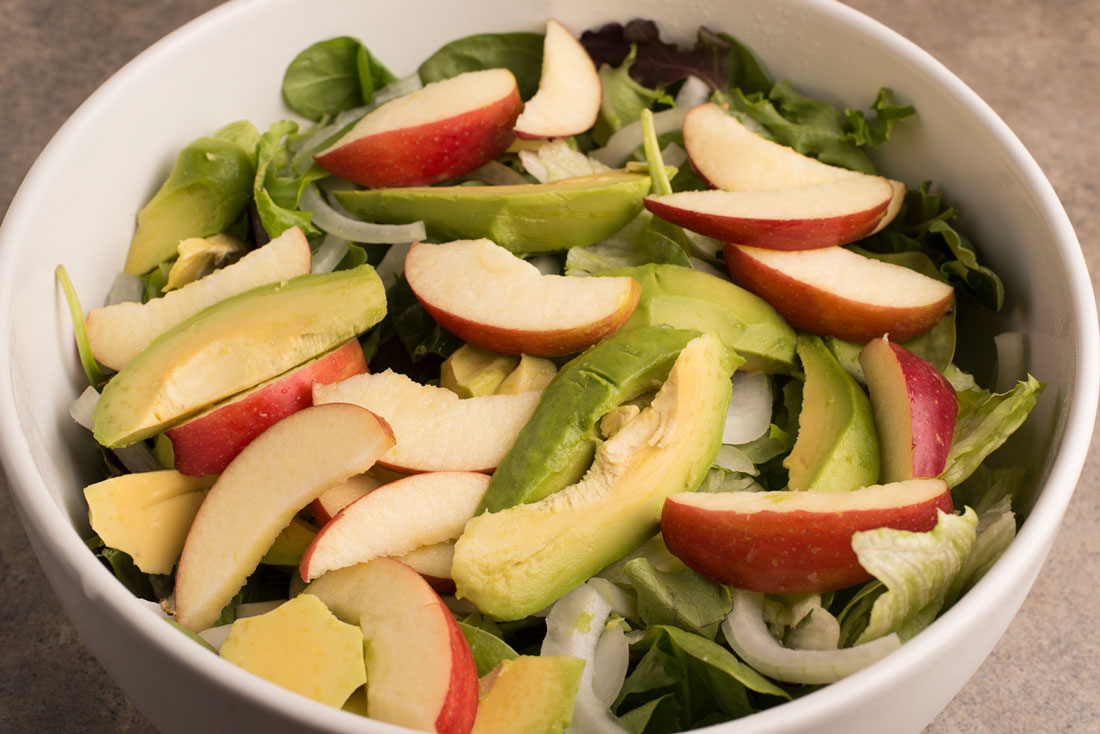 INGREDIENTS
1 head lettuce, washed, torn in pieces
1 apple, peeled, cored and sliced
1/2 small red onion, chopped
1 avocado, cut into 1/2-inch slices
Salt and pepper
1/4 cup olive oil
3 tbsp. apple cider vinegar
DIRECTIONS
In a medium bowl, combine lettuce, apple, onion and avocado. Season with salt and pepper. Mix the olive oil and vinegar and toss it in the salad.
Apple Pie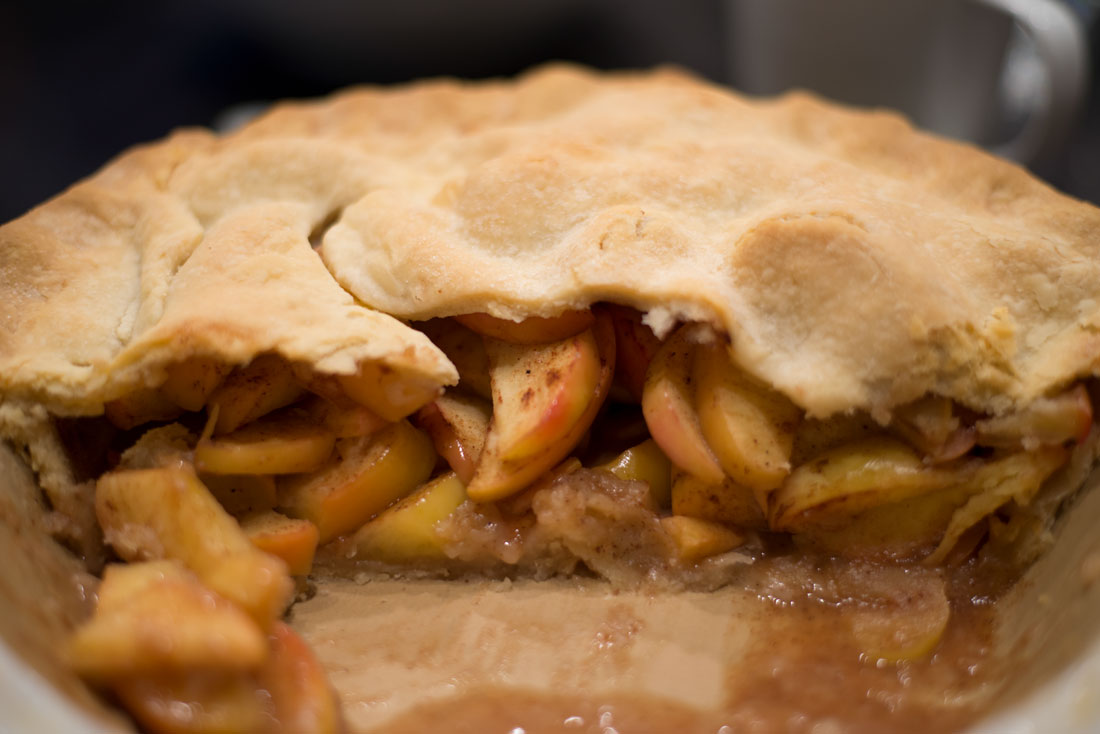 First make the pie crust
Awesome Pie crust
INGREDIENTS
1/2 cup white flour
1/2 cup whole wheat flour
1/4 lb butter
1/4 cup sour cream
DIRECTIONS
Mix, chill if possible. Roll out. Bake 10 min. at 425 degrees for a cream pie. For a fruit pie, bake as instructed in the recipe.
INGREDIENTS FOR PIE
Double Awesome Pie Crust, chilled
1/2 to 1 cup sugar, depending on how tart the apples are
2 tbsp. all-purpose flour
1/2 to 1 tsp. ground cinnamon
¼-1/2 tsp. nutmeg
1/8 tsp. salt
5-6 apples, peeled, cored and sliced
2 tbsp. butter
DIRECTIONS
Preheat oven to 375 degrees F. Roll out pastry for bottom crust and line bottom and sides of pie pan with it.
In a large bowl, combine dry ingredients and stir. Add sliced apples and stir. Pour apple mixture into pie pan. Dot with small pieces of butter.
Moisten edge of pie crust with water. Roll out top crust on pie and seal it on the edge by fluting it with your finger. Cut a vent hole in the top of the crust in a design of your choosing. Brush with milk, sprinkle with sugar, and bake 45-50 minutes or until apples test tender when a sharp knife is inserted into the vent hole in the top crust.
Variations:
Quick version: A 30-oz. can of apple pie filling may be substituted for fresh apples, sugar, flour and salt. Pour into pie crust, sprinkle with cinnamon and nutmeg and dot with butter before adding the top crust, finishing it and baking.
Caramel Apple Pie - While the apple pie is baking, make a caramel sauce by melting 1/4 cup butter in a saucepan. Add 1 1/2 cups brown sugar, 1/2 cup heavy cream, and 2 tbsp. corn syrup. Bring to a boil, stirring, and reduce heat to medium until the sauce thickens, about 5-7 minutes. Remove from heat and add vanilla. Allow to cool in the pan for 15 minutes and drizzle sauce over warm pie. You can do the same with commercial caramel ice cream topping, heated.
Apple-Cherry Pie - Cut the apples down to four and add 2 cups pitted sour red cherries, drained, mixed in with the apples.
Quick version of Apple-Cherry Pie: Discard 1/3 cup of juice from a 21-oz. can of cherry pie filling and spoon the filling into the bottom pie crust. Then spoon 1 21-oz. can of apple pie filling over the cherries. Sprinkle the filling with 1/2 tsp. ground cinnamon and 1/4 tsp. ground nutmeg. Add the top crust and seal, brush with milk and sprinkle with sugar. Bake 35-45 minutes.
Apple Crisp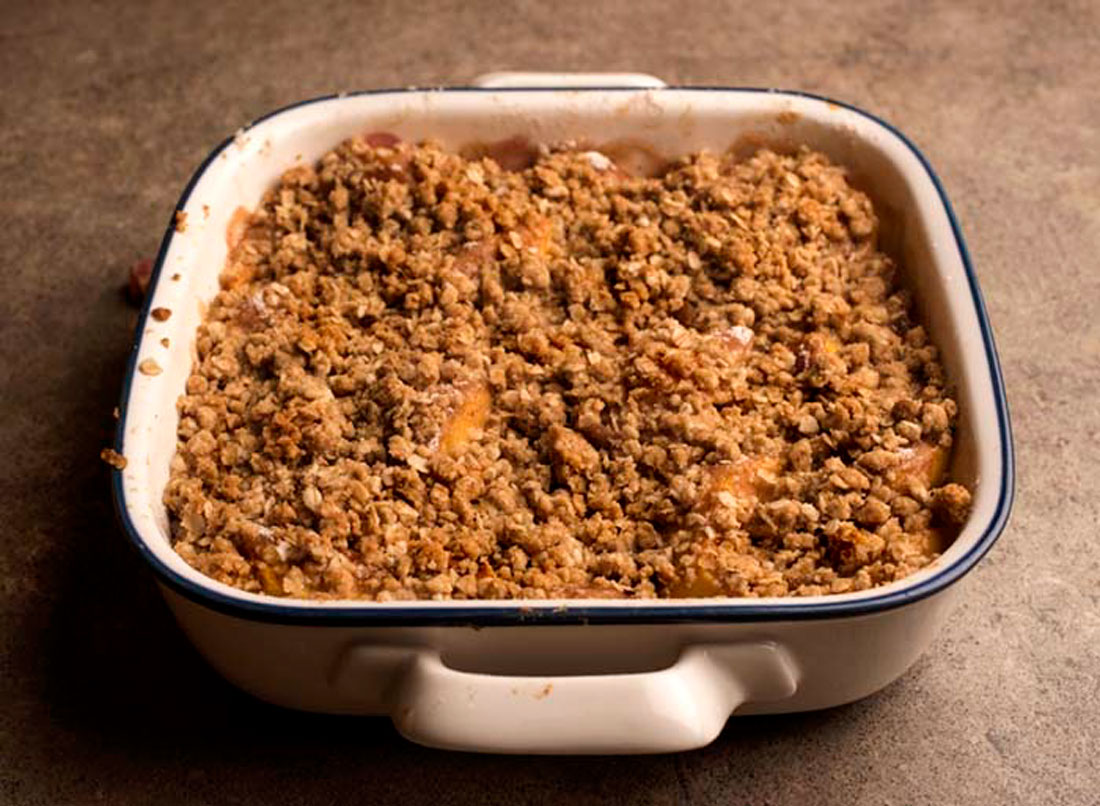 INGREDIENTS
10 cups peeled and sliced apples
1/2 cup sugar
1 cup plus 1 tbsp. all-purpose flour, divided
1 tsp. ground cinnamon
1/2 cup water
1 cup quick-cooking rolled oats
1 cup brown sugar
1/4 tsp. baking powder
1/4 tsp. baking soda
1/4 cup butter, melted
DIRECTIONS
Preheat oven to 350 degrees F. Place the apples in a 9x13-inch pan. Mix sugar, 1 tbsp. flour, and cinnamon and sprinkle over apples. Pour water over all. In a bowl, combine oats, remaining 1 cup flour, brown sugar, baking powder, baking soda and melted butter. Crumble over the apples. Bake 45 minutes, or until top is golden brown and apples are tender. Serve with whipped cream or ice cream. Peaches (add 1 tsp. lemon juice), blueberries or cherries can be substituted for the apples. Bake for 25-30 minutes.
Check out these related items