Seagrove's Marvelous Pottery
Posted by Donna Rouviere Anderson |
June 25, 2021
Photos by Forrest Anderson
The small rural community of Seagrove, North Carolina, has fewer than 300 residents, but it enjoys international fame for superb ceramics which are one of the South's finest and most popular art forms.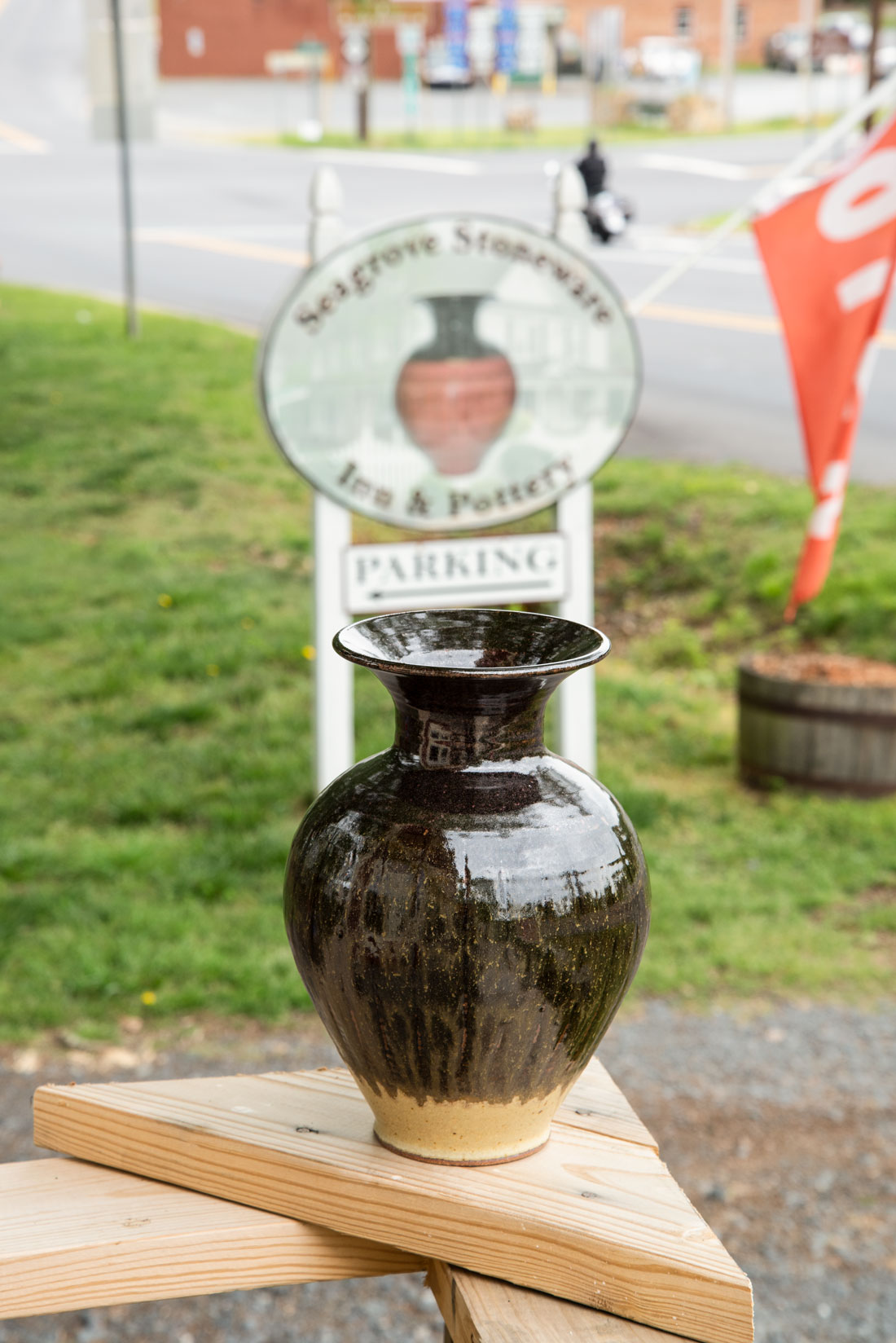 Within a radius of about 25 miles are some 90 small pottery shops where artisan potters spin out a bewildering plethora of hand-made items in styles ranging from folk art to contemporary ceramics and sculpture. Many of these small shops have famous world-class potters at their kilns.
My husband and I have visited Seagrove, an hour and a half southwest of Raleigh, North Carolina, multiple times, to the detriment of our bank account. Our cupboards are full of charming blue pottery mugs and soup bowls that look like they came from a hobbit kitchen. We eat off plates hand painted with whispy Trees of Life, and use rustic handmade cereal bowls.
We're not the only ones. Collecting Seagrove pottery is a popular North Carolina pastime and tradition, with some people's collections having started when they received Seagrove items as wedding gifts. If you love ceramics and like to incorporate art into your daily life, there is no better place in the United States to find skilled, creative potters than Seagrove.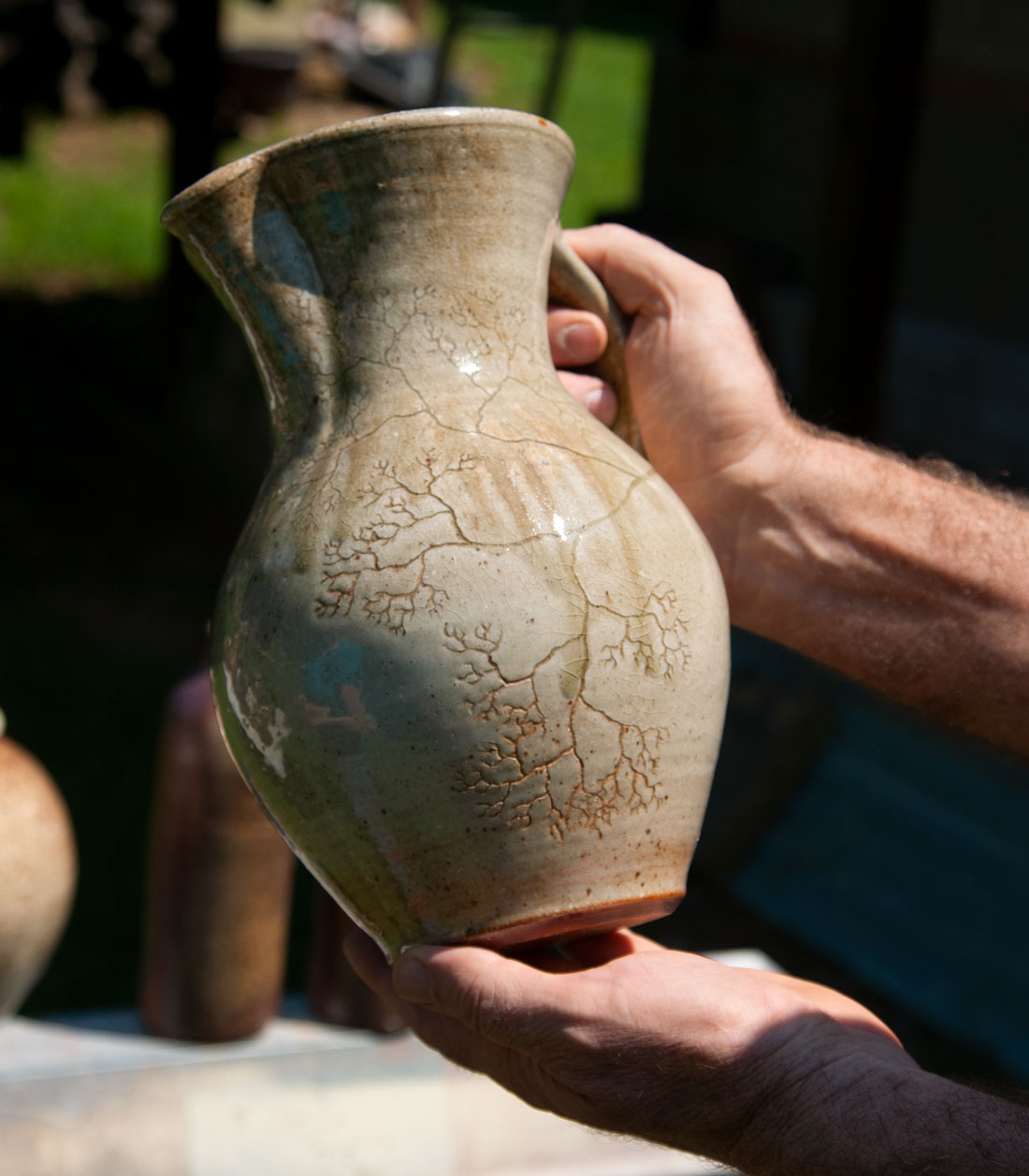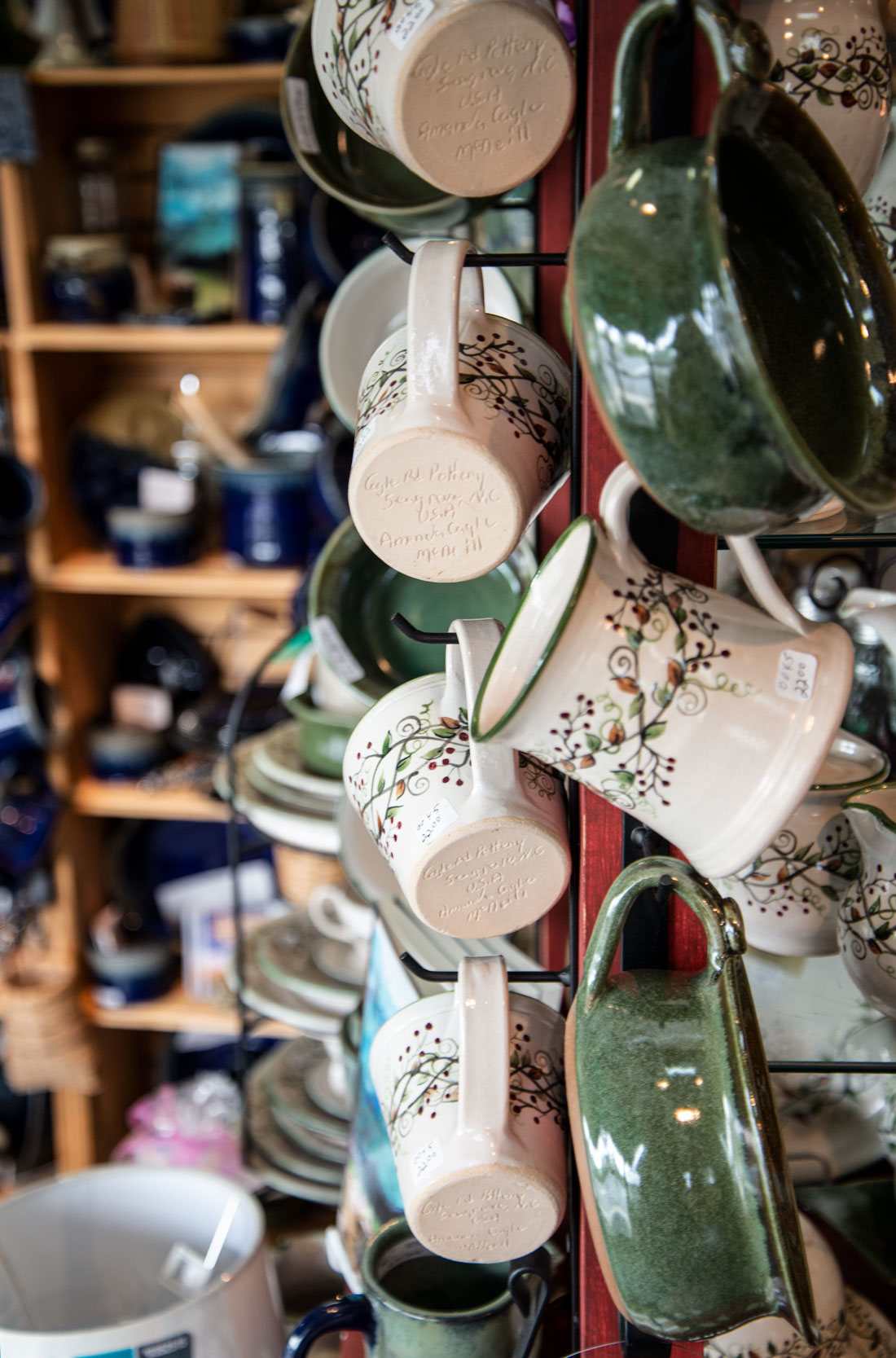 Seagrove owes its ceramics industry to clay deposits that began to be formed more than 500 million years ago, when tectonic plate shifts and volcanic activity formed North Carolina's Uwharrie mountain range, geologists say. Molten rock packed densely just under the earth's surface and became igneous rock and then finer soil that contained calcium, alumina, silica and sodium. The mix was ideal for ceramics, as silica hardens clay during firing, while alumina slows the firing process to prevent cracking and breaking. The area has red clay, which when fired becomes a reddish orange color, and gray clay found in creek beds that is ideal for glazed stoneware.
Native Americans created both functional and ceremonial ceramics using the clay. Such artifacts are the most important remains of early Native American civilization in the area.
In the late 18th century, English and German potters who migrated south from Pennsylvania and Virginia over the Great Wagon Road that ran from Pennsylvania south into Georgia. These potters valued and used the local clay in an era and location where hand-made ceramics were a necessity because industrial production of tableware was uncommon.
By the early 19th century, the potters had begun making salt glazed stoneware, which was fired at a higher heat. Mid-century potters gained access to larger markets by transporting their goods over what was called the Old Plank Road, a series of wooden roads built in the late 1840s to open trade routes to railroad hubs and seaports. Local potters later shipped their wares on the railroads.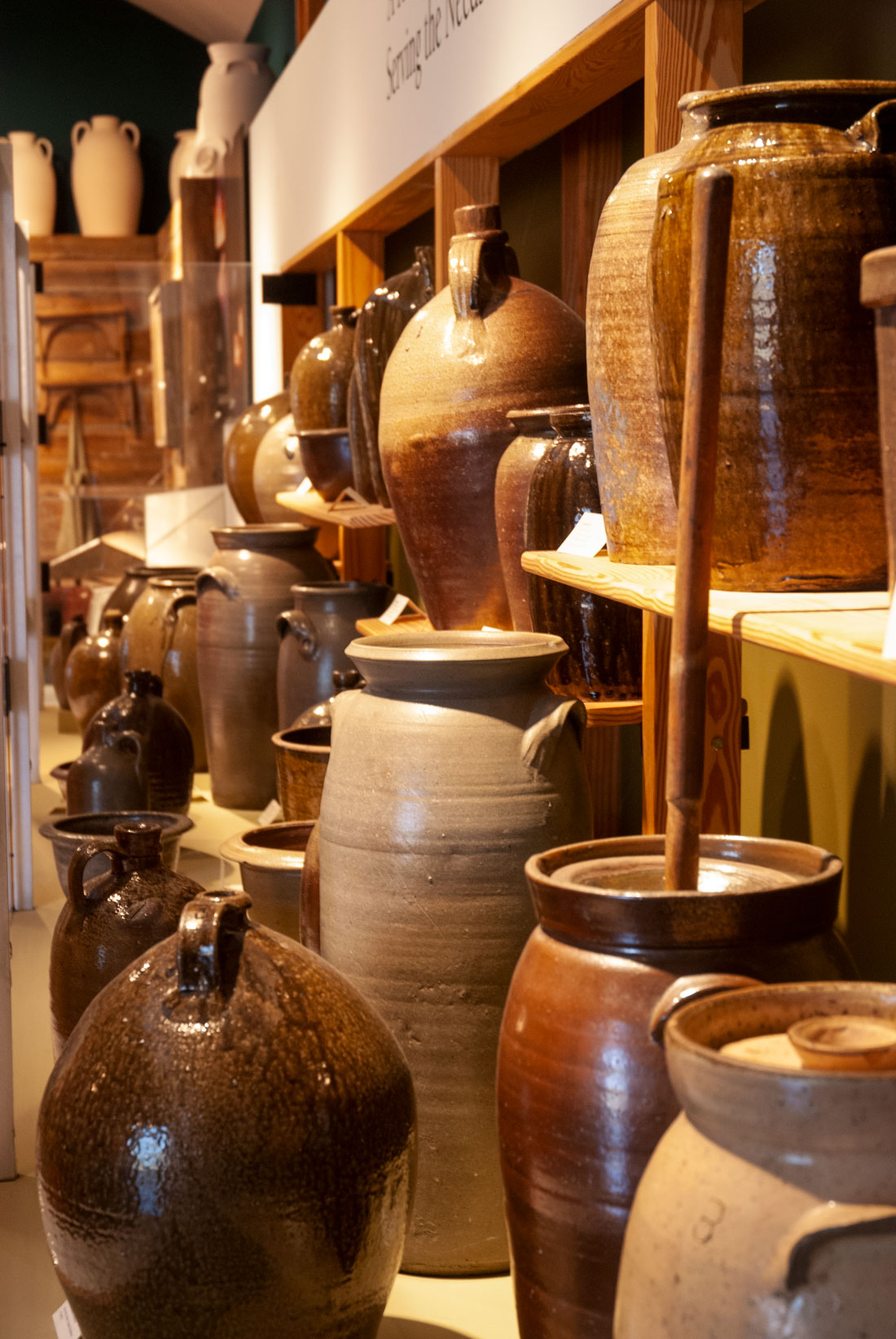 The popularity of Seagrove pottery declined with the advent of alternatives during the Industrial Revolution and into the early 20th century, but some potters continued to work. A number of potteries in the area have been owned by the same families for eight or nine generations. Among the signature traditional items sold in Seagrove are jugs with human features.
Jacques and Julianna Busbee of Raleigh, who were given Seagrove pottery as a gift and loved it, began to promote Seagrove pottery in the early 1900s and collectors outside of North Carolina purchased it. The Busbees hired several Seagrove potters to make signature wares under the name Jugtown Pottery. The items sold in a store called The Village Store and Tea Room in New York City's Greenwich Village and later in what was called the Jugtown Shop in Seagrove. The ceramics also sold in garden shops in Florida.
Around 1920, Seagrove pottery became popular with tourists driving through the area, and the pottery styles became more decorative. The industry thereafter declined somewhat until the 1976 Bicentennial Celebration, when the United States became more interested in its traditional crafts. Nearby community colleges developed ceramics programs that trained local residents. Some Seagrove potters also trained apprentices. Ceramicists moved to Seagrove, attracted by the community of potters. Many of these artists were trained in Asian ceramics and wood-firing techniques, which are evident in their work.
Each potter is known for his or her own technique or type of work, so the ceramics vary widely from pottery to pottery. Some make multi-colored items of blends of clay or glazes. Some make crystalline-glazed porcelain inspired by Asian ceramics or coat their work in traditional Japanese glazes.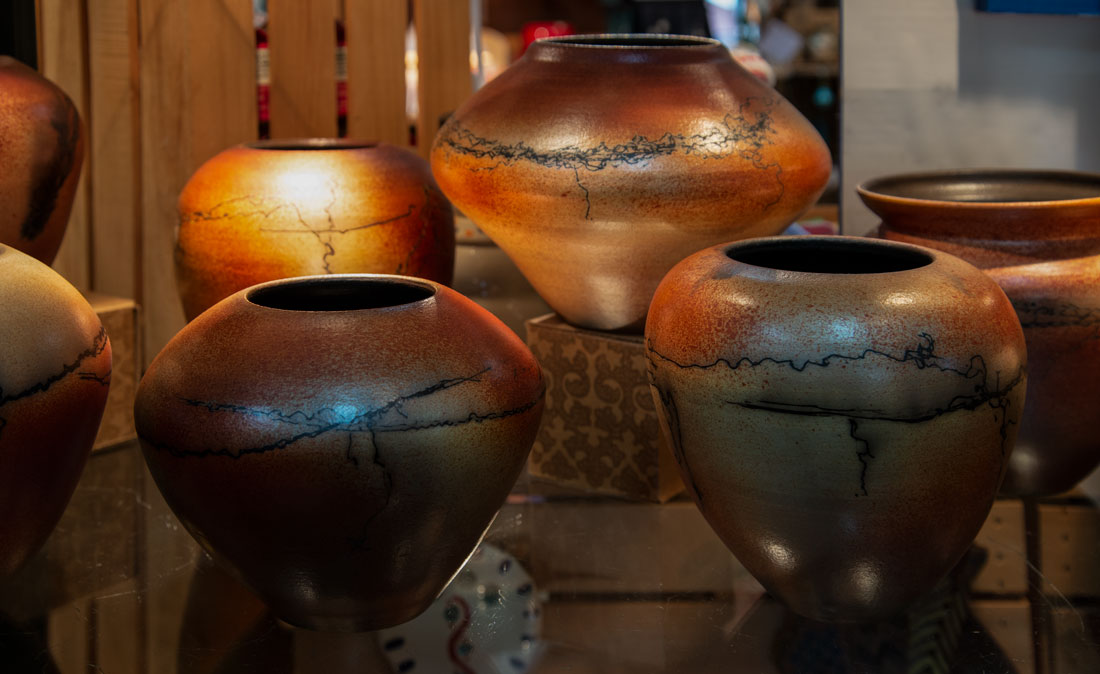 The Seagrove Pottery Festival, held annually the week before Thanksgiving, was organized in 1982 and has continued to grow since. During the two-day festival, potters and traditional craftspeople gather to sell their wares. The festival happens alongside a Celebration of Seagrove Potters. The town also hosts a spring pottery tour during which potters offer studio tours, demonstrations and sell their pottery.
The community has become a popular tourist spot for ceramics enthusiasts from around the world, some of whom visit on group tours.
A visit to a Seagrove pottery is hands on. At some of them, visitors can watch potters spinning their magic on pottery wheels. At others, they can observe the potters taking items out of the kiln.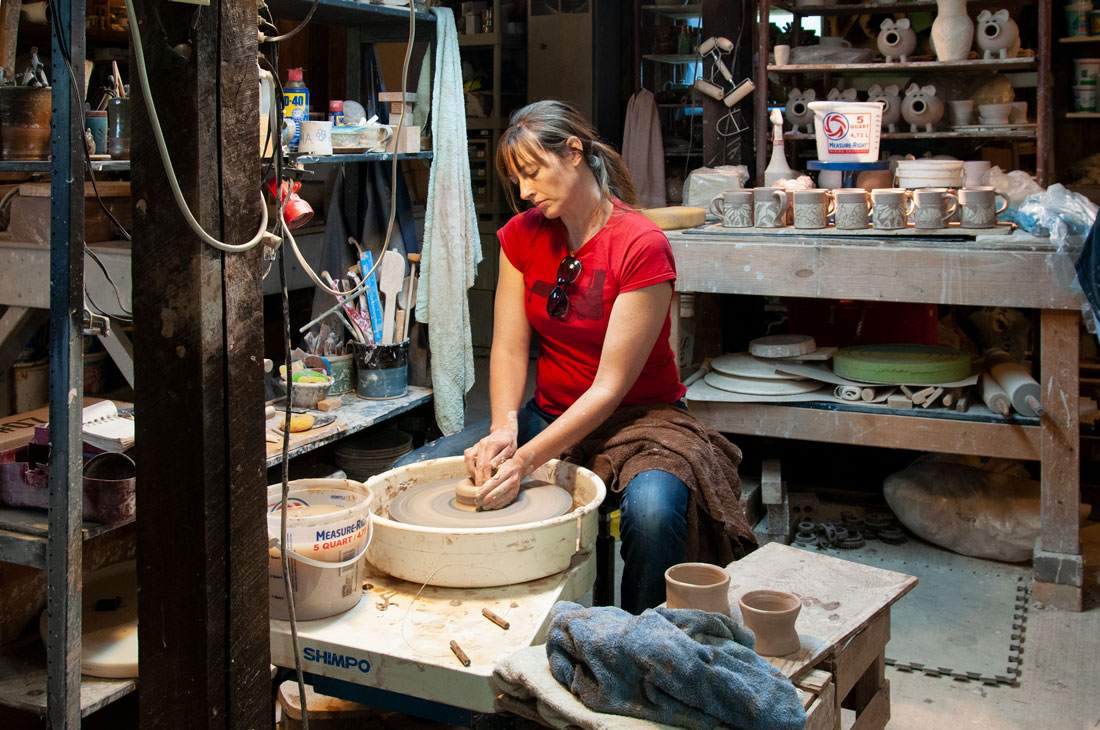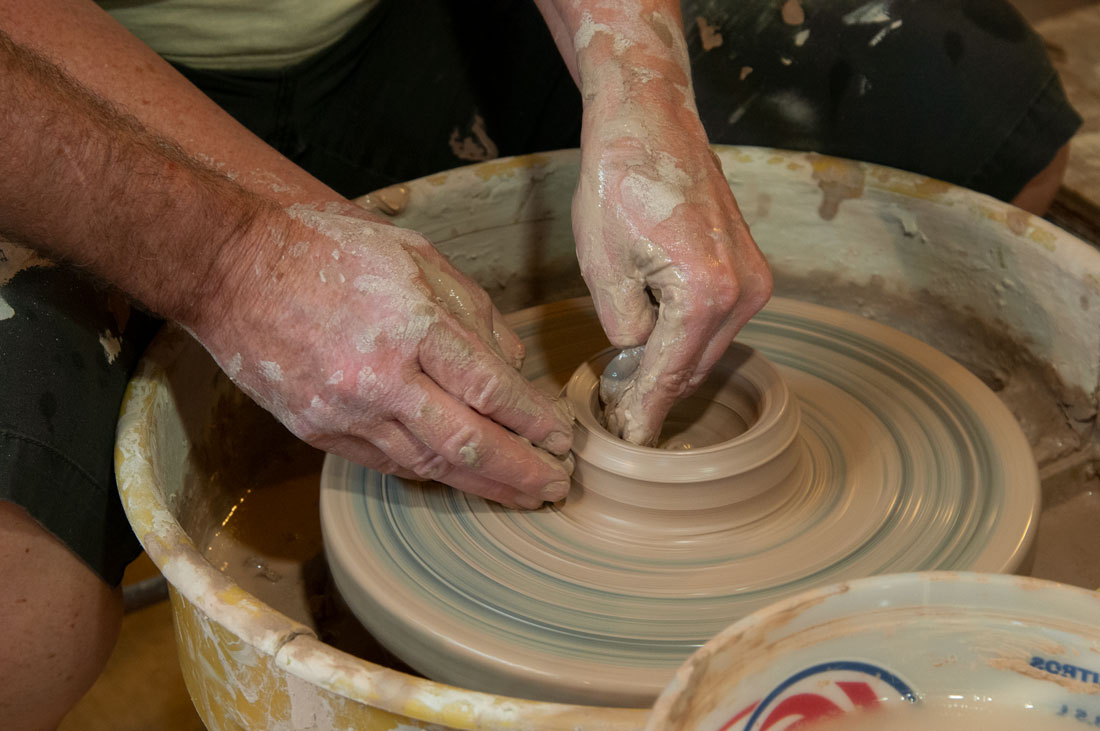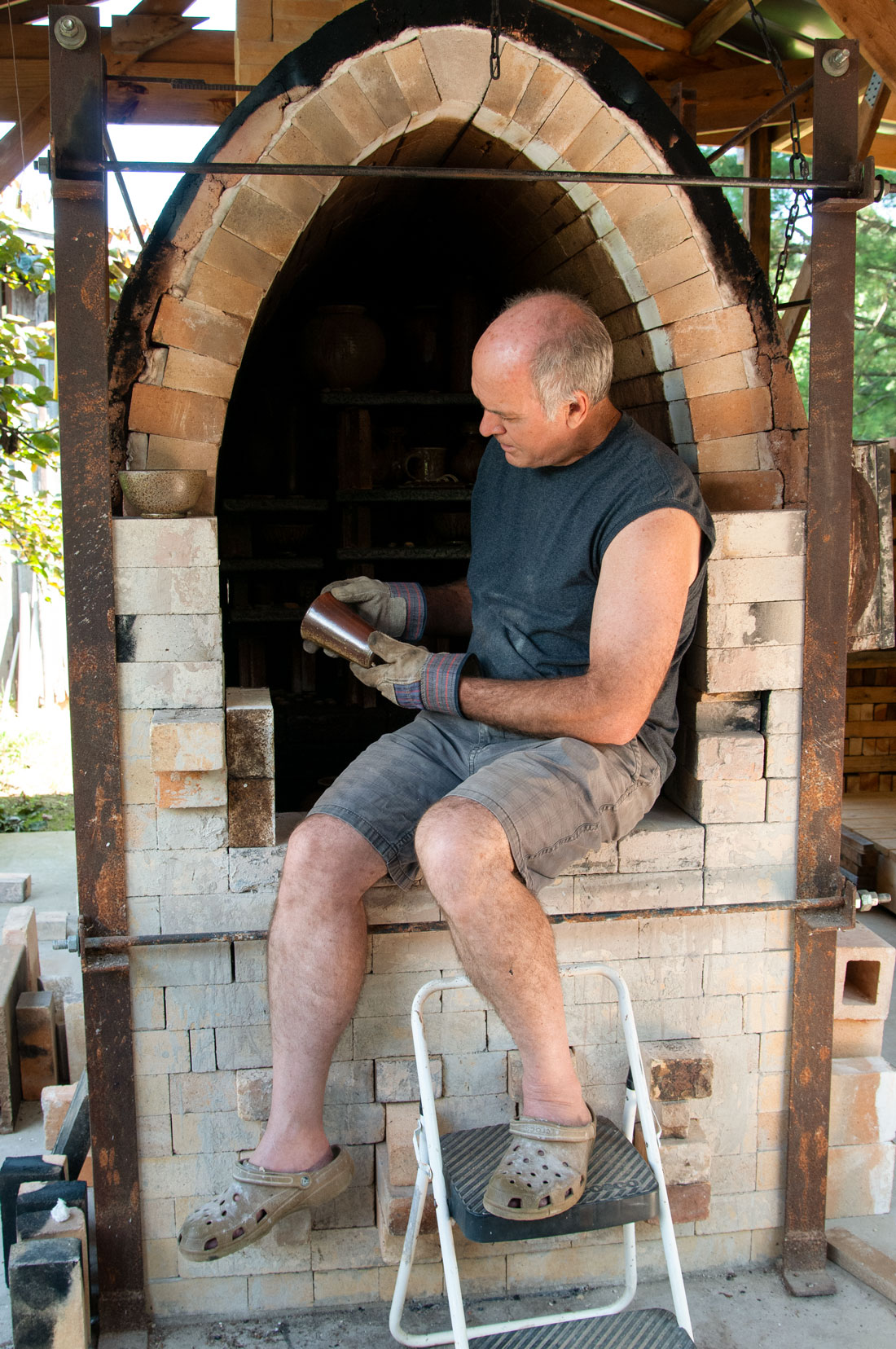 Some shops are rustic country stores selling stoneware pitchers and pie plates, while others are sleek galleries with soft lighting falling on exquisitely carved and painted sculptural work.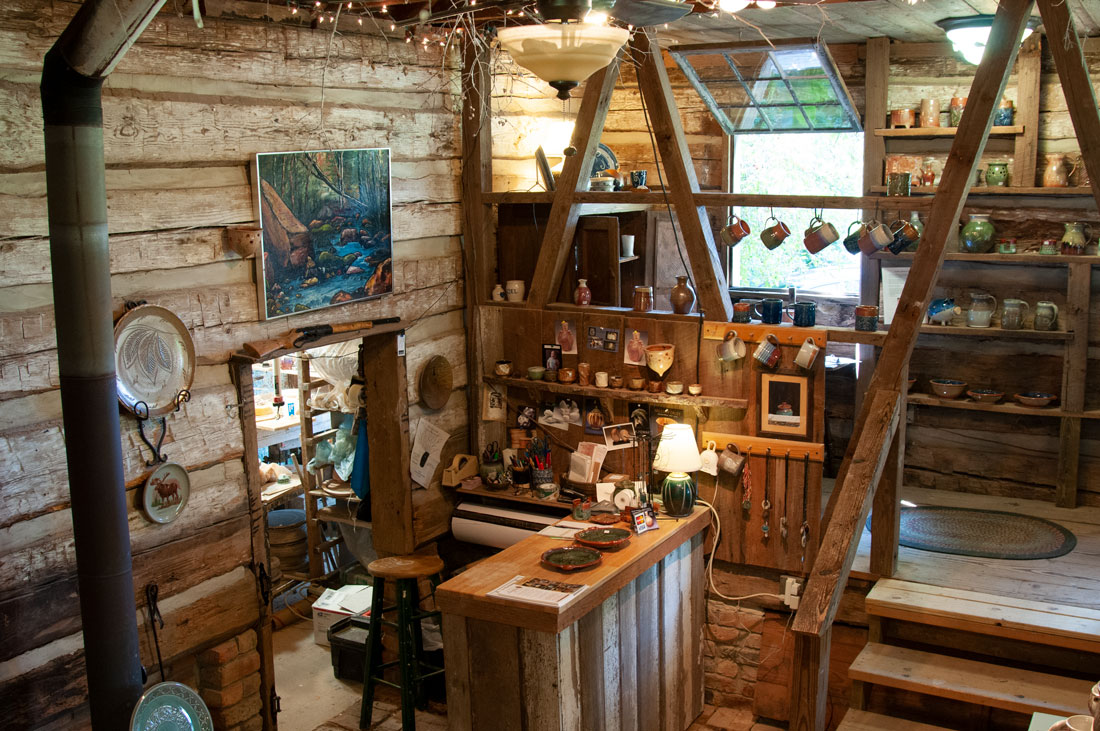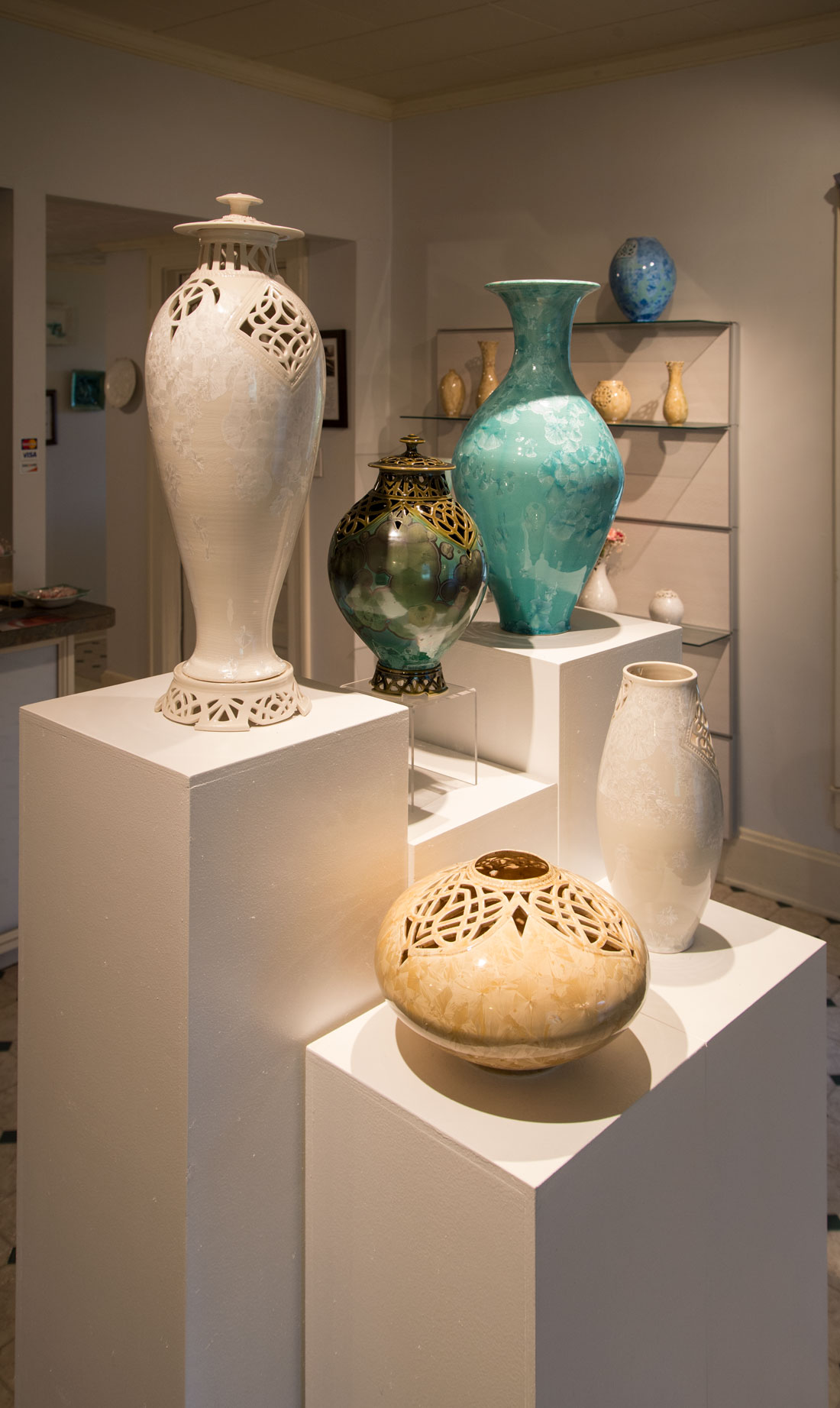 Seagrove is about 15 miles south of Asheboro, North Carolina, a beautiful scenic drive through green North Carolina farmland. A number of communities near Seagrove are part of the pottery region along and near NC-705, which is called the North Carolina Pottery Highway and parts of which follow the Old Plank Road. There are potteries in the small towns of Star, Whynot, Erect, Westmoore, Happy Hollow, and Robbins.
The North Carolina Pottery Center in the Seagrove area exhibits pottery, artifacts, and photographs tracing North Carolina's pottery history from early Native Americans to the present in an award-winning building. The center has a 1,500-square foot education building with pottery wheels, electric kilns, and other ceramics equipment. Outside are two working wood-fired kilns. Rotating exhibits focus on specific North Carolina potters and traditions. The center also hosts workshops, classes, and other pottery-related events.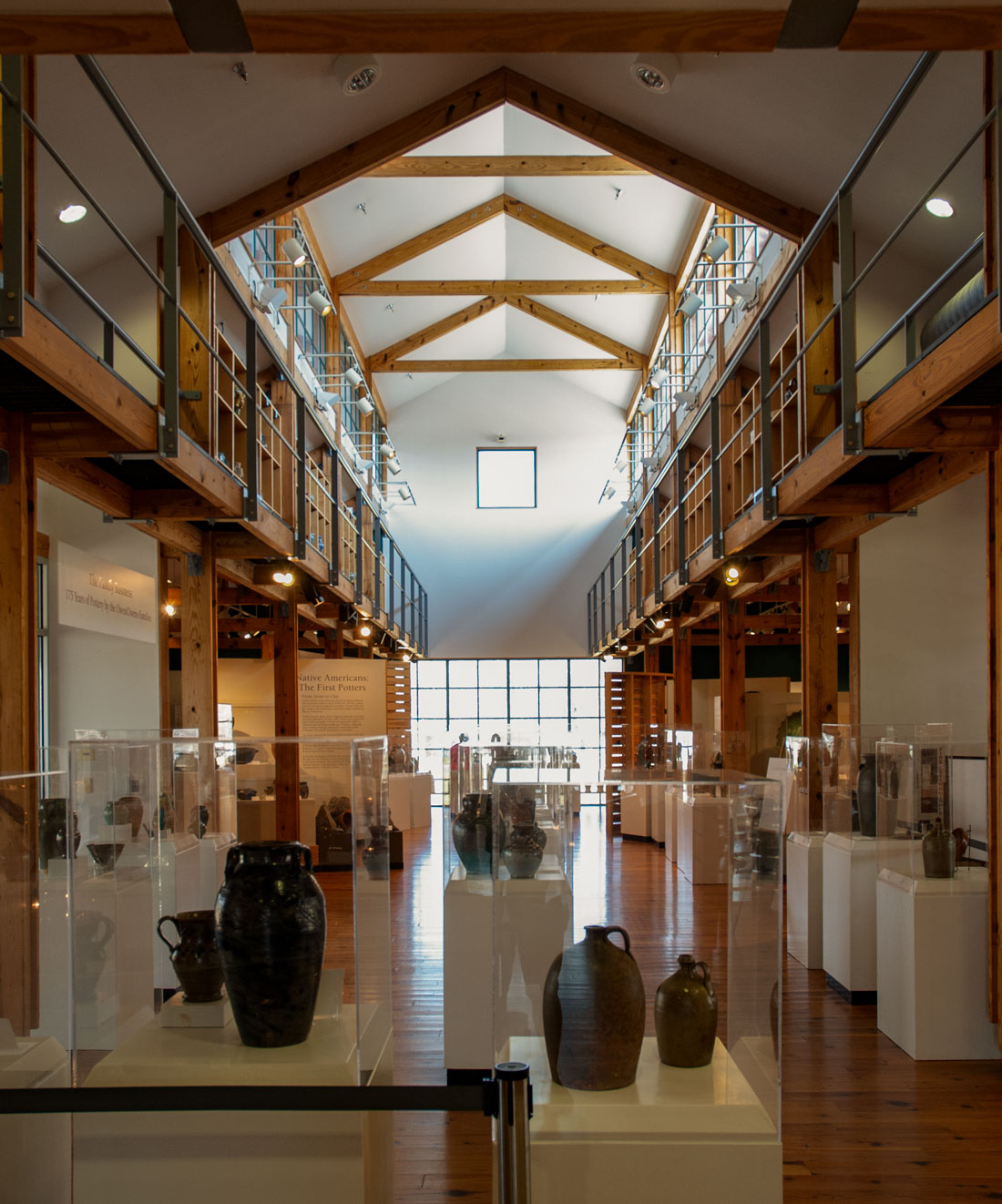 Seagrove is nowhere near the sea, and supposedly got its name because of a typo. It was named after Edwin Seagraves, a railroad official who brought the railroad into the area. The town became Seagrove when a sign painter who couldn't fit all of the word Seagraves on a sign dropped the final s. The painter also misspelled the name as Seagrove.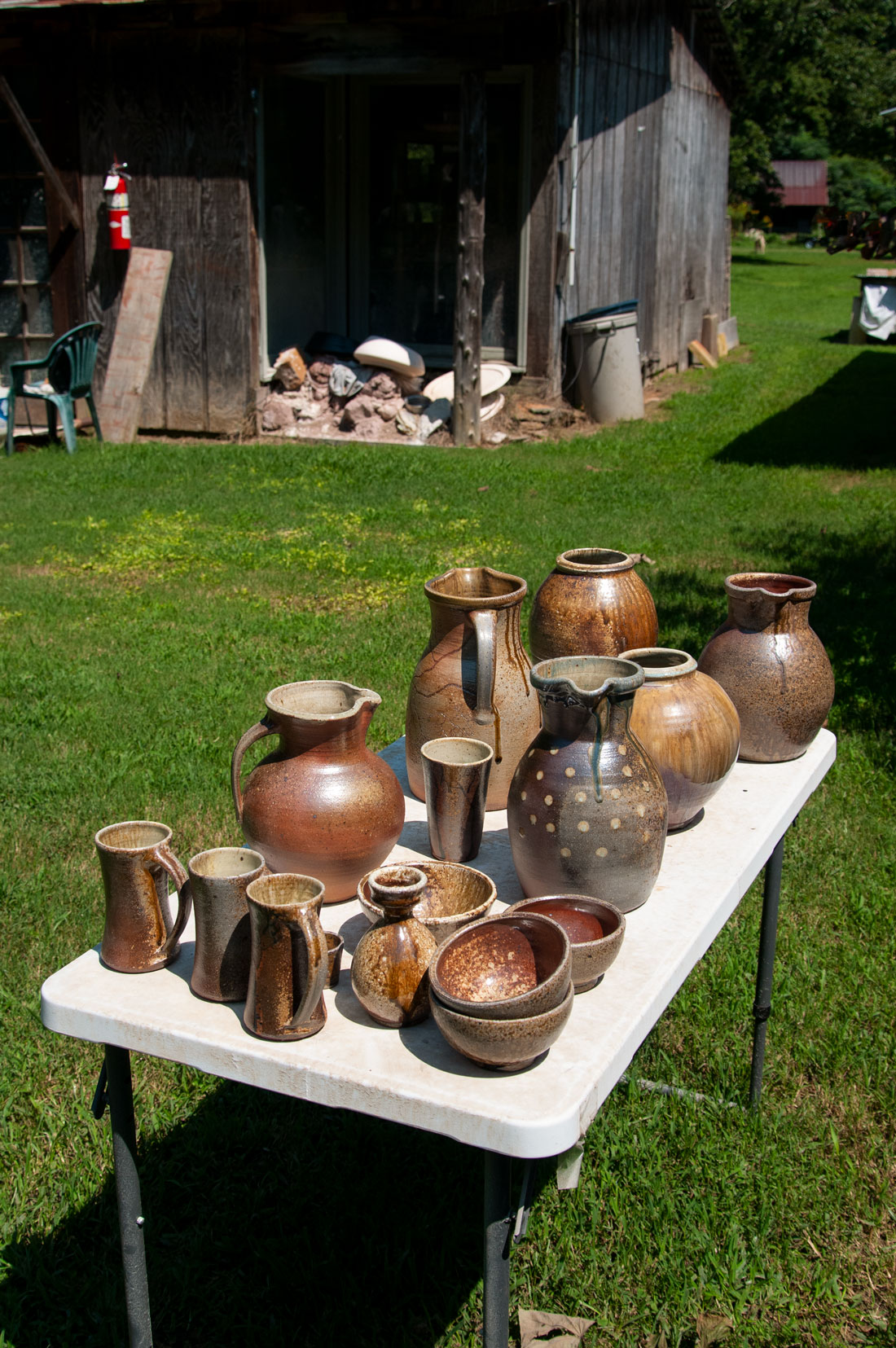 See more photos of Seagrove pottery.
Check out these related items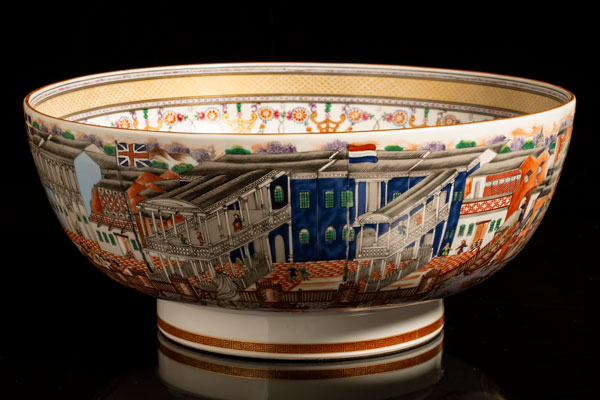 Chinese porcelain is durable and branded with its history, so it is used to trace China's trade and cultural ties with other nations.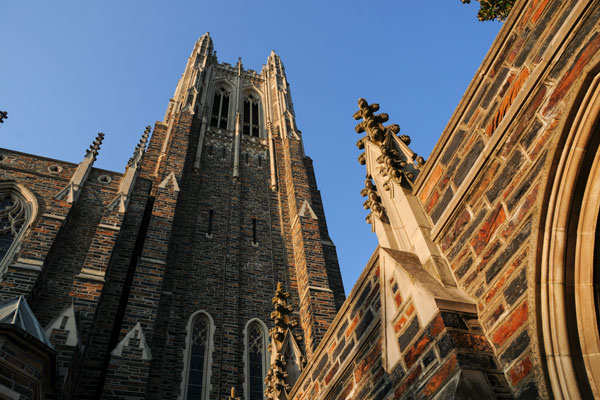 Duke University's Gothic architecture and academic excellence alongside its mixed historical legacy makes it a microcosm of the American South's historical dilemmas.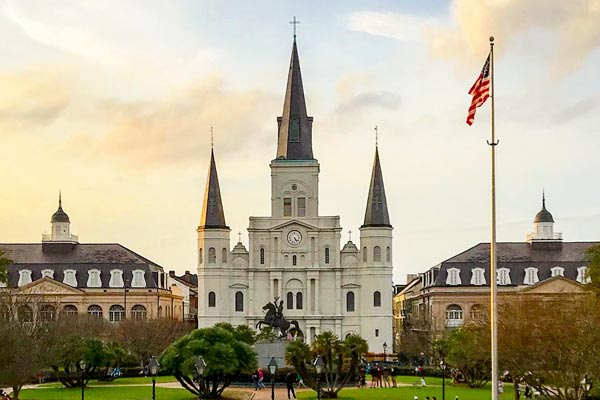 New Orleans's hybrid culture is the result of its 300 years as the gateway to trading networks of the Mississippi River.