Pizza on a Scale of One-to-Ken
Posted by Donna Rouviere Anderson |
September 25, 2018
Photos by Forrest Anderson
Tracy Wiens and her husband, self-professed pizza snobs, recently took a trip from Portland, Oregon, down to California. On the way, they sampled pizza everywhere they could. They typically rate pizza based on what they call the Kenometer – how well it rates against the pizza at Ken Forkish's restaurant, Ken's Artisan Pizza, in Portland. On a scale of one to Ken, the highest that any other pizza rated was a seven, Tracy says.
As I was eating pizza at Ken's Artisan Pizza last week while listening to Tracy's story, my thought was, "Why even bother with any other pizza?"
My personal quest to find the ultimate pizza had begun long before we stopped for dinner at Ken's restaurant. Since I'm allergic to tomatoes and pizza is one of my favorite foods, I make a lot of homemade pizza using no-tomato toppings. For many years, I made pizza dough using a ciabatta recipe formulated by Brother Juniper (the artisan chef and author Peter Reinhart). It makes delicious pizza, it freezes well and it's pretty easy once you get the routine down. However, when I saw Ken's book The Elements of Pizza: Unlocking the Secrets to World-Class Pies at Home, I had to try out the pizza dough recipes in it. My husband and I became immediate hard core Ken fans.
We had to make a pizza pilgrimage to Portland to try out the real thing made in the wood-fired oven at Ken's Artisan Pizza. It did not disappoint – easily the best pizza we've ever had. Ken, any chance you could open another pizza restaurant in Utah? Like, really soon?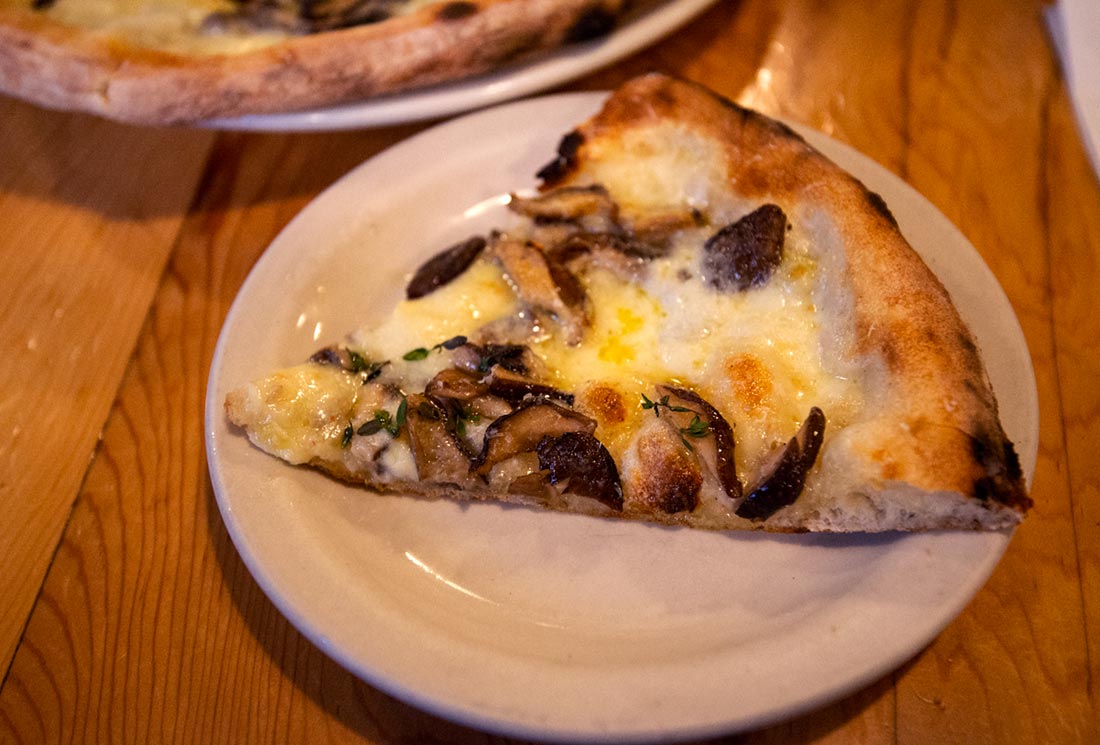 Cheese and Mushroom Pizza at Ken's Artisan Pizza.
Ken does his homework. His pizza dough is the result of extensive on-the-ground research in the best pizzerias at the heart of pizzadom – Italy – as well as in several American cities. He perfected what he learned in Italy at his restaurant and then made modifications to his recipes in his home kitchen to came up with fantastic recipes that work well with the heat limitations of a home oven.
I use Ken's pizza recipes to make both large and small one-person pizzas in small pans. As you can see by the photos below, I have found his recipes very versatile and forgiving. I accidently left this Sausage Pizza in the oven a minute or two too long. No matter, it still tasted great.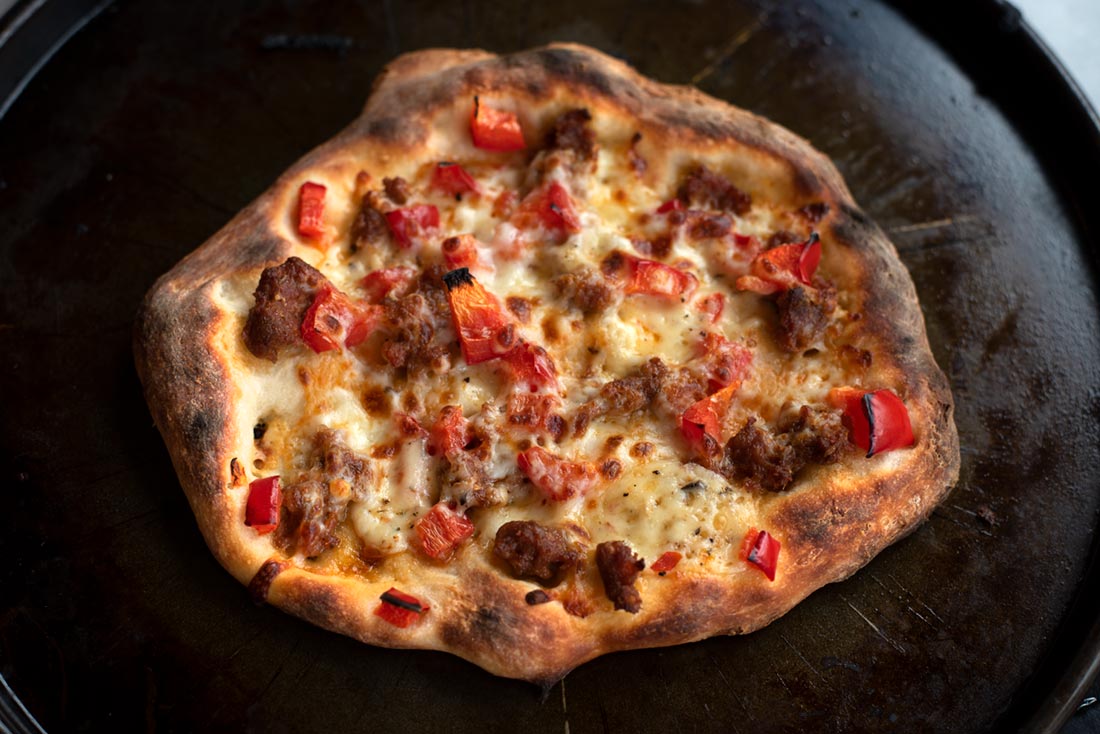 And I didn't cook these small pizzas quite long enough, but they were delicious anyway.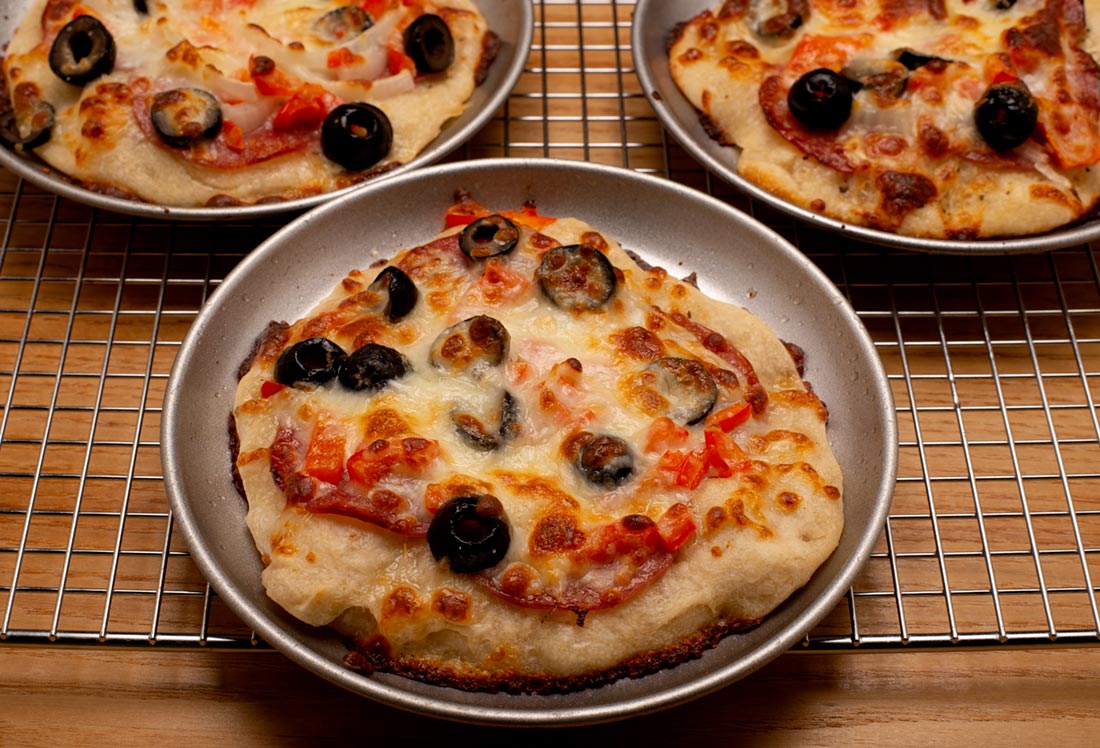 My tips for using Ken's recipes - follow his advice and use lower gluten pizza flour. It's good with regular flour, too, but Caputo's pizza flour makes it even better. Be careful when in adding the salt - I made one batch that was too salty and had to add more of other ingredients to match.
I make large batches of pizza dough and after the first rise, I shape them into balls and place the ones I don't want to use the same day on a baking sheet. I freeze and then bag them. On a busy day when we want to have pizza, I take several of them out in the morning and let them thaw and rise. At dinner time, I stretch the dough onto pizza pans and spread a small amount of good quality flavored oil, Italian sausage, ham or pepperoni and other toppings and good cheese on the dough. I place the pizzas in a 550-degree oven for seven minutes and they come out great. Ken recommends that the pizza be baked for five minutes and broiled for the last two. He's right - it makes the pizza better, but I unfortunately usually forget to switch to the broil. They're still delicious.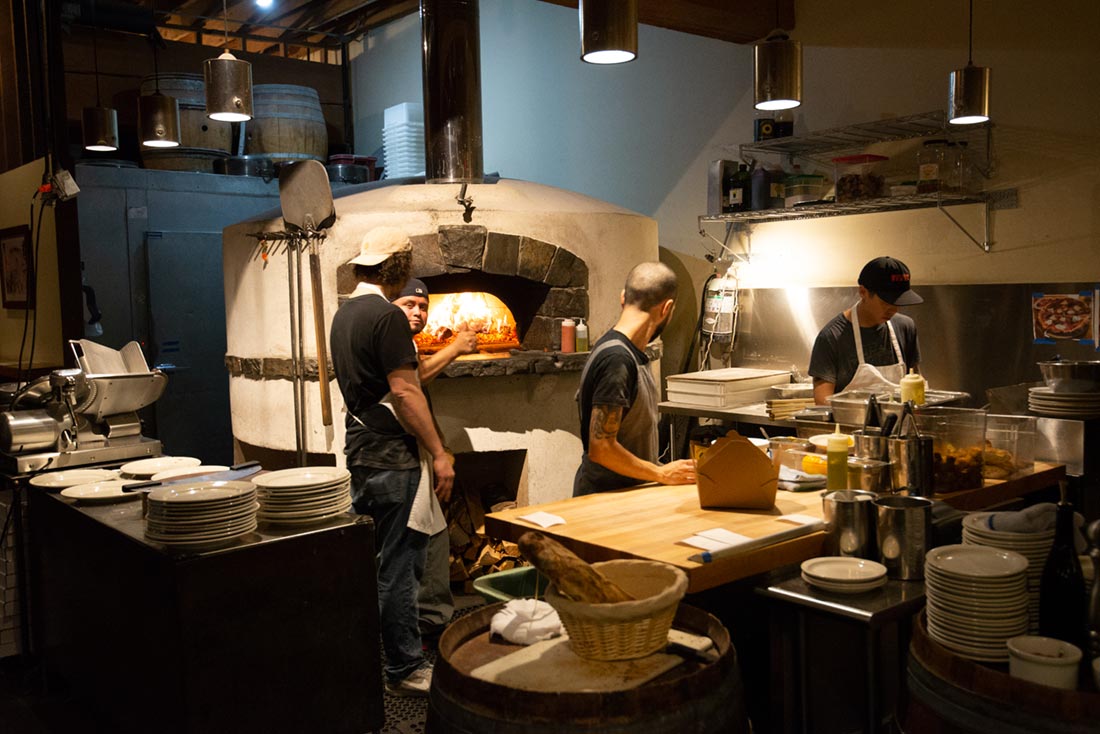 Employees making pizza in Ken's Artisan Bakery and, below, an overall view of the restaurant.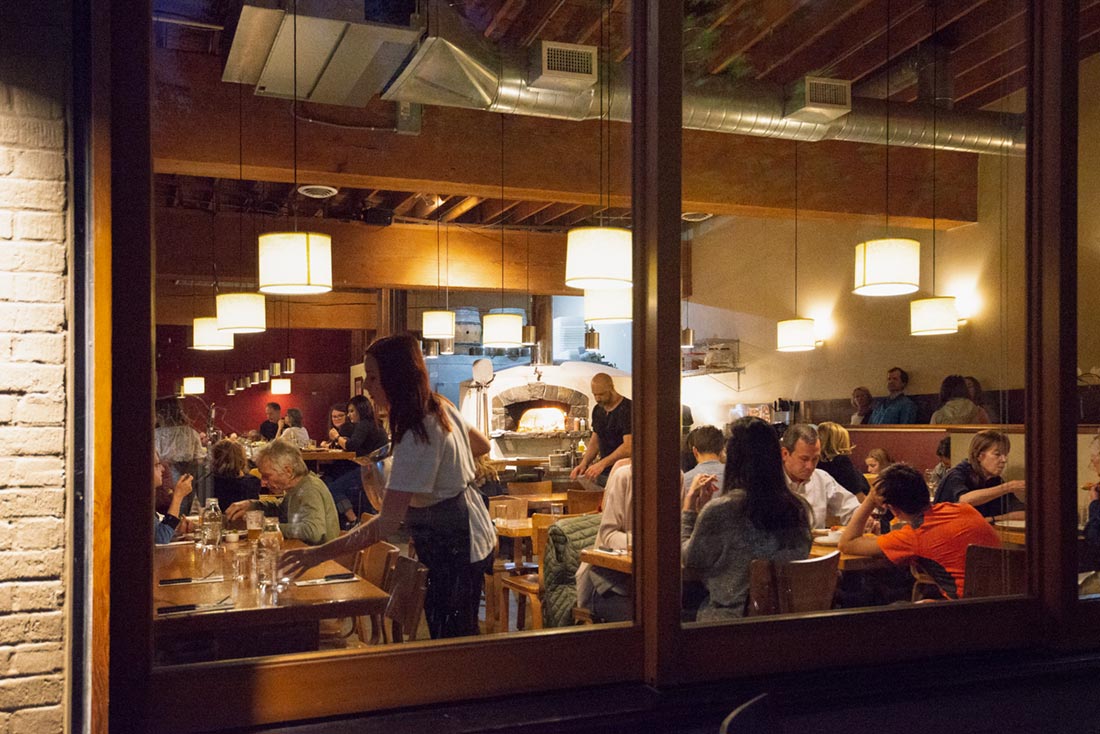 We also dropped by Ken's other restaurant, Ken's Artisan Bakery in Portland, below, and had a delicious sandwich with great bread and pickled onions.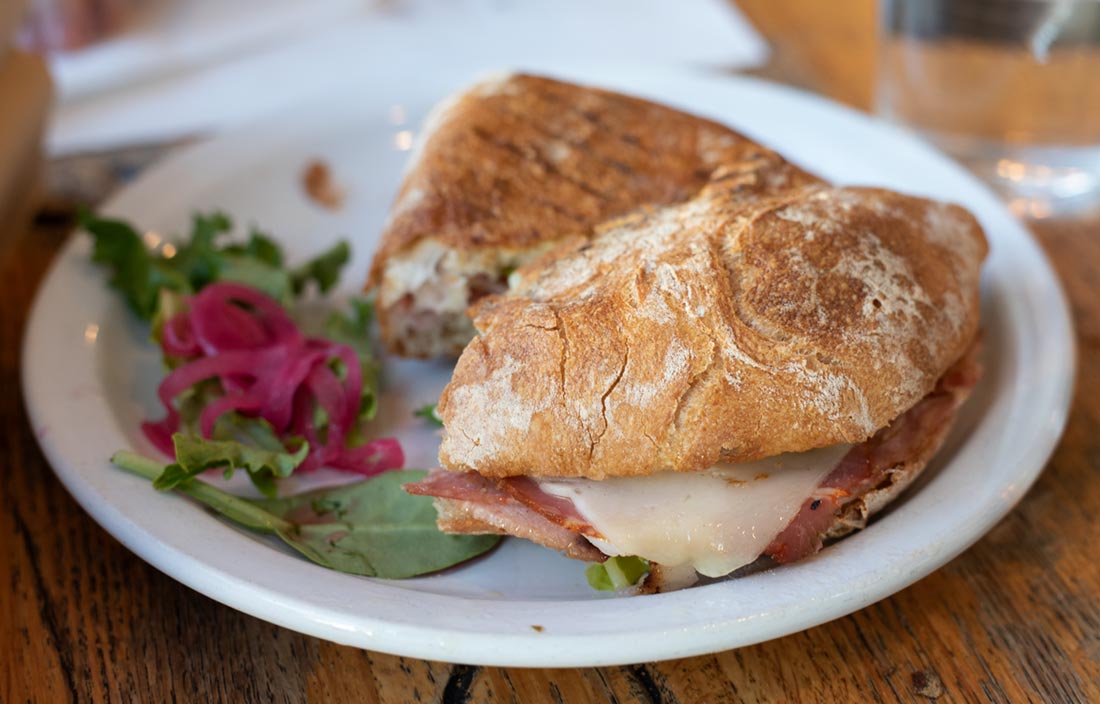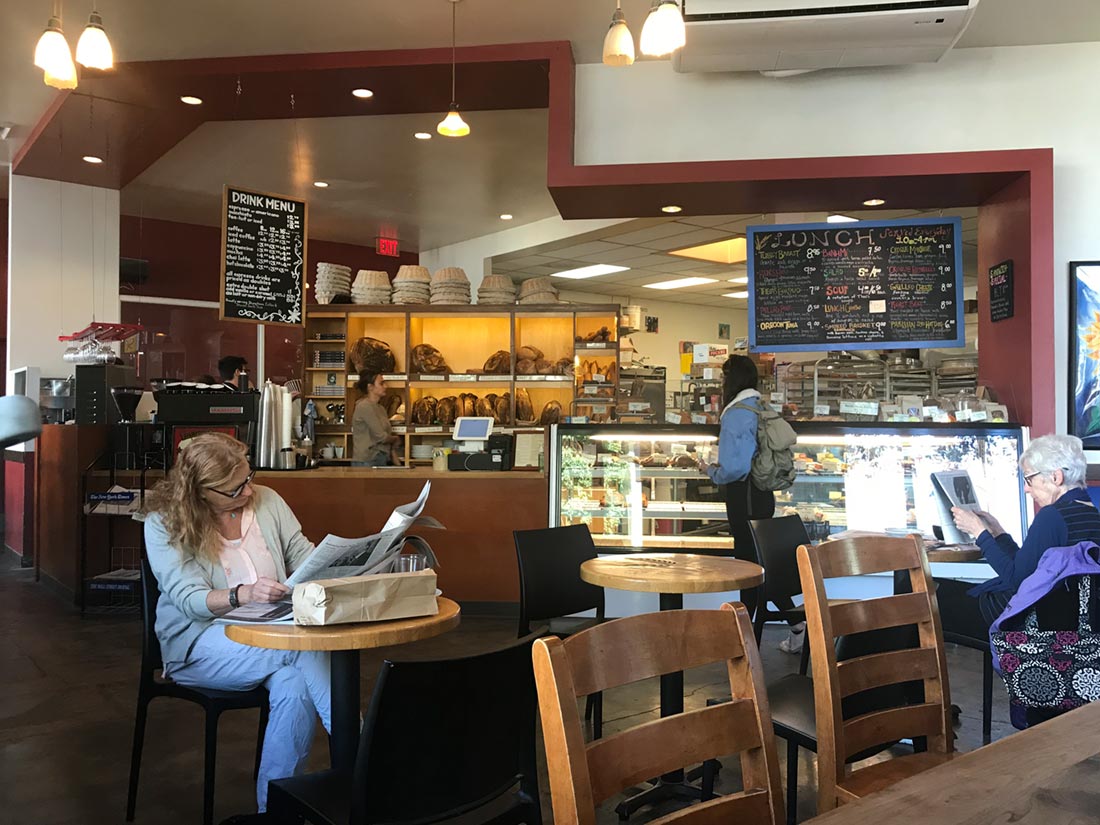 Check out these related items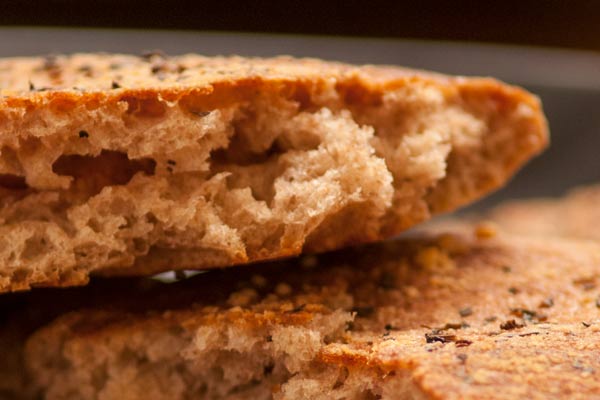 Flatbreads are oldest, easiest breads and the most modern - pizza and tortillas are among the most popular foods. See our recipes.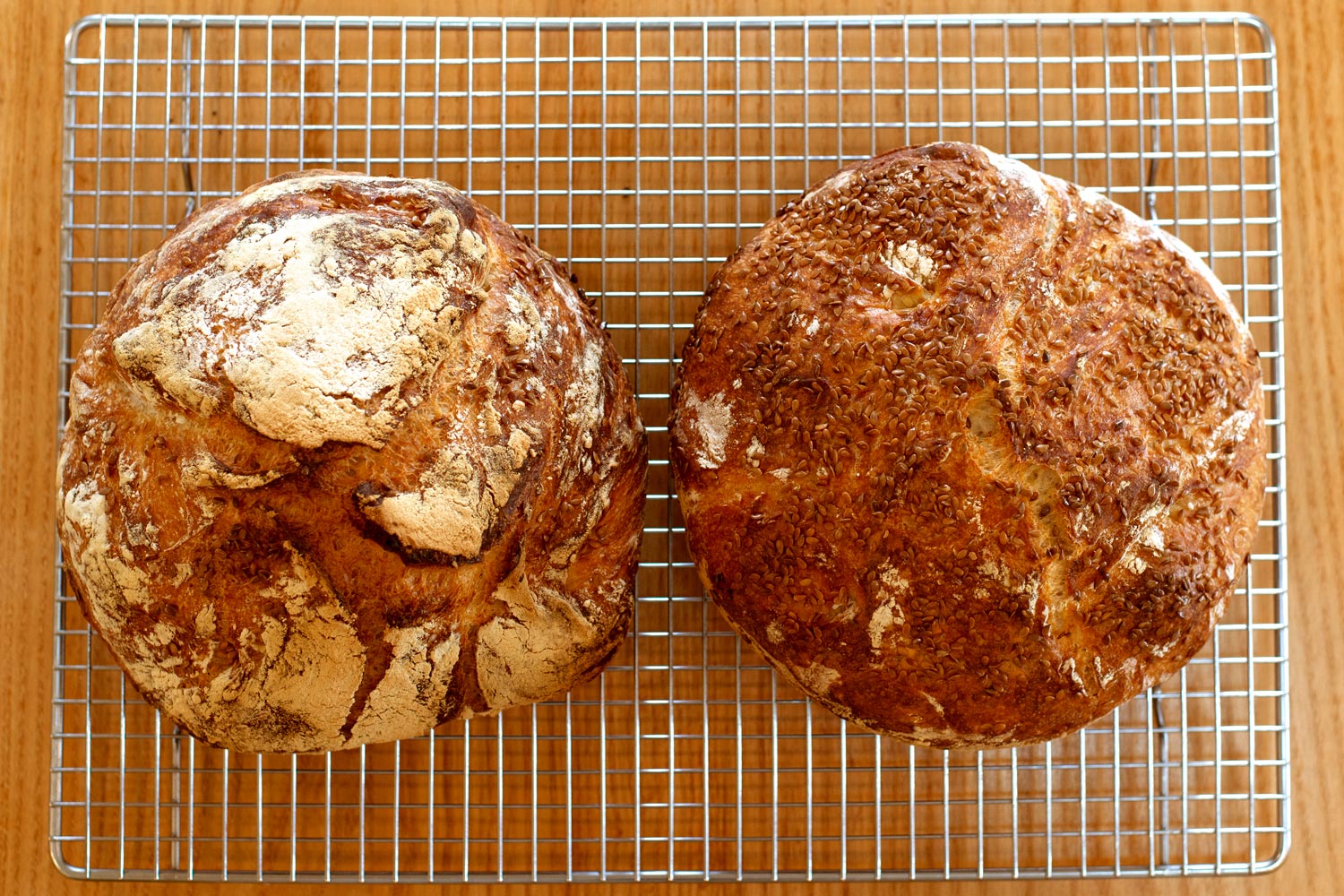 Where have all the flours gone? A home baking surge has sparked a flour and yeast shortage as mills scramble to reroute supply lines.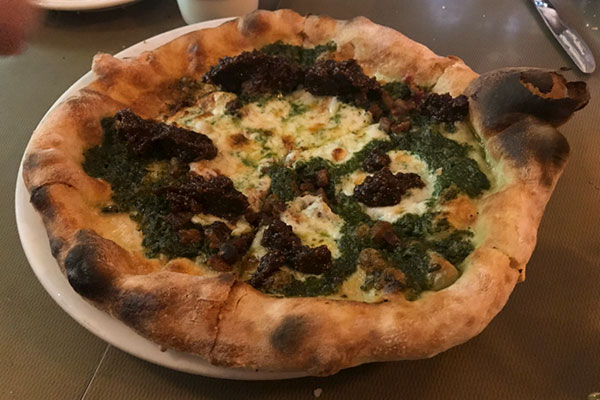 Eva, a restaurant in Salt Lake City, serves a taste-testing meal on small plates, a welcome break from too much food and not enough variety.