Why did the Chicken Costco?
Posted by Donna Rouviere Anderson |
October 14, 2019
Photos by Forrest Anderson
At $4.99 each, Costco rotisserie chicken is one of the most popular food items In America. Last year, 91 million Costco chickens were sold. The beloved fowl have their own Facebook Page and Pinterest accounts, with fans adding new ways of using them in recipes all the time.
The chickens are not just in demand in the United States and Canada – they are sold in stores in at least 11 countries. When Costco opened to massive crowds of shoppers recently in Shanghai, China, overwhelmed rotisserie chicken chefs could be seen yelling futilely at shoppers to form a line as the shoppers pushed and shoved to snatch chickens off the shelves.
Rotisserie is a style of roasting in which meat is skewered on a spit while being cooked over a fire or roasted in an oven as it slowly turns. The rotation cooks the meat evenly in its own juices and bastes itself in its juices.
It was the most common way of cooking meat in medieval kitchens, with a servant turning the spit. Eventually, mechanical spits were invented, first powered by dogs walking on treadmills and then by steam and mechanical means. Today's spits are driven by electric motors with digital controls and are a common feature in supermarkets and some restaurants. The word "rotisserie" is French and in my opinion, some of the best rotisserie available is still in the small Paris shops called rotisseries. In restaurants, the chef who handles spit- and oven-roasted meat is called the rotisseur.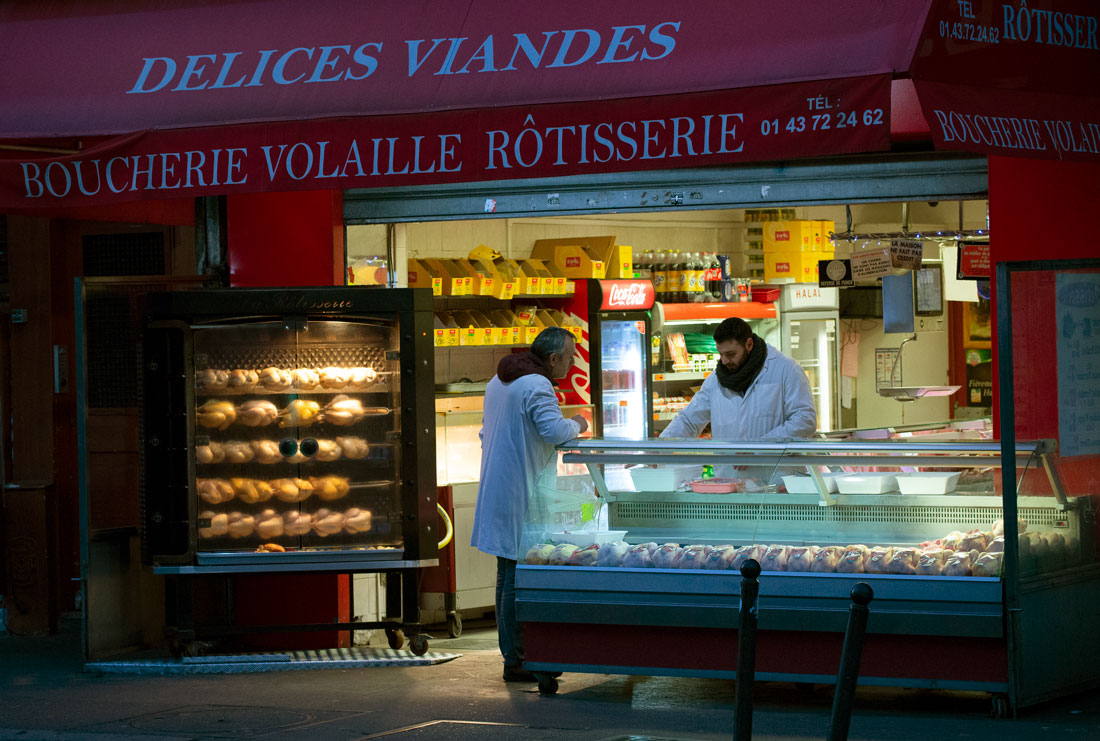 A Paris rotisserie.
Cooking a rotisserie chicken is more complex than it seems. If a chicken is not placed carefully on the spit, it can strain the rotisserie's drive mechanism. Loose chicken wings or legs can jam the device. The speed with which the chicken rotates also is important. It generally is better to rotate it faster in the early part of cooking and then slow it down when the exterior begins to get a crust, allow juices and drippings to stay on it, maximize the flavor and allow the exterior to get crispy.
Costco and other supermarkets typically use a vertical rotisserie that has bars to hold the chicken in place.
Rotisserie chickens have been available in butcher shops in the United States for more than a century, but became widely available at supermarkets in the early 1990s. In 2018, more than 900 million rotisserie chickens were sold by food service outlets and stores, often at prices lower than those of raw whole chickens. In Canada, a cable channel exclusively airs content related to rotisserie chicken.
Rotisserie chickens paved the way for the wide variety of prepared foods that grocery stores sell today and are many grocery stores' best-selling hot food. They have been successful in bucking the trend of Americans moving away from prepared foods.
Why? Rotisserie chicken is one of the least expensive, tastiest, healthiest and most versatile convenience food options, much more so than ordinary fast food. The leftovers also can be reused, unlike soggy leftovers of a hamburger.
Rotisserie chicken is so affordable because Costco and some other stores use the chickens as "loss leaders." The low price on the chickens lures people into the store, and while they are walking to the back to buy one, they browse and end up buying other products, including higher profit margin items such as side dishes and beverages. Costco has kept the price at $4.99 since 2009, even losing $30 million-$40 million in profits when the company didn't raise its prices when a bird flu outbreak drove higher prices for ready-to-cook chickens in 2015.
Rotisserie chickens are injected with salt brine to retain moisture. Seasoning, sugar and freshening ingredients are added so the meat will be moist, browned and flavorful. In recent years, many supermarkets have added flavors – barbeque, lemon-pepper, Italian and roasted garlic. Some stores also advertise organic or antibiotic-free chickens.
Costco is one of the largest producers and vendors of rotisserie chickens in the United States - the king of rotisserie chickens in terms of volume. Since it began producing rotisserie chickens in 1995, Costco has lowered the price from $5.49, increased the standard weight to three pounds from 2.75 pounds, upgraded to Grade A chicken and eliminated casein, a binder, to make the chicken allergan-free. It also has promised to provide antibiotics-free chicken at some point. Some Costco stores also sell deboned rotisserie-chicken at a higher price.
Many of Costco's chickens are produced by Pilgrim's Pride, which marinates them with an injection and packs ten of them to a case. In the stores, they are threaded onto long rods that fit in digital-display Inferno 4500 rotisserie ovens. The company has been exploring other sources of chickens, most prominently building a plant in Fremont, Nebraska, that includes a hatchery, feed mill and chicken processing plant so that Costco can take control of the entire chicken production process. The facility is expected to produce around 100 million chickens per year, roughly 40 percent of Costco's total chicken needs. Everything from the type of eggs used to produce the chickens to the type of grain they eat and how large they are allowed to get will be controlled.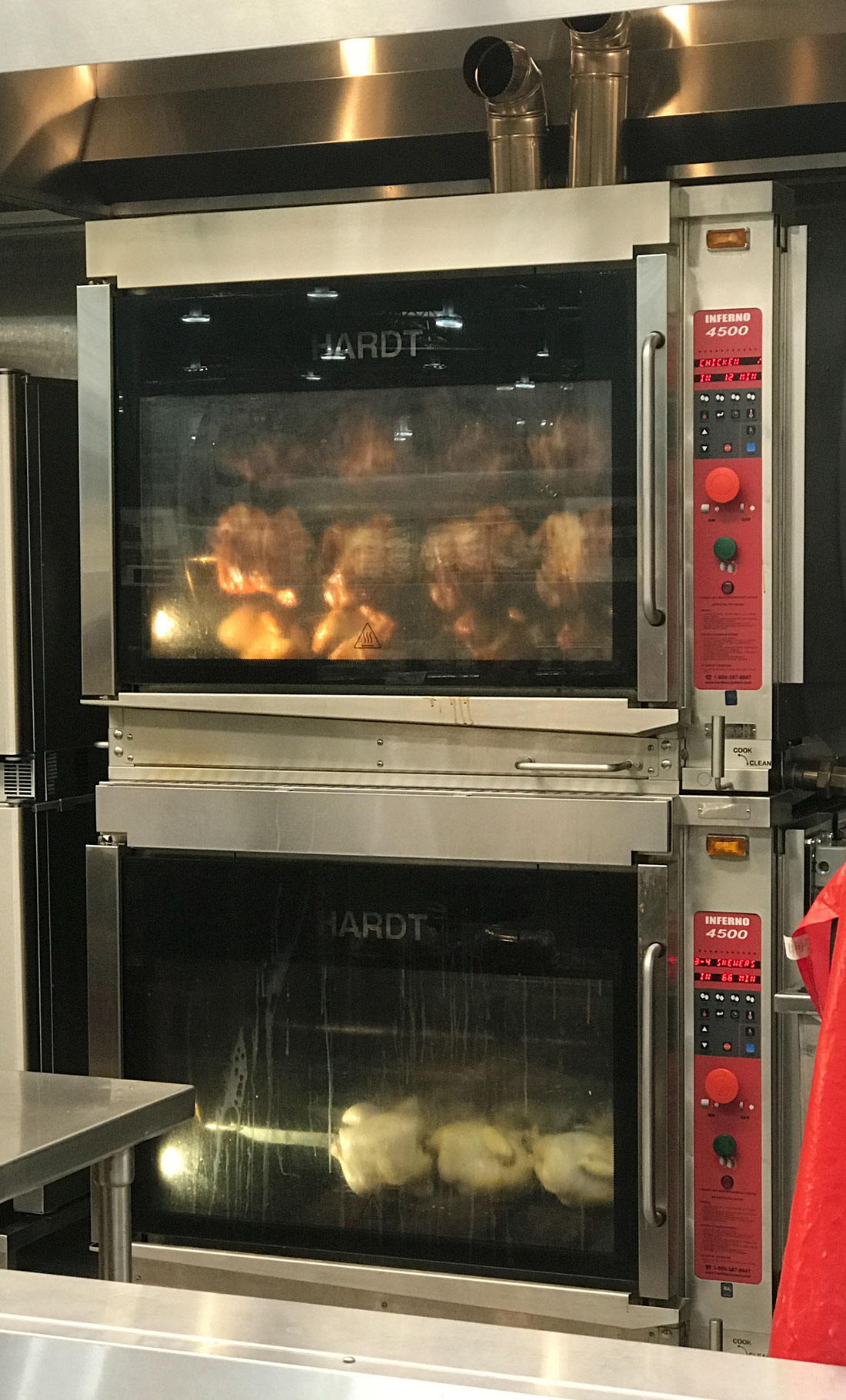 A Costco rotisserie oven.
Water on the oven floor transports dripping grease to a holding tank for recycling. It takes 90 minutes to cook 32 chickens, while the temperature is closely monitored. More than one oven is kept going so a constant supply of chickens is available.
The birds are packaged in plastic clamshells, and slipped onto heated shelves. If they are unsold after two hours, they are incorporated into Costco's rotisserie chicken soup, chicken Alfredo, chicken wraps and chicken Caesar salads. Shoppers have learned to look for the freshest chickens by checking for the time-stamp sticker on the bottom of the clam shells.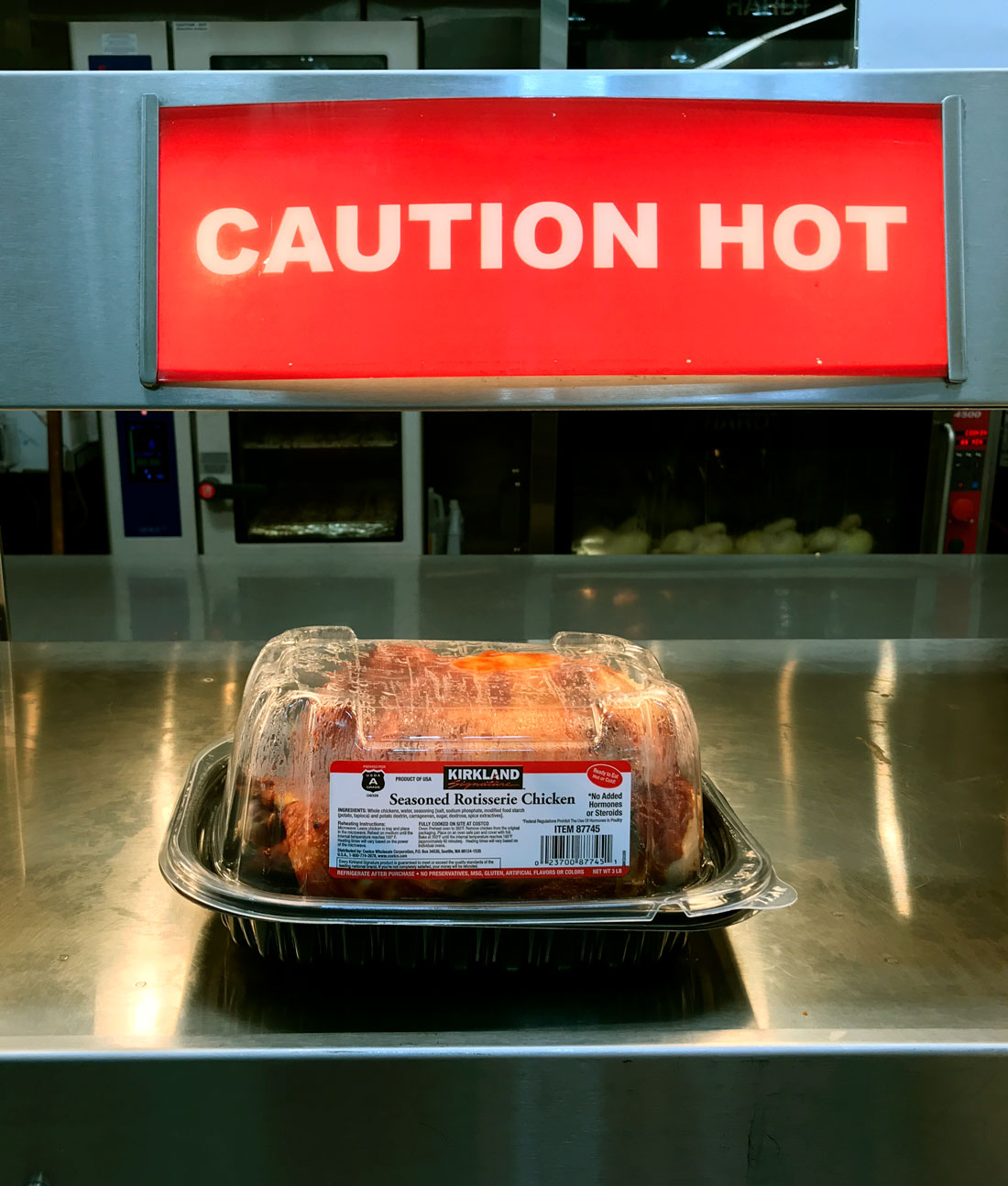 A Costco chicken on a heated shelf waiting for a customer.
Costco also saves costs by buying larger, more efficient ovens and packing chickens in containers using less plastic. Having its own chicken-processing plant is expected to be less expensive than buying chickens from suppliers.
Costco's chickens weigh at least 3 pounds cooked, while rivals' chickens usually weigh 1½-2 pounds. Costco worked with chicken farmers to develop a feeding plan that consistently produced larger birds. Each Costco chicken can be expected to give you about 2 ½ pounds of meat.
The appeal of Costco's rotisserie chickens is a combination of flavorful seasoning and great price. Keeping the cost low had become more difficult for Costco because of supply challenges and the small number of producers that dominate the chicken industry. Costco decided to try to reduce its reliance on those large producers, who can make a greater profit by cutting up and skinning heavier chickens and selling their parts. Costco officials say they hope to save 35 cents per bird by producing their own chicken.
The new plant will provide 43 percent of Costco's rotisserie chickens and a third of the raw chickens it sells. The Costco system will include more than 500 giant barns for chickens. Costco needs 125 farmers in the area to contract with it to build and fund chicken barns within a 100-mile radius. A company called Lincoln Premium Poultry is working with farmers in building the infrastructure.
The project has been controversial. Nebraska's state government has been trying to get such a project in the state for years. However, some farmers, landowners and activists have opposed the plant, saying that they are concerned that if the Costco system works, it will mean other retailers will come into the area. They worry about a new megaproduction agricultural model in their area when American farmers are trying to move toward a sustainable model of farming which emphasizes diversity, free-range chickens, careful use of resources such as water and avoidance of genetically modified chickens and antibiotics. In other areas, poultry operations have brought water contamination and increased water use. The barns will produce massive amounts of chicken manure which can be given to other land owners, but overapplication of it to land could lead to serious water pollution. Their concerns make sense, but at this point in time, free-range organic chicken is a tiny, more expensive portion of the U.S. market and can't fill the demand for chicken. Some critics have said that the 15-year contracts Costco is providing farmers are risky because the barns can't be repurposed if the operation fails. Supporters of the project point out that it will have less of an environmental impact than beef or pork production would.
Workers at the processing plant will earn between $13 and $17 an hour to start.
Are Costco chickens healthy to eat? The answer is that they are a processed food that is healthier than a lot of other processed foods. They are crisp, moist and tender because they have a brine of seasonings, salt and sugar injected in them, but the salt content is much lower than that in the average hamburger. They don't include MSG. A 3-oz. serving of Costco rotisseries chicken has 140 calories, 7 grams of fat and 19 grams of protein.
Costco chicken typically ranks number one in rotisserie chicken taste tests.
When you pick one out, get the heaviest one you can, as it is the freshest. A heavier chicken indicates that its juices haven't evaporated under the heat lamps in the case. Those that have just come out of the oven are noticably heavier. They have evenly browned, tight skin. As the juices evaporate, the chicken's skin starts to shrivel. Look for chickens that touch the top of the lid.
Costco's rotisserie chickens come packaged in a plastic clam shell in most stores, although some Costco stores and other supermarkets have moved toward pouches that use 75 percent less plastic than the clamshells. Costco packaging is a continuing environmental issue in general, which the company is exploring on an on-going basis to try to reduce its packaging footprint.
You can reduce rotisserie chickens' footprint further compared to many other foods by using a chicken for several days of meals. I typically buy a rotisserie chicken about once every six weeks or so when I go to Costco to pick up other items, and I use it this way:
Day 1
Eat rotisserie chicken sliced with a good sourdough bread and simple salad.
Day 2
After a night of sitting in your refrigerator, a rotisserie chicken can be dry. At that point, it is best used in a main dish chicken salad or shredded into enchiladas or tacos. Here are some easy recipes:
Chicken Tacos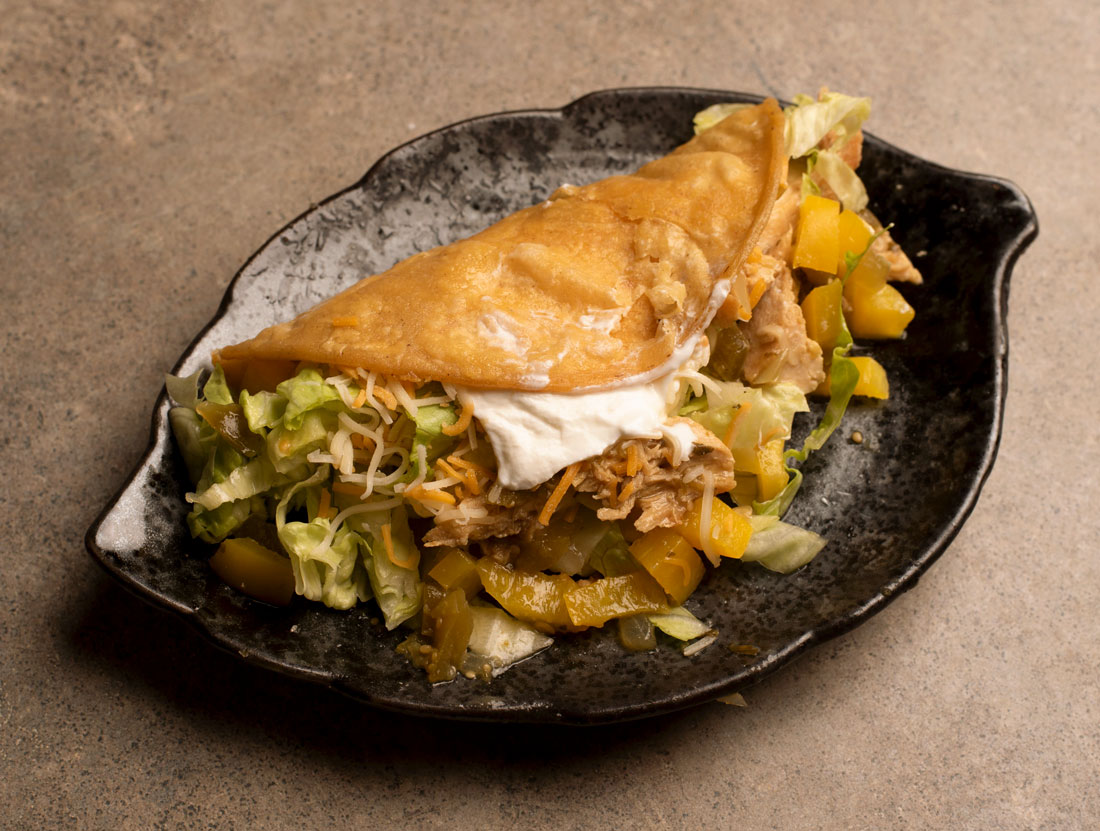 INGREDIENTS
1/2 onion, cut in strips
1/2 bell pepper, cut in strips
1 small can diced mild green chiles
2-3 cups rotisserie chicken, thinly sliced
Salt and pepper
6 tortillas, warmed
3 oz. mozzarella or Monterrey Jack cheese, grated
DIRECTIONS
Place a skillet over medium heat and spray with cooking spray. Saute the onions and bell peppers. Add the chilies and chicken and toss. Season with salt and pepper and cook to heat. Soften the tortillas in a microwave or skillet. Divide the chicken mixture between six tortillas. Top each with about 1/2 oz. cheese and fold over. In a skillet, cook each tortilla on both sides until lightly browned. Serve with sour cream and salsa.
Easy Chicken Enchiladas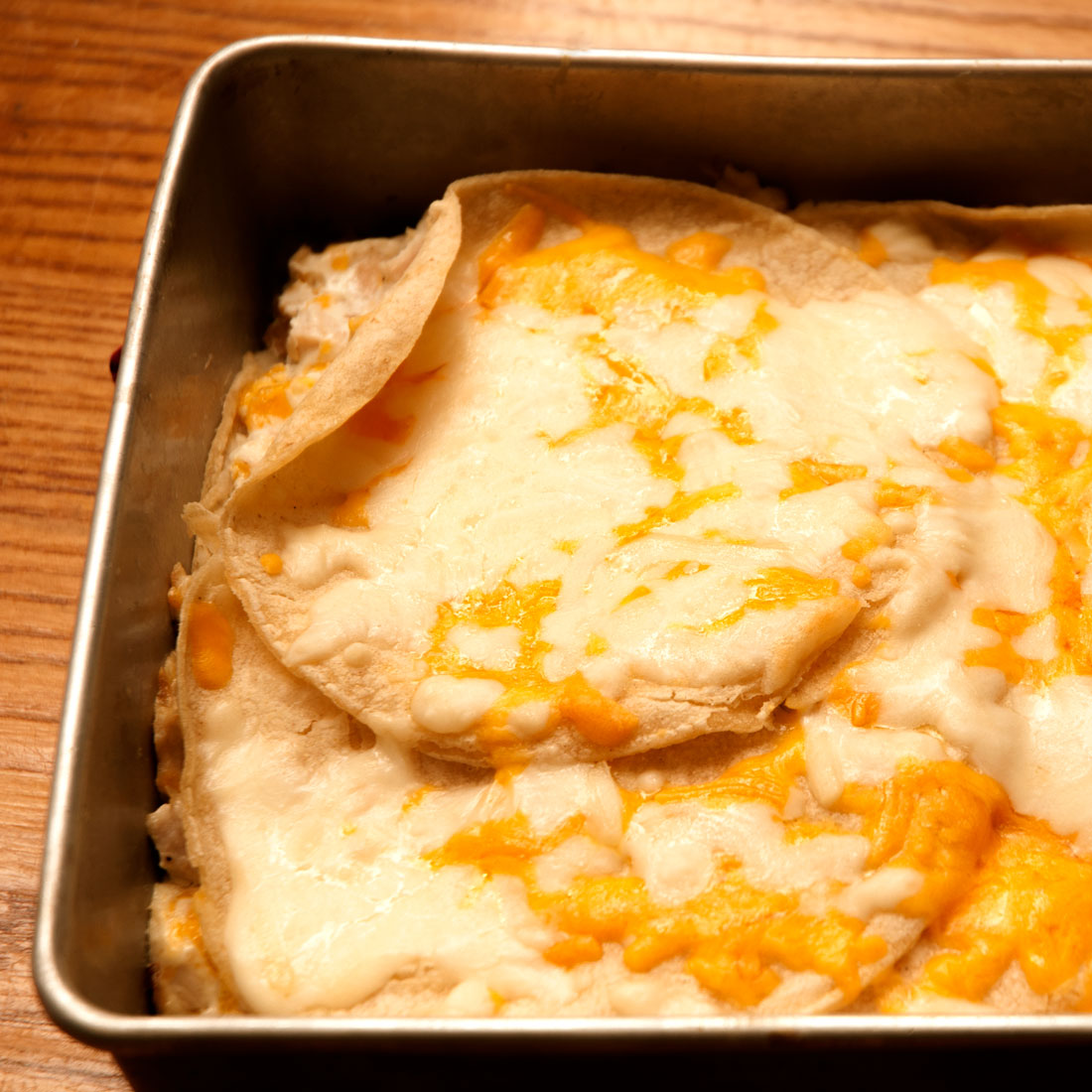 INGREDIENTS
1 tbsp. butter, softened
4 cups shredded rotisserie chicken
12 oz. grated cheddar cheese
2 cups sour cream
1/2 onion, finely chopped
Salt and pepper
6 8-inch tortillas
Tomatillo salsa
DIRECTIONS
Preheat oven to 350 degrees F. Grease a baking pan with butter.
Place the chicken in a bowl, add 1 1/2 cups of the cheese, sour cream, onion and salt and pepper. Mix well.
Heat oven to 300 degrees F. Spread tortillas in a layer in the pan and spread chicken mixture over the layer. Place another layer of tortillas over it. Spread salsa over that. Cover with alumimum foil and bake for about 20 minutes. Remove the foil and sprinkle with the remaining 1/2 cup cheese. Return to the oven for 5 minutes to melt the cheese.
Chicken Taco Pie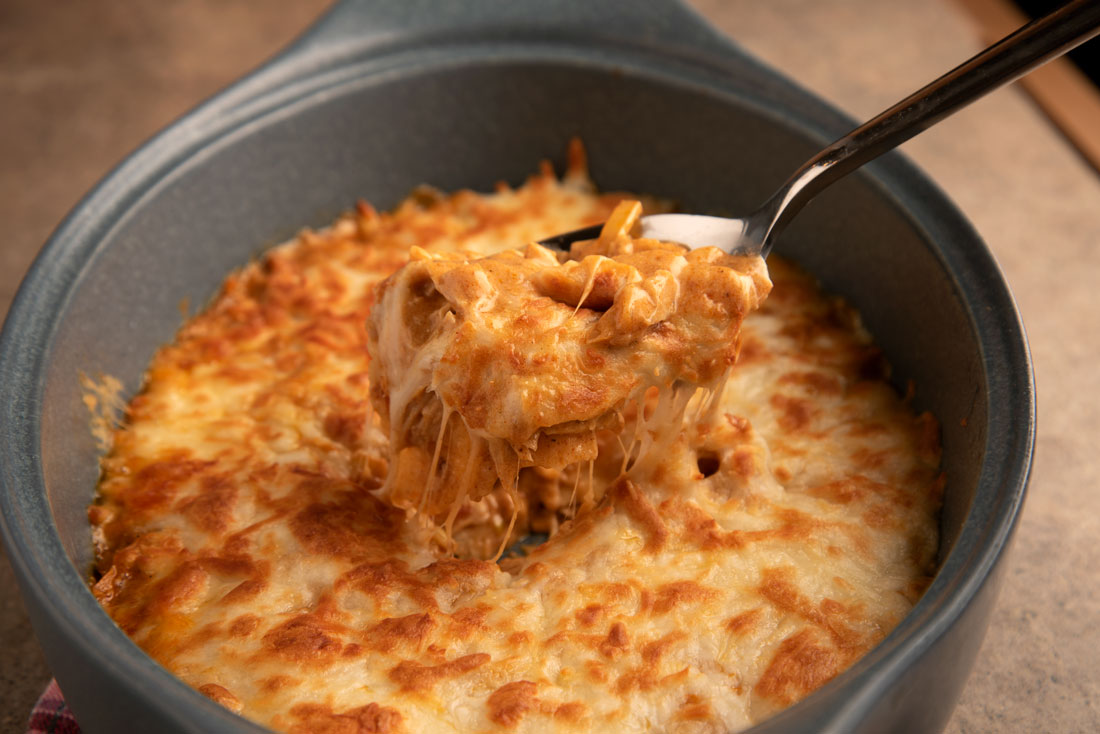 INGREDIENTS
3 cups rotisserie chicken, chopped in pieces
1 cup chopped onion
2 tbsp. cooking oil
2 tbsp. taco seasoning or to taste
1/4 tsp. chili powder
2 10.5 oz. cans cream of mushroom soup
1 1/2 cup sour cream
8-10 corn tortillas, torn in pieces
1 cup shredded Monterey Jack cheese
DIRECTIONS
Preheat oven to 350 degrees F. In a skillet, cook onion in oil until tender. Add chicken and cook. Mix in seasonings, cream of mushroom soup and sour cream and heat. Spray oil on a flat casserole dish and cover the bottom of the dish with half of the torn-up tortillas. Spread half of the chicken mixture on the tortillas. Top with additional tortillas, then cover with the remaining filling. Sprinkle with cheese. Bake until hot, about 10 minutes.
Chicken, Avocado and Mango Salad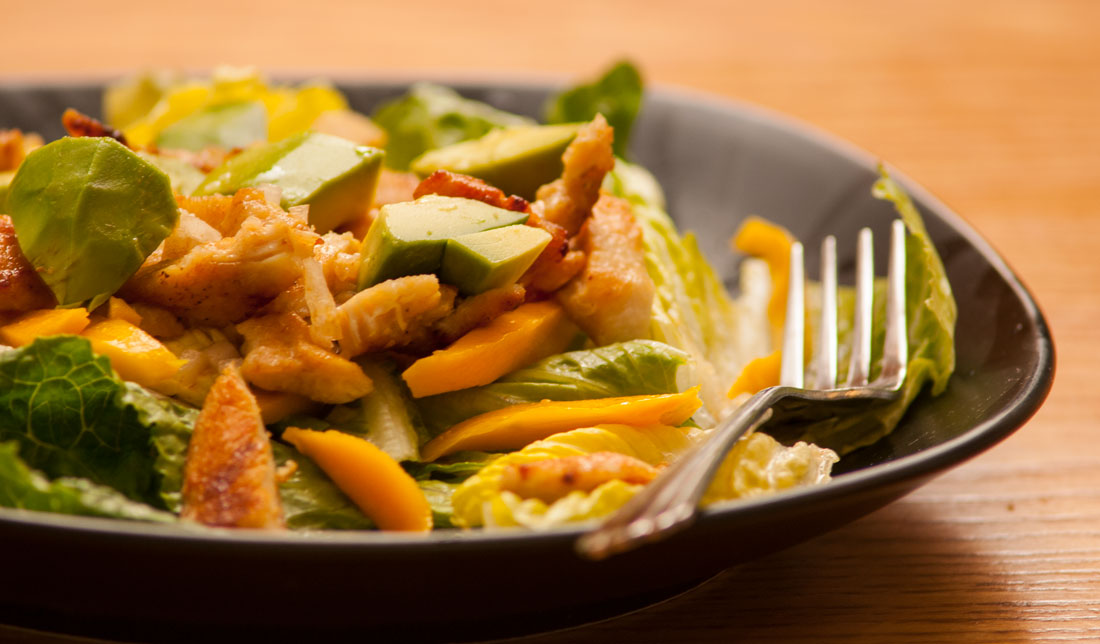 INGREDIENTS
3 cups rotisserie chicken
Salt and pepper
5 tbsp. fresh lime juice
1/4 tsp. ginger
1 tsp. dried minced garlic
2 tsp. light oil
1 tsp. dried cilantro
4-5 cups torn lettuce
3 mangoes, peeled and sliced
2 avocados, pitted, peeled and sliced
2 tbsp. minced red onion
DIRECTIONS
Cut chicken into bite-sized pieces and heat in microwave. Set aside.
In a bowl, whisk together 2 tbsp. of the lime juice, the ginger, 1/4 tsp. salt, oil and the cilantro. Add the lettuce and mix well.
Arrange the mixture on a platter and evenly distribute the mango slices over the top. Drizzle with 1 tbsp. lime juice. Arrange the chicken on top, then the avocado slices. Drizzle the avocado with the remaining 2 tbsp. lime juice. Sprinkle the red onion over the top. Serve immediately.
Day 3
Now it's time to make a chicken salad sandwich or wrap with the leftover chicken, which by now will be drier and will benefit from moistening mayonnaise.
Chicken Salad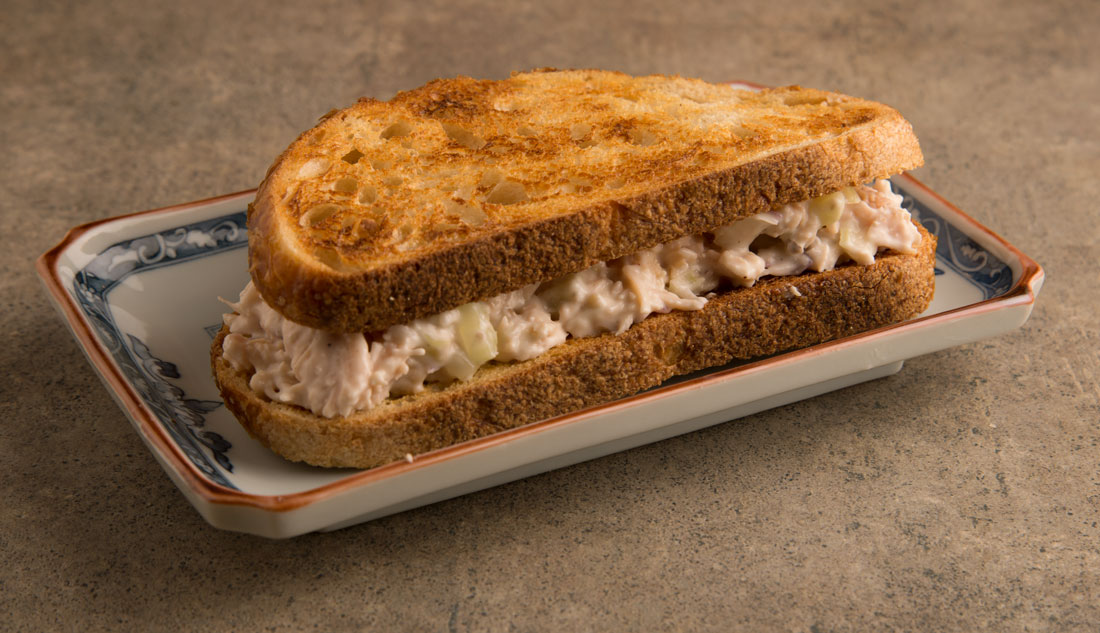 INGREDIENTS
2-3 cups chopped rotisserie chicken
½ cup diced scallions
½ cup diced celery
¼ cup walnuts, chopped
Mayonnaise to taste
Salt and pepper to taste
DIRECTIONS
Mix all ingredients in a bowl and eat on bread or pita bread.
Day 4
Boil the bones in water for an hour, remove the bones from the stock and make soup. Here are a couple of easy recipes that I use:
Ramen with Rotisserie Chicken
INGREDIENTS
1-2 cups rotisserie chicken, cut in thin strips
Chicken broth
4 scallions
1 shredded carrot
Dried or fresh mushrooms, sliced
3 slices bacon
4 portions ramen noodles
8 tsp. soy sauce
2 boiled eggs
DIRECTIONS
Start the eggs boiling.
Chop the dark green parts of the scallions and add them to a wok or skillet. Thinly slice the white and tender green parts and set them aside as garnish. Add ginger, shredded carrot, mushroom and bacon. Add the broth and bring it to a boil. Reduce the heat from a roiling boil to a simmer and skim away froth on the surface.
Cook until the liquid is reduced by a third.
Cook the ramen noodles according to the package directions, drain the noodles well and divide them between 4 soup bowls. Top with the broth. Season each bowl with 3 tsp. soy sauce, some of the chicken meat, the ginger, shredded carrot, mushrooms and bacon. Garnish with scallions and half of an egg.
Variation:
Add bean sprouts, sesame seeds, napa cabbage or bok choy.
Southwest Bean and Chicken Soup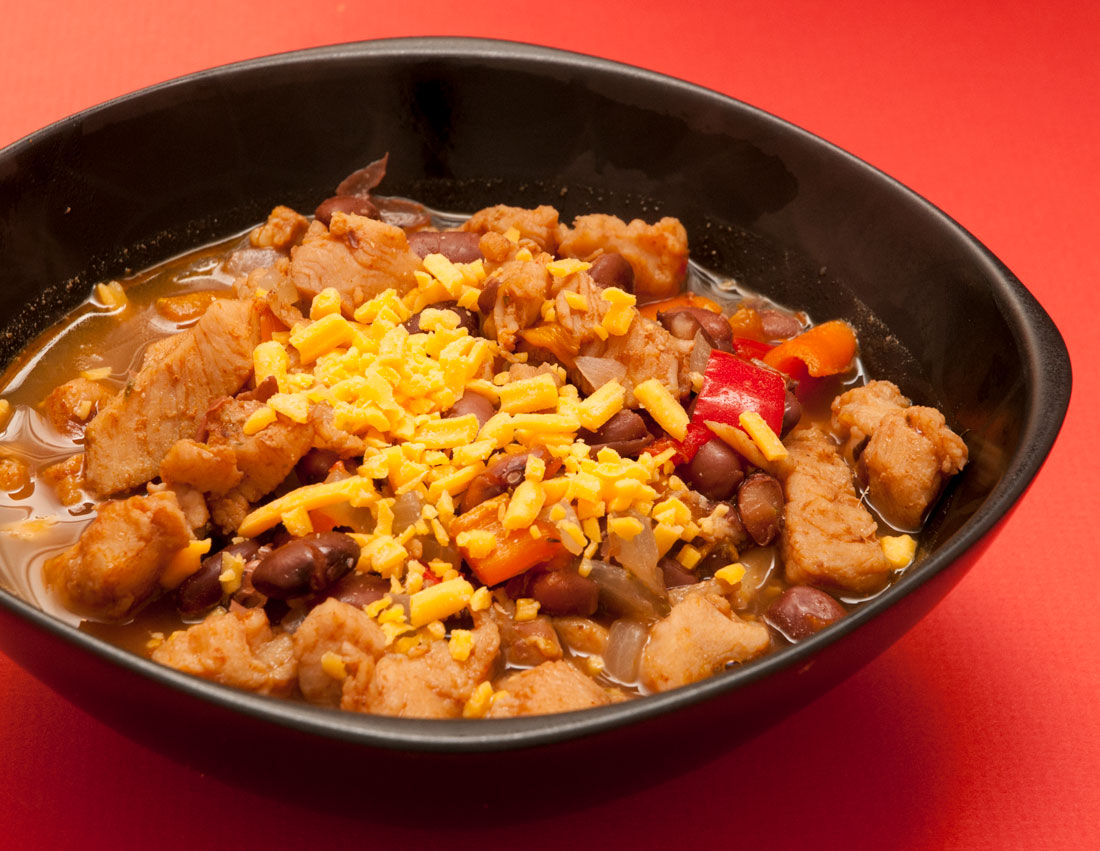 INGREDIENTS
1 15 oz. can kidney, pinto or navy beans, rinsed and drained
6 cups chicken broth
1/2 onion, chopped
1 tsp. minced dried garlic
1 tsp. black pepper
1 tsp. dried oregano
1 tsp ground cumin
1 4-oz. can diced green chilies, drained
Whatever shreds of rotisserie chicken you have left
1/2 tsp. salt
6 tortillas, warmed
Toppings:
Salsa
Sour cream
Chopped scallions
Grated cheese
Lime wedges
No-tomato Tabasco sauce
DIRECTIONS
In a soup pot over high heat, combine drained beans, 5 cups of broth, onion, garlic, pepper, oregano and cumin and bring to a boil. Reduce heat to medium-low and simmer, covered, for 30 minutes. Stir occasionally. Add chilies, chicken and salt. Simmer, uncovered, 10 minutes. Add 1 cup water if too thick. Serve with toppings.
Check out these related items