Connect With Christmas Cards
Posted by Donna Rouviere Anderson |
December 04, 2020
Photos by Forrest Anderson and historic images in the public domain.
My favorite Christmas movie is The Christmas Card, a story about a soldier serving in Afghanistan who is deeply touched when he receives a Christmas card from a stranger. He keeps the card in his pocket, and eventually makes his way to the picturesque mountain town of Nevada City, California. There, he meets the young woman who sent him the card as part of her local church's tradition of sending Christmas greetings to soldiers.
I love this movie because I grew up in the Nevada City area and as a teenager helped with the local real life interdenominational effort to keep in touch with servicemen. I remember the appreciative letters soldiers sent back. I watch this movie every year, as it takes me back to wonderful Christmases spent in the area.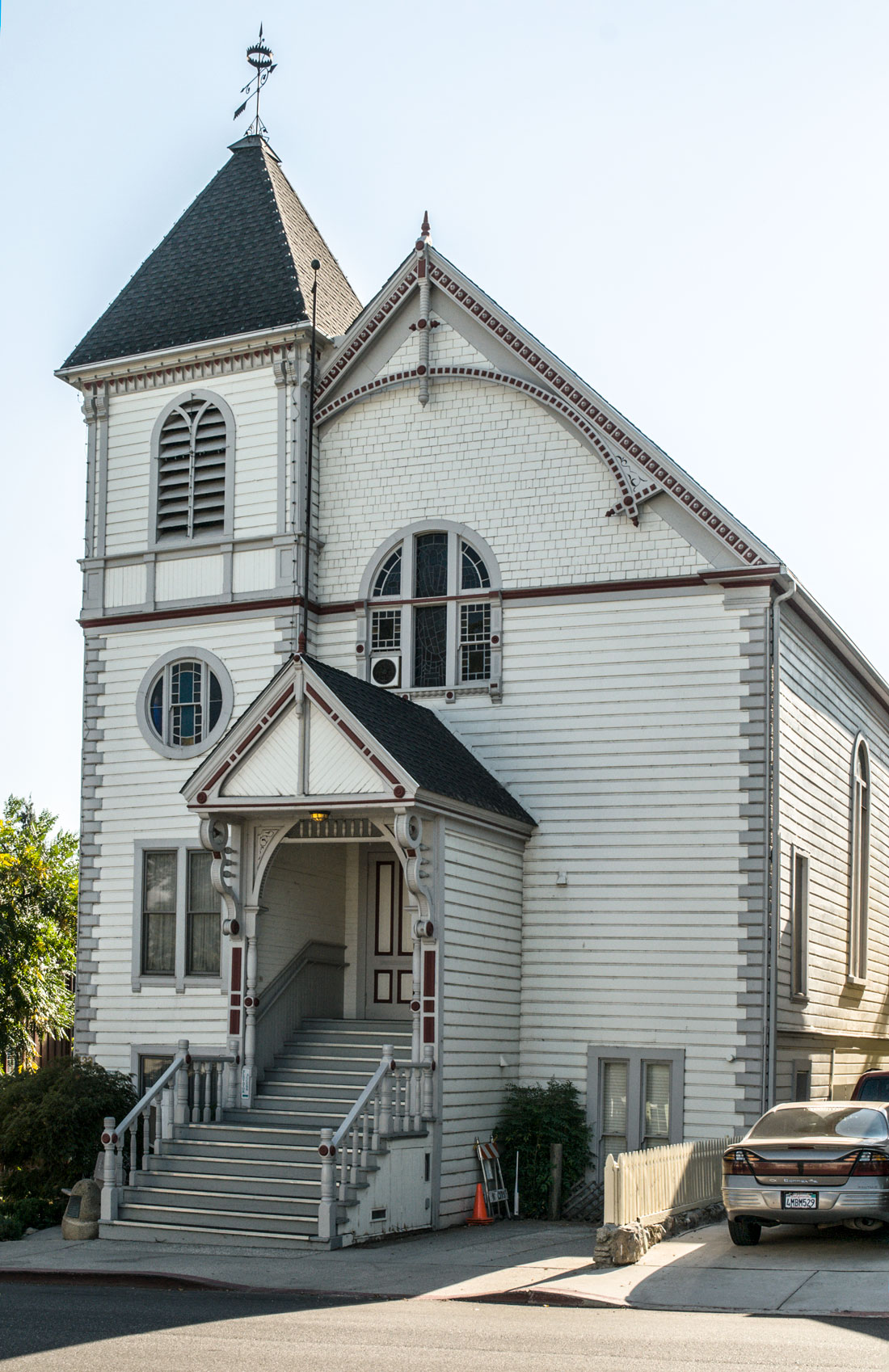 The Methodist Church in Nevada City, California, is one of the local sites in the film The Christmas Card.
We all need the power of a Christmas card this year as we are staying at home instead gathering with loved ones outside our households.
Sales of Christmas and other holiday cards are up an estimated 55 percent, according to card makers. Surveys indicate that 60 percent of American adults are buying greeting cards this year as compared to 38 percent last year, and they are purchasing them in larger quantities, according to the New York Times. Etsy has had a 23 percent increase in searches for holiday cards in the last three months, compared with last year.
Many cards this year are following the pandemic trend, with references to social distancing, illustrations of Christmas trees made of stacks of toilet paper rolls and sayings such as "New Year? Yes, Please." Pandemic-themed greetings feature hazmat suits, masks on Santas and elves, and references to Zoom and vaccines. Hallmark has cards expressing gratitude for nurses, mail carriers and doctors.
A Hallmark poll indicated that 60 percent of respondents thought cards packed a bigger emotional punch than sending a text or email during the pandemic.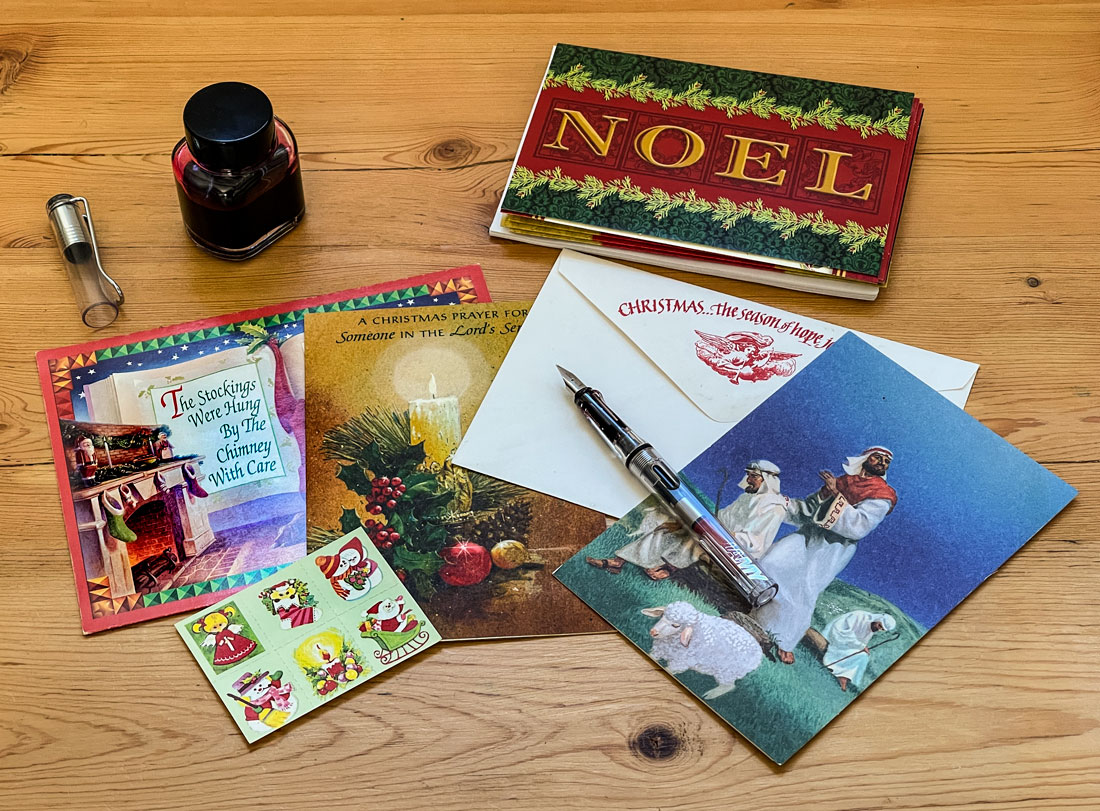 Thoughtful cards to people we can't gather with can help them know we are still thinking about them and want to get together as soon as it is safe.
Sending cards can be a bit tricky this year as people are losing jobs and many have been ill with or lost loved ones from the coronavirus. This is definitely not the year to send out a bragfest form letter telling everyone what a wonderful, successful and adventuresome year your family has had. A message of holiday cheer combined with acknowledgement that 2020 has been difficult likely will get a much better reception.
Hallmark has stepped in with cards that say the sender is thinking about the recipient even though they can't get together. Other cards have messages such as "Happy Holidays from our quaranteam to yours," "It's fine. We're fine. Everything is fine," "What a year," "The pandemic outside is frightful…", "Good Riddance 2020," and "All I want for Christmas is a vaccine."
Christmas cards can acknowledge that you are social distancing because of COVID-19, but still make it clear that you miss the recipients, wish you were together and are excited to get together after the pandemic is controlled. This will warm the recipient's heart and give them something to look forward to after the holiday. It's nice to include a photograph of you and the people in your household, preferably one that shows you as real people coping with a challenging year.
If the recipient is a frontline worker, it's nice to send them a card that expresses your appreciation for them.
Humor needs to be done carefully, depending on the recipient's circumstances. Skip sending a humorous card to anyone who has suffered a major loss this year.
You can share what your year has been like, including lessons you've learned and the small things you are grateful for.
In Britain, a common card message is British Prime Minister Boris Johnson's admonition for people to be "jolly careful."
Can you spread COVID-19 by sending Christmas cards? Experts say the risk is minimal as the virus doesn't transmit much via surfaces. They say it would be even less likely to do so during a journey through the postal system because the virus lives on cardboard for a maximum of 24 hours. If you are concerned, wash your hands after opening cards. You also can quarantine cards for a few days before opening them.
Christmas cards thread through my family's history. My family ran a rural post office for 95 years, which perhaps is why sending cards and letters on beautiful stationary with beautiful stamps is a strong family tradition. My grandmother sent dozens of Christmas cards yearly in addition to answering all letters to Santa that children sent through the post office where she was postmaster. I recall my father, an army veteran, sitting at the kitchen table signing Christmas cards that he sent to his former army buddies. In return, cards from them poured into our mailbox in December. We displayed them throughout the season.
After Christmas or other holidays, I saved the best of the cards and copied them in making my own handmade cards or cut out parts of them to decorate the pages of scrapbooks. They helped inspire an obsession with drawing and painting that eventually grew into my career as a designer.
I also own an album of Christmas and other greeting and post cards that one of my ancestors collected in the early 1900s.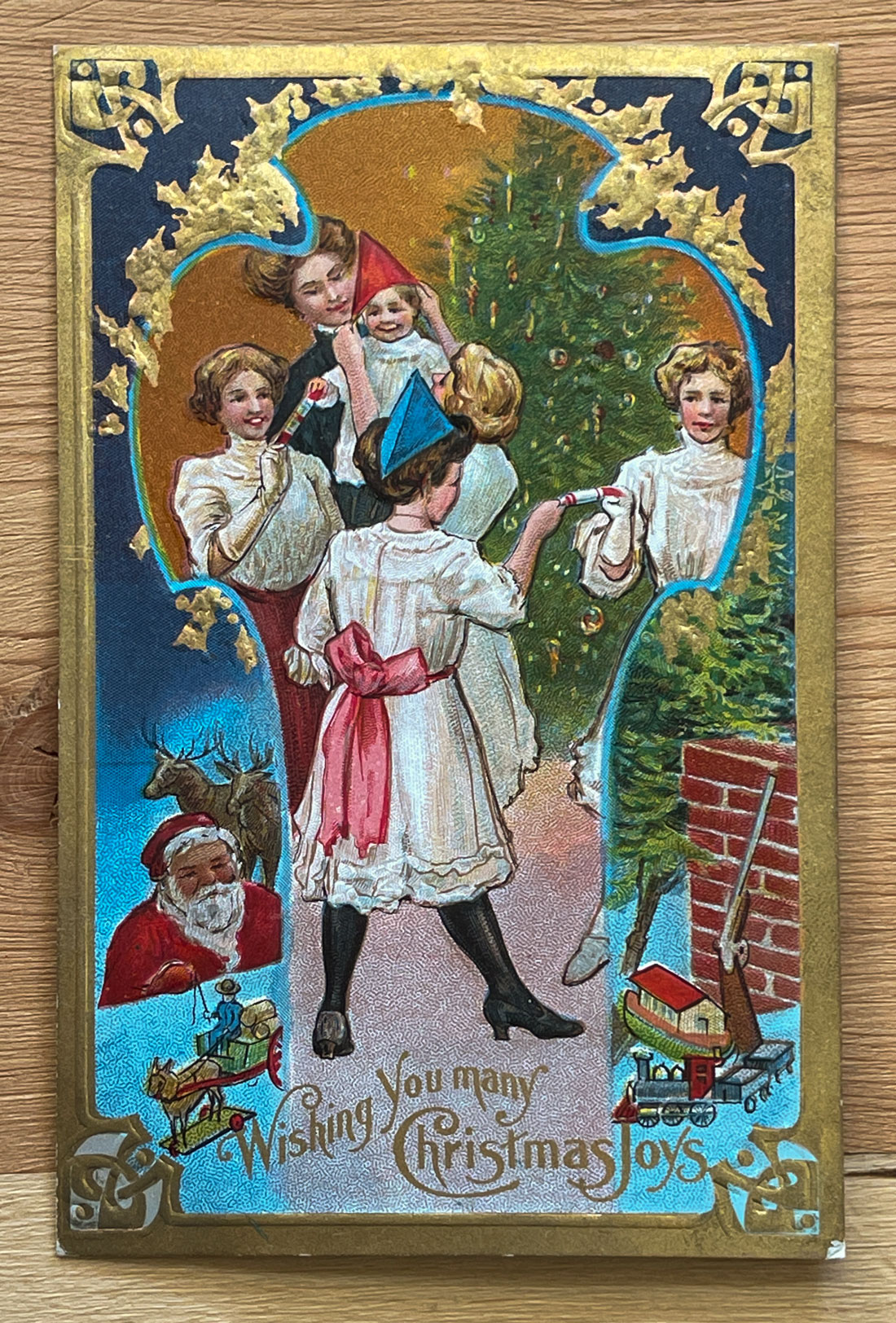 A card from my family Christmas card album.
People have sent Christmas letters to each other at least since the 1500s, but the popularization of Christmas cards didn't happen until after Penny Post mail deliveries began in Britain in 1840. This was the first British postal service for ordinary people, made possible by the building of railways that were faster and less expensive than delivering mail by horse.
Sir Henry Cole, assistant keeper of the United Kingdom's Public Record office, received far too many Christmas letters via the new postal service to answer them with letters, so he collaborated with an artist friend, John Horsley, to create the first Christmas card in 1843. It was good timing - Victorian society was in the throes of Christmas mania, which included banquets, parties, and charitable acts. Charles Dickens' A Christmas Carol was published that year, capturing and further popularizing this trend. Many Christmas traditions that we love today and that are featured on Christmas cards originated during this period.
Cole's card had two panels depicting people caring for the poor and a center panel of a family having Christmas dinner. The card was controversial because England was in the throes of a temperance movement, and the card showed a child being given a glass of wine.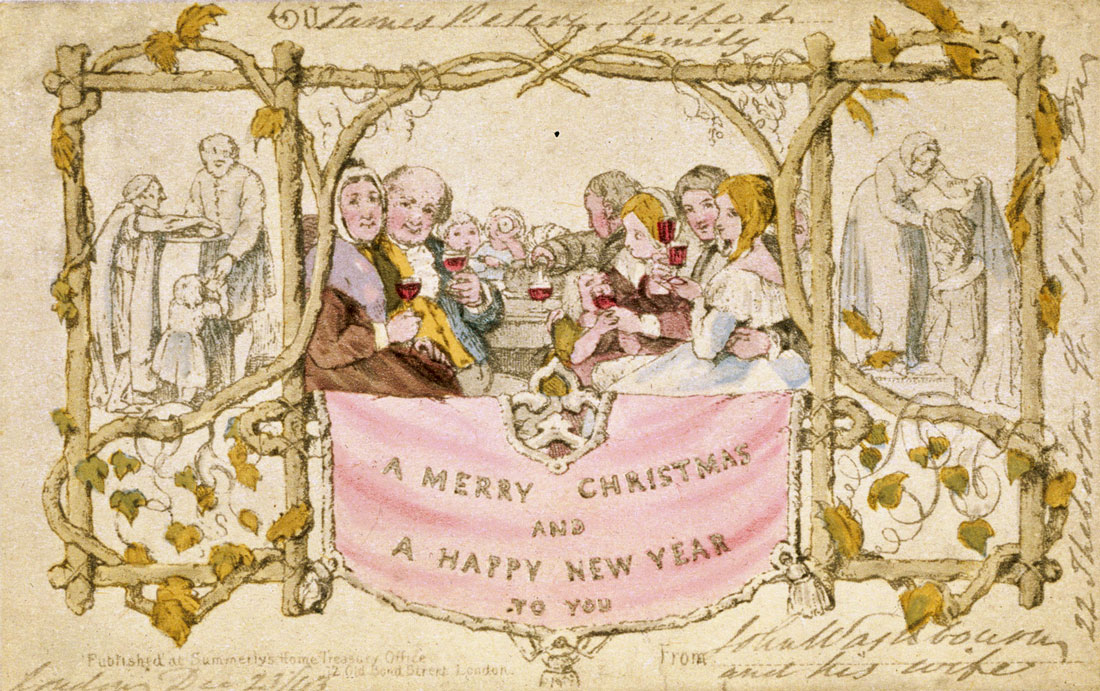 Cole's card.
Cole had a couple thousand copies made with lithographic printing by a London printer and reportedly sold some for a shilling each. The second Christmas card, designed by William Maw Egley, had eight panels showing Christmas activities such as charity acts and ice skating. It was published in 1848. Banquets and toasts on these two cards implied that the sender was toasting the recipient.
By the 1850s, Christmas cards had caught on. Within a decade, they had supplanted New Year and Valentine's Day cards as the primary way to send greetings.
Idyllic children dressed in holiday clothing, intricate lettering entwined in botanicals or Christmas scenes, and four- to eight-page booklets, large cards and postcards became popular in the 1860s and 1870s in Britain. This coincided with improvements in printing methods.
Early British cards were decorated with flowers or scenes of spring, images of children and animals and decorative elements. Many depicted red-breasted robins, a reference to the red uniforms that British postmen wore. Macabre depictions such as devils kidnapping children also appeared on cards, the result of legends that St. Nicholas and the devil worked together to determine which children were naughty or nice and distribute packages accordingly.
Postal reforms in the 1870s made it cheaper for British citizens to send specialty envelopes, so the custom of cards with matching illustrated envelopes began.
Christmas cards appeared in the United States in the late 1840s, but were too expensive for most people until printer Louis Prang started mass producing affordable ones in 1875. Prang's cards typically had animals, nature or scenery on them. A supporter of the arts, he thought the Christmas card was an ideal way for people to see the work of top illustrators and designers.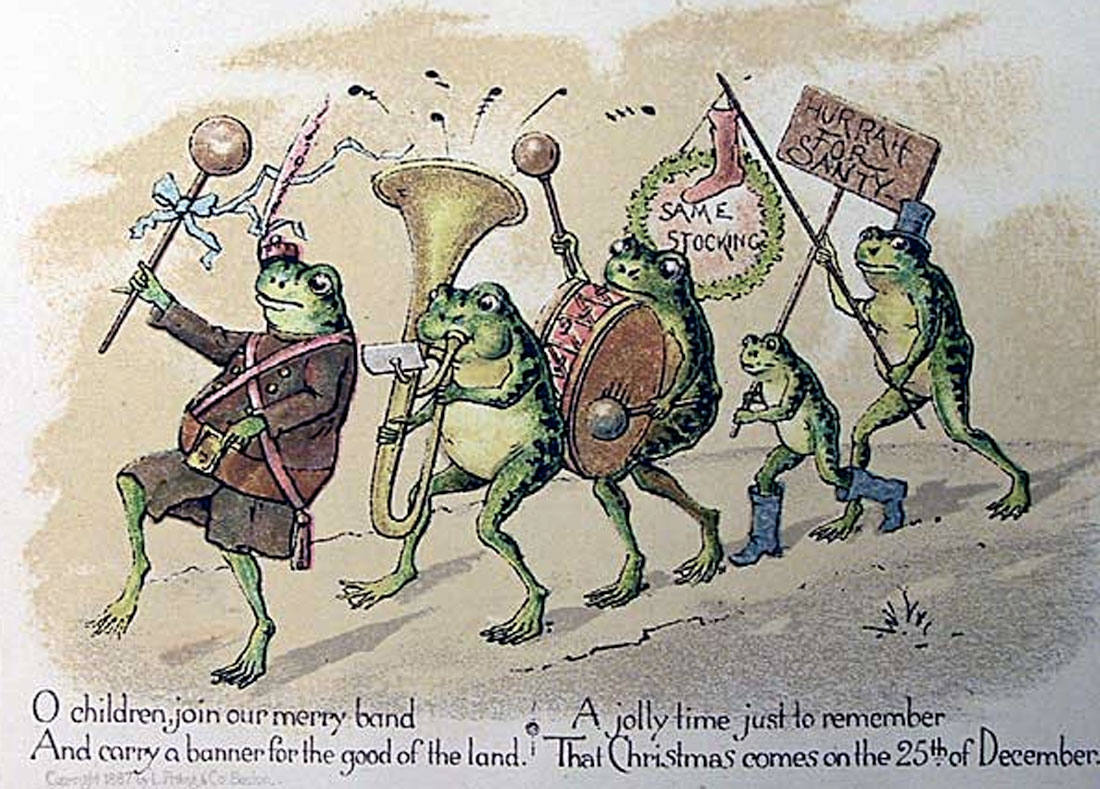 One of Prang's cards.
Prang hosted the first design competition for Christmas cards in 1880, with famous art critics, architects, and artists awarding prizes. He also insisted on a popular vote to select the winners. The first competition received almost 800 entries, mostly women. The winners' work was displayed in the Doll & Richards art gallery in Boston and the American Art Gallery in New York.
Prang's competitions inspired similar European contests. Some publishers also commissioned designs from well-known European artists. People collected the best Christmas cards in albums or displayed them in parlors. New cards were reviewed in the newspapers like books are now. By the 1880s, Prang produced more than five million cards per year.
As the United States industrialized and many Americans moved away from the farm, Christmas cards became a convenient way for women to keep up connections with distant extended family. In the 1890s, Christmas cards fell out of favor as German lithographers began importing much cheaper Christmas postcards, and a trend of sending inexpensive gifts instead of cards developed.
With the popularization of photography and the development of offset printing in the 1890s and early 1900s, the Christmas card became a way to share portraits. Personalized cards began with sharpshooter Annie Oakley, who sent cards with a photo of her on them to friends in 1891.
Charities started making and selling Christmas cards in the early 1900s as fundraising efforts. Businesses and even the government followed. The most well-known charity that sells Christmas cards is UNICEF, which raises money to provide at-risk children around the world with essential services such as vaccines and clean water. UNICEF's first card was issued in 1949. Professional artists, who receive no royalties or payment for their work, donate images for the cards.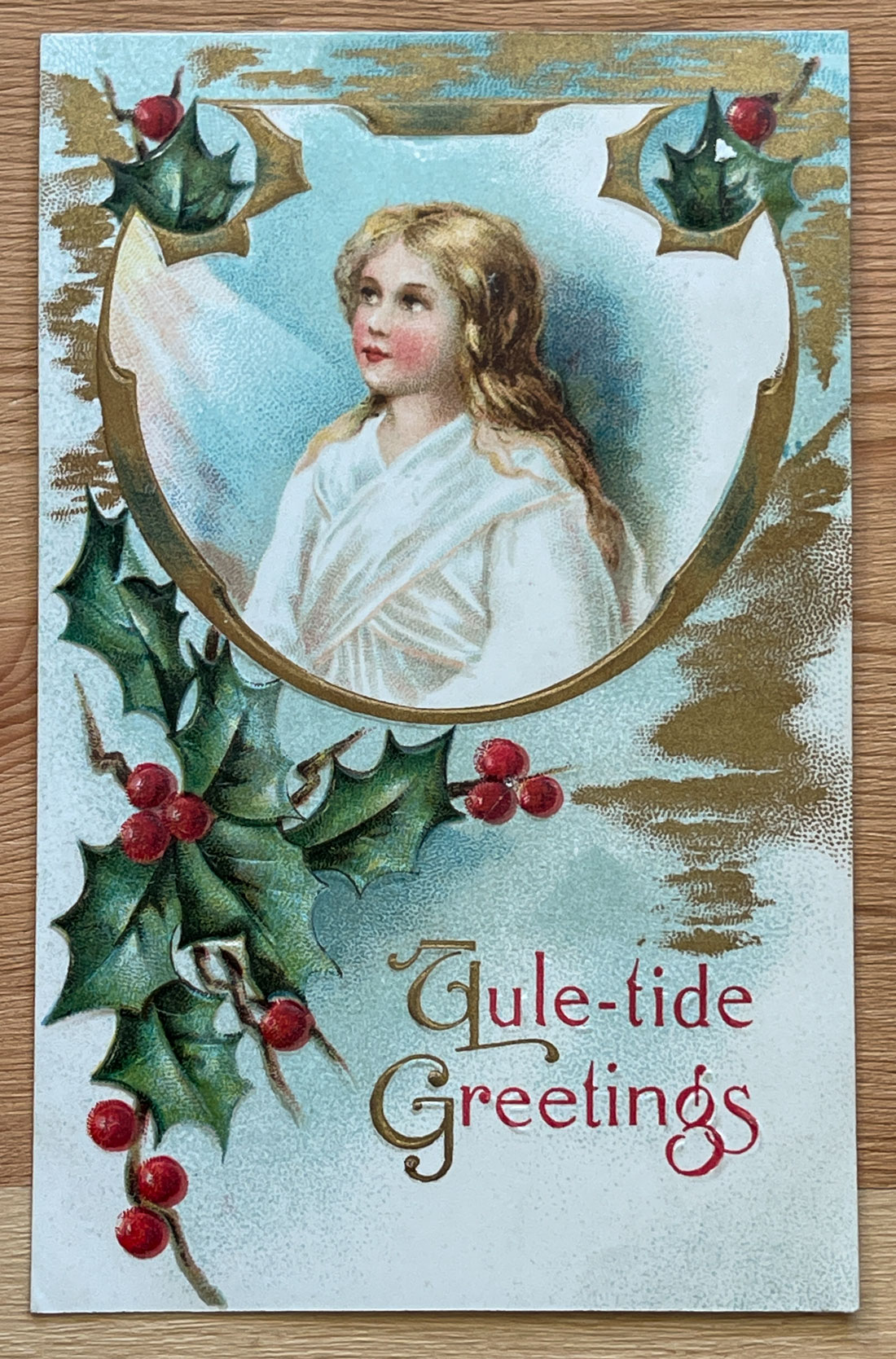 Idyllic illustrations of children and Gothic fonts have always been popular on Christmas cards, such as these from my family's album.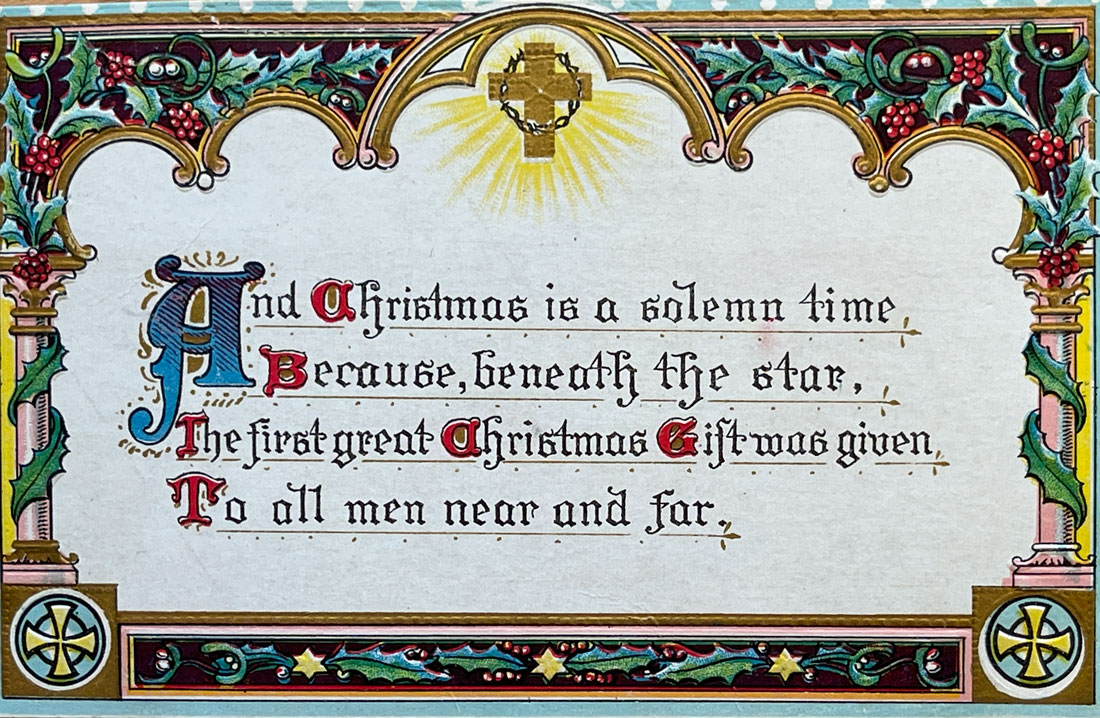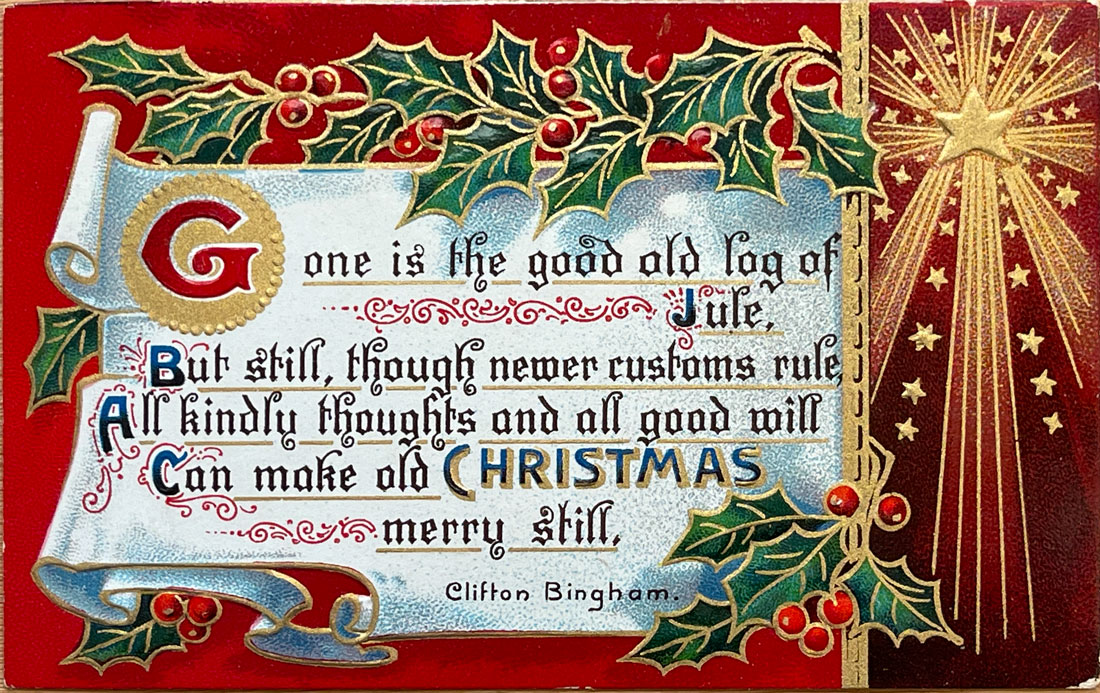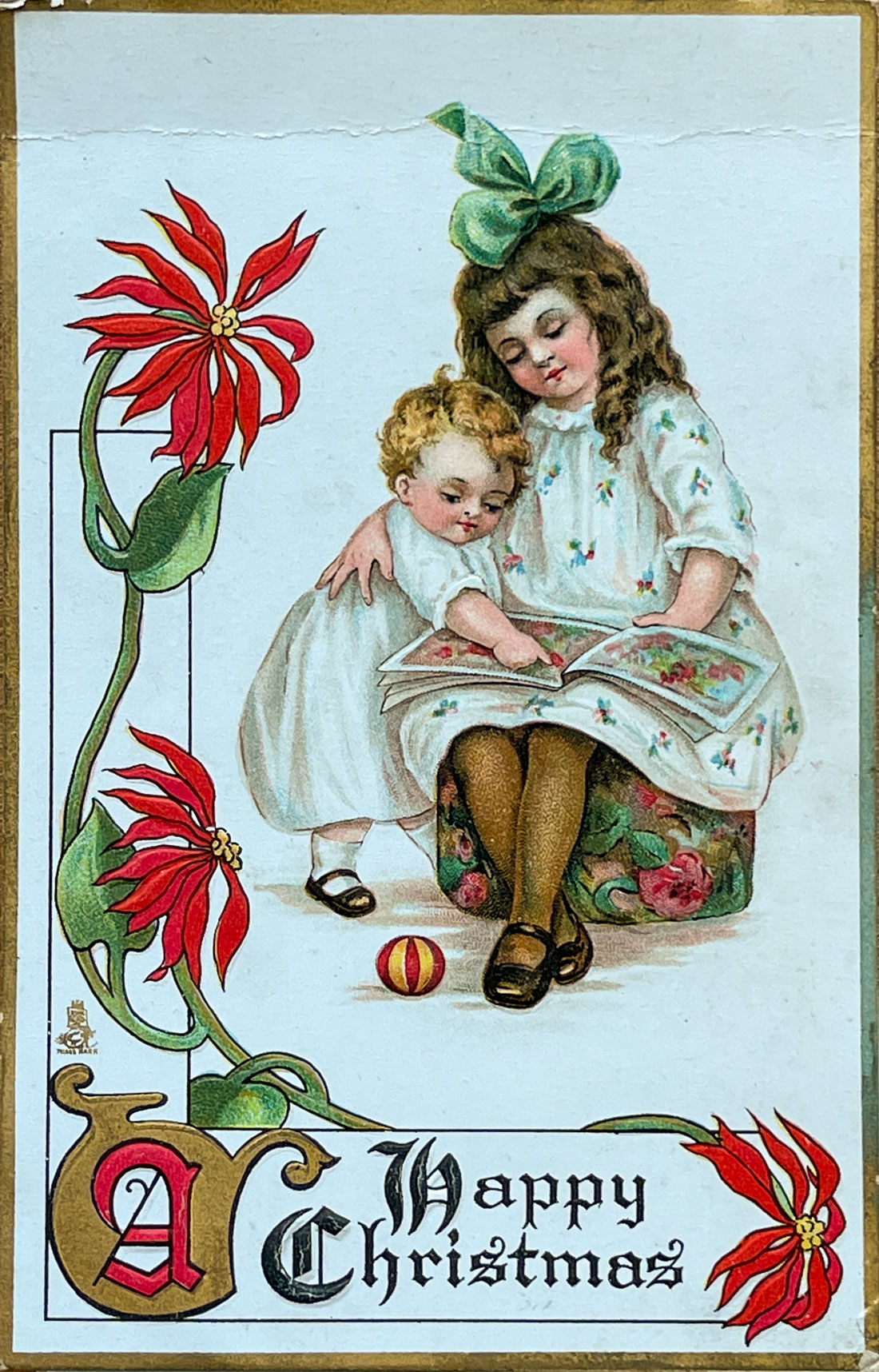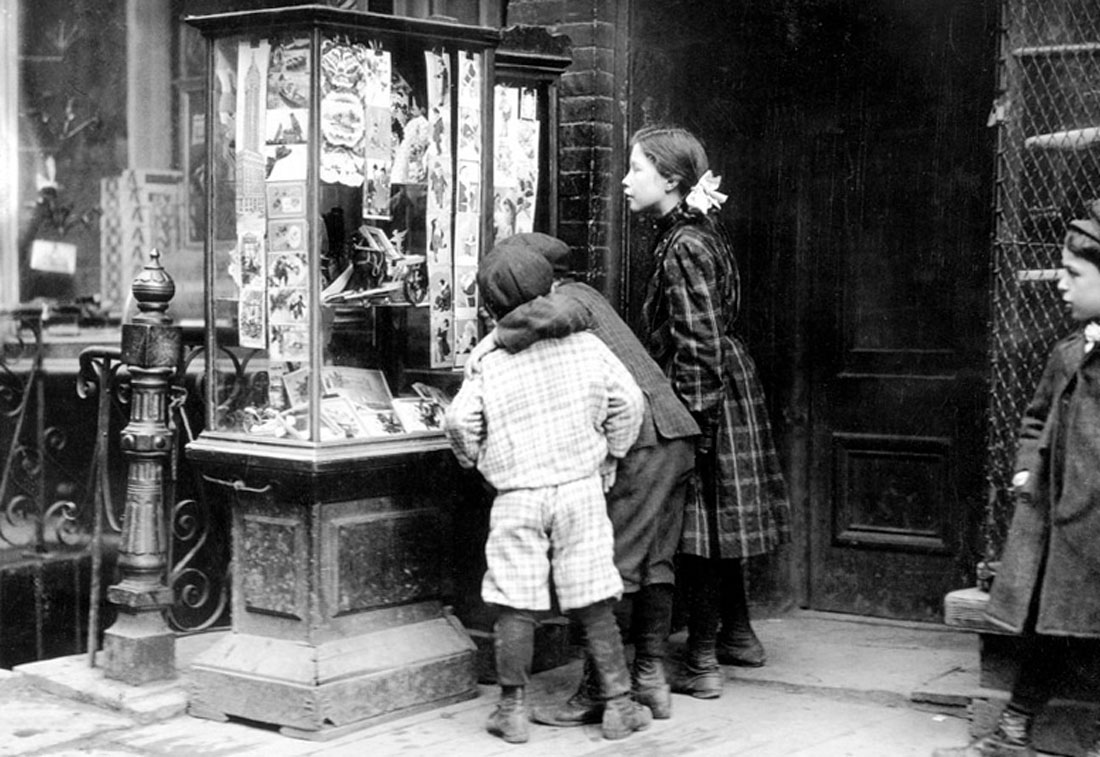 Children looking at a Christmas card display in 1910. Public domain.
Offset printing inspired the Hall brothers, today known as Hallmark, to start printing holiday cards in 1915. The company used a new format for its cards – four inches wide, six inches high, folded once and in an envelope. The reasoning was that the format allow people room to write what they wanted to. This format remains the industry standard. The cards provided an image of peace on the home front to soldiers during World War I.
By the late 1920s, there were 40 U.S. card-making factories. Not everyone was pleased. In 1928, Samuel Grafton of The North American Review wrote that the goal of such companies was to convince people that sending Christmas cards was an old custom and to make "you think yourself a feverish yellow cur if you do not invest each December in seven dollars' worth of assorted glue and ink and paper." Grafton suggested that consumers were "behaving like sheep" by letting themselves fall for such manipulation.
Christmas cards have survived, however, because they are a happy solution to the problem of how to express one's feelings and experiences to family and friends in a joyful way. The cards are symbols for feelings.
Colorful Christmas cards with Santas, stars of Bethlehem, and cheerful messages became popular in the 1930s-1950s. Famous artists such as Salvador Dali, Grandma Moses and Norman Rockwell designed Christmas cards, some of which still are reprinted. Christmas cards of the 1940s and 50s were decorated with abundant feasts and children.
Wars and international trade and travel spread Christmas cards far beyond the bounds of traditionally Christian countries. They are popular items of exchange in China, Japan and other Asian countries. In some non-religious countries, New Year cards with many of the same decorative motifs are exchanged instead of Christmas cards.
The first Christmas stamp by the U.S. Post Office depicted a wreath, two candles and the words Christmas 1962. The 350 million 4-cent stamps sold out and had to be reprinted until a billion were distributed. Many countries produce official Christmas stamps, and the German post office in 2004 gave away 20 million free scented stickers to make Christmas cards smell of a fir Christmas tree, cinnamon, gingerbread, a honey-wax candle, a baked apple and an orange.
In the 1960s, personalized Christmas cards became popular along with color Kodak prints. Mobility was at a post-war high, and cards were a way to communicate with distant friends or family. The most popular Christmas card ever, with an illustration of three angels one of which has its halo askew, is from the 1970s and is still sold. Metallic foil finishes and glitter on cards was part of the glitzy fashion of the 1980s.
The advent of digital technology in the 1990s changed the purpose of Christmas cards and resulted in a decline in their popularity. Because of social media, most people are up-to-date on their friends' and families' lives, so Christmas cards are sent not to inform each other but to express emotion. Some say they are an opportunity to do something special and thoughtful in an era when people get much less mail. Christmas and New Year's cards have expanded to include Hanukkah, Kwanzaa and Winter Solstice cards, or just ones that say Happy Holidays.
Many people have stopped sending cards, but studies show that a significant portion feel guilty about not doing so. Others use printing services that allow mass-produced cards to be customized with family names, photographs and other information.
More than 1.6 billion greeting cards still are sent annually in the United States, a large portion of which are Christmas cards. Some of the most innovative are made by small niche publishers and sold in gift shops and paper stores. They include pop-up cards, video and audio cards and those for particular audiences.
One of the most prestigious Christmas cards is the annual White House card. Queen Victoria was the first British monarch to send official Christmas cards in the 1840s, but most governments do so today. Franklin Roosevelt was the first U.S. president to send Christmas cards and Dwight D. Eisenhower sent the first official White House cards. The cards usually depict White House scenes painted by prominent American artists. In 1961, 2,000 were sent out yearly, but now more than a million are. A former neighbor of ours who worked as a helicopter pilot at the White House for several presidents has a prized framed collection of them.
Christmas cards have always been collectors' items. Queen Mary's large collection is in the British Museum in London and a number of museums display card collections during the Christmas season. Some collectors acquire only certain types, such as Santa ones, or ones produced by certain printing techniques. The most expensive Christmas card ever was one of Sir Henry Cole's 1843 cards, which sold in 2001 for 22,250 British pounds.
Christmas cards follow trends in style and production. A revival of paper crafts and scrapbooking in recent decades has brought with it an interest in card making and tools for stamping, punching and cutting them. Digital printing and photography have enabled people to design and print their own cards.
Concerns about the environmental impact of Christmas cards has resulted in card recycling organizations to which celebrities have lent support. Some have raised money for reforestation projects.
Check out these related items