Apocalyptic Outing
Posted by Donna Rouviere Anderson |
October 19, 2020
Photos by Forrest Anderson
2020 – adjective and noun
A synonym for weird or disaster.
"That Saturday outing was so 2020."
—
I should have known that things were going south Saturday morning when yet another Amazon package arrived and my husband opened it to find not the new Nike shoes he had ordered but a smelly, dusty old used pair of Adidas.
Forty-five minutes later after making his way through phone trees and several Amazon customer service employees, he had gotten his money back and was back to where he had been before he ordered the shoes. That would be wearing an old pair of Nikes with holes in them.
I, meanwhile, was continuing a week-long quest to find a cream-colored 20" zipper for a jacket I was sewing. I had already gone to two stores in search for one, only to find that they weren't keeping their zipper displays restocked because of low customer demand amid the pandemic and that the zipper I wanted was out of stock. Two other stores contacted by phone had the same problem.
Etsy finally came to the rescue, but only after I exchanged several messages with a nice man named Jeff whose Etsy store's on-line menu wasn't working right but who agreed to handle my order via message. Ah, the joys of interacting with a helpful human while shopping online!
I then sat down to read the New York Times, which advised me that I need to prepare to protect my mental health during the upcoming surge in COVID-19 between November and January when I will be home contracting cabin fever.
I hadn't noticed that my mental health was in particular peril, but now I thought, "Good grief, you're right! Things have been pretty intense, what with working remotely, not getting out much lately and getting a flu shot from a pharmacist wearing a shark Halloween costume. We need a mental health break."
But where to? There aren't a lot of safe public places to go to in a pandemic, and our state currently is one of the nation's hot spots. We fell back with our standard 2020 thud on "let's go for a nice relaxing drive in the mountains. We can see the fall colors and then drive through Park City (Utah) and look at the cute houses."
Thus ensued the Apocalyptic Outing. Heading through Provo, Utah toward Provo Canyon, the first thing we noticed wasn't the fall colors, but that the area's most prominent landmark, the much loved Mt. Timpanogos, was on fire.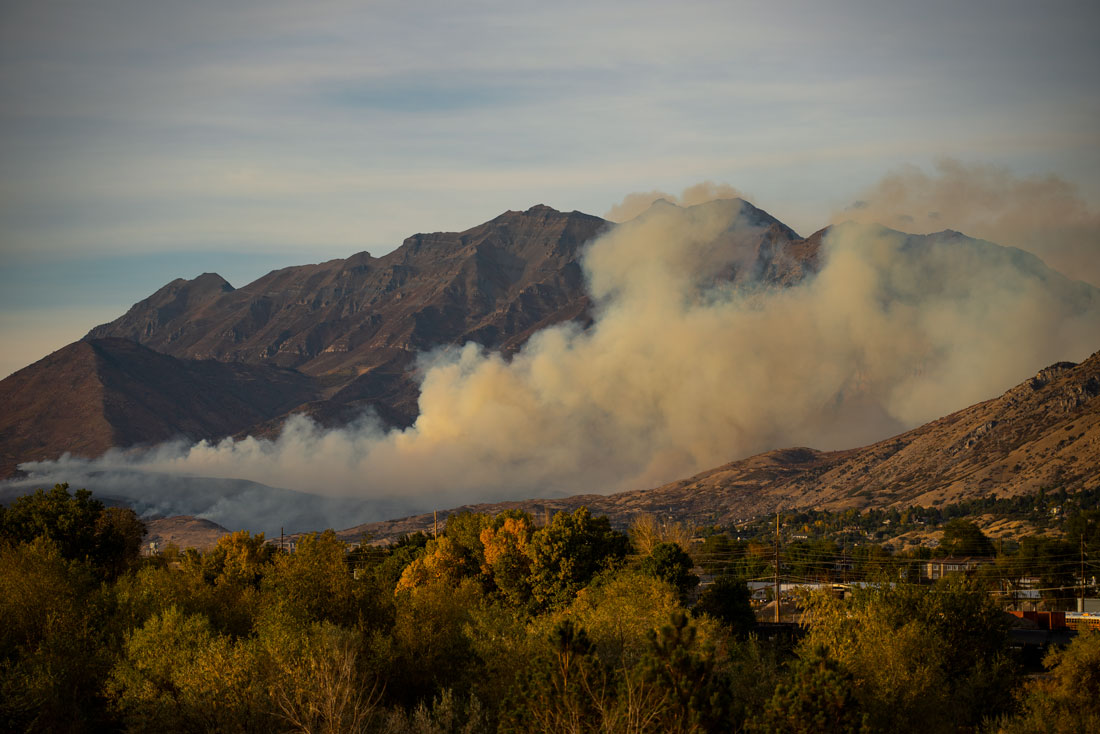 A wildfire was leaping along the peak's south bench, threatening homes and, we later found out, the nearby town of Orem's water system.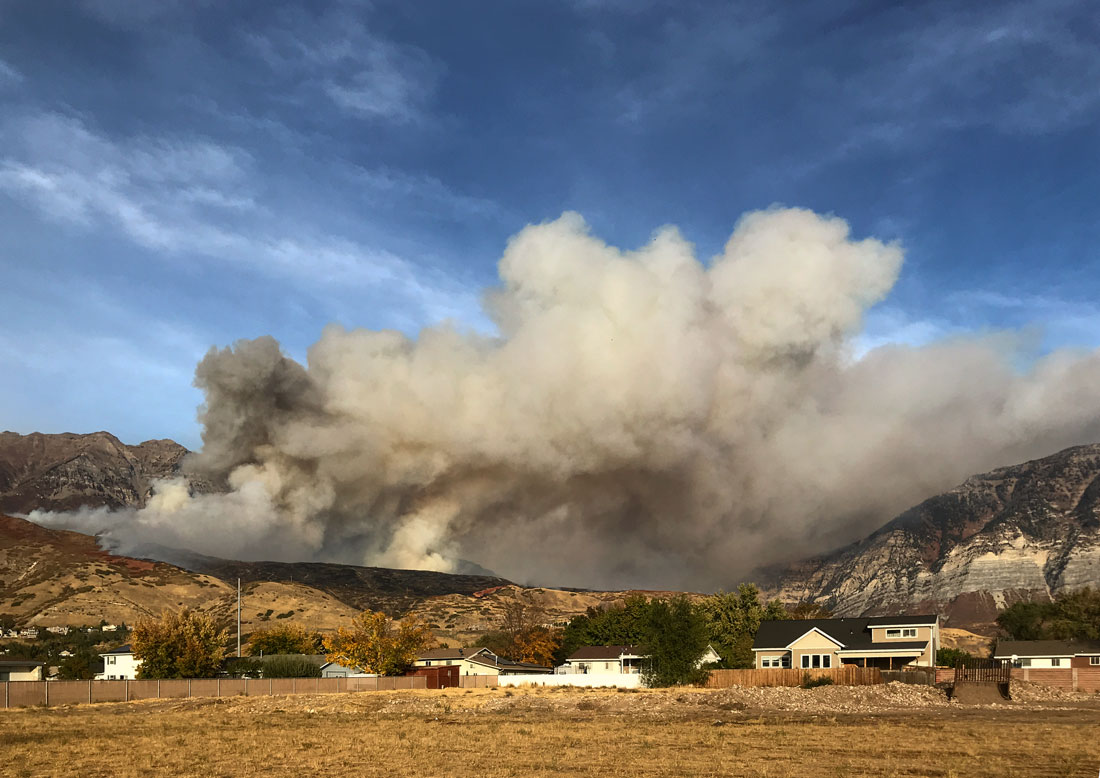 The fire was issuing forth plumes of black smoke that were billowing high above the 11,000-feet-high mountain while helicopters and a plane dropped water and fire retardant.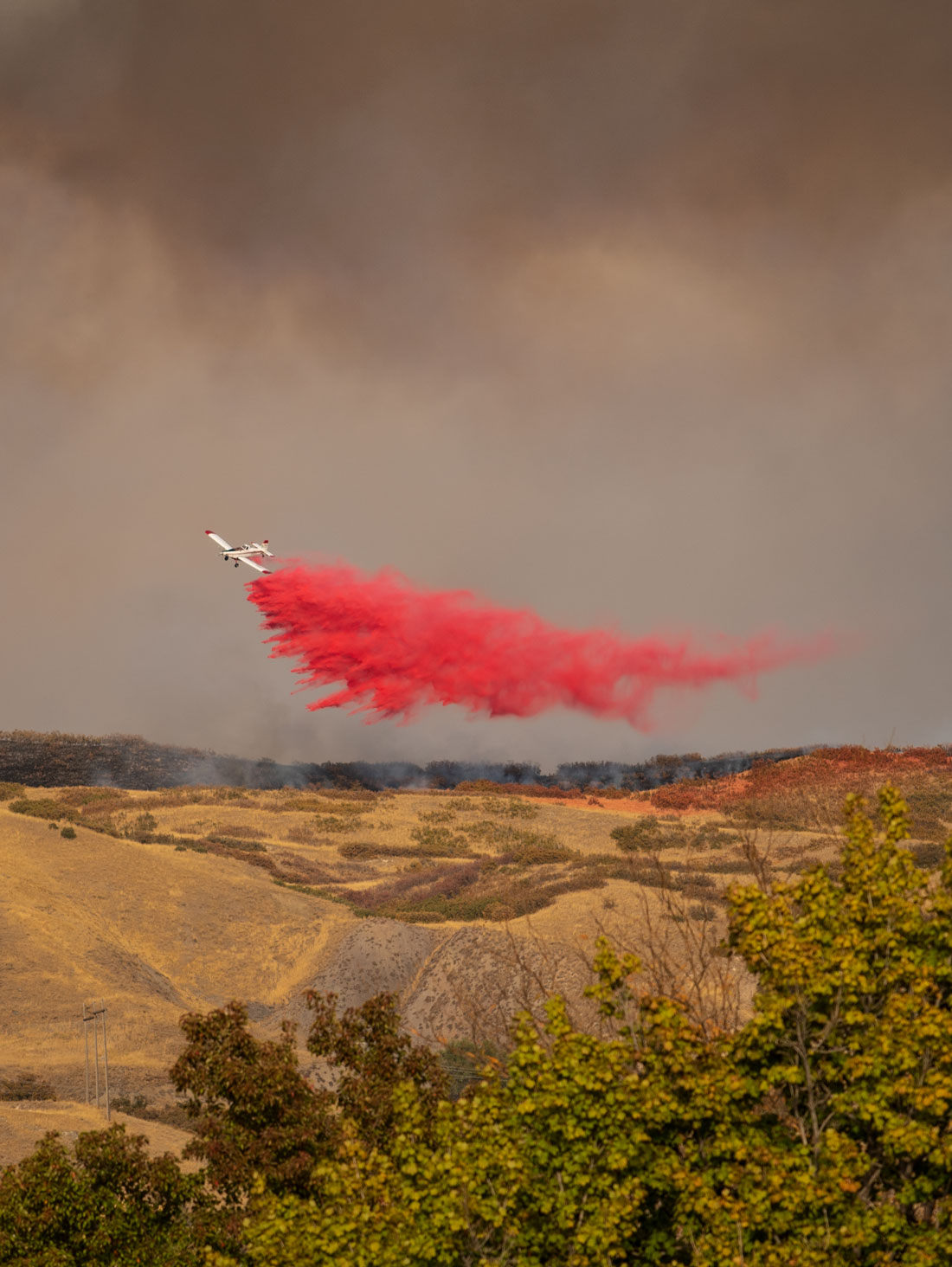 We're used to fire and smoke, having had a wildfire burn within a mile of our house for several days this summer while we kept emergency kits, vital documents and a suitcase of clothes at the ready in case we had to evacuate. Our valley also was blanketed with smoke from California fires for several weeks.
Still, we weren't prepared for the scene we saw as we entered Provo Canyon and watched in horror as a swath of the mountain blackened while flames crept toward the highway we were on.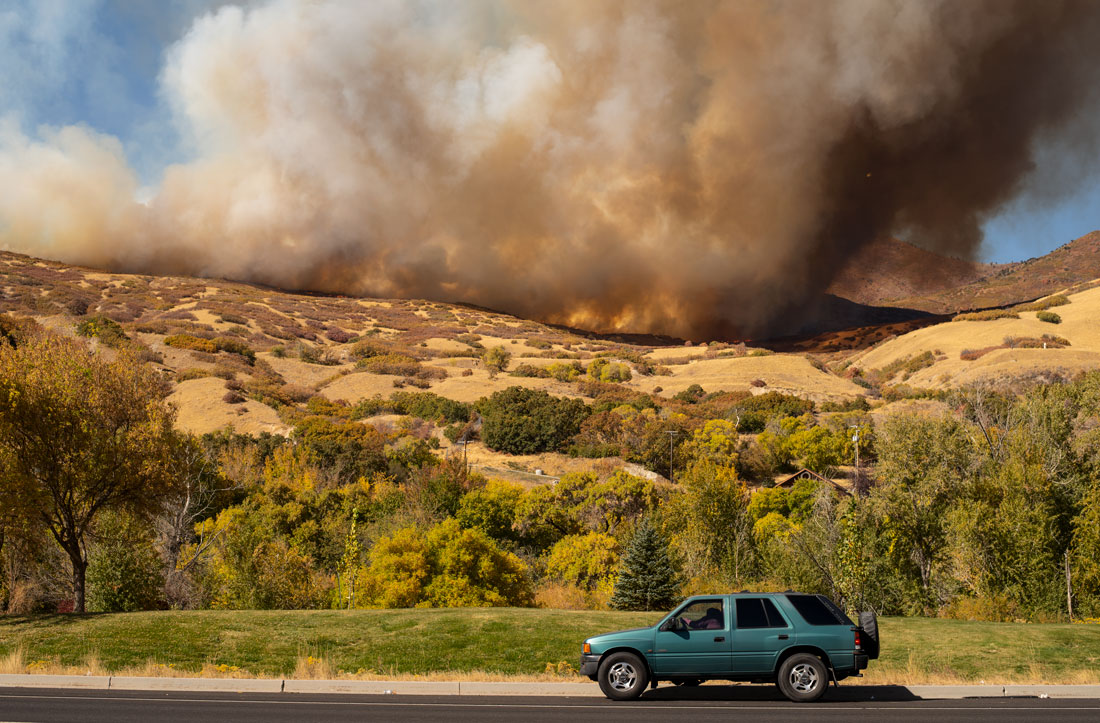 Moving on through the smokey canyon, we abandoned the notion of nice fall colors and headed for Park City. It was there that we ran smack into the second peril that the New York Times had warned about – that many pandemic-weary people were partying in public for a last hurrah before hunkering down at home for the winter and they shouldn't be doing that.
Well, New York Times, I can tell you exactly where they all were on Saturday – on Park City's narrow main street. Every parking space was full and crowds of people were strolling down the sidewalks, almost none social distancing and about half wearing masks. We watched through rolled up car windows as they entered shops, galleries and restaurants.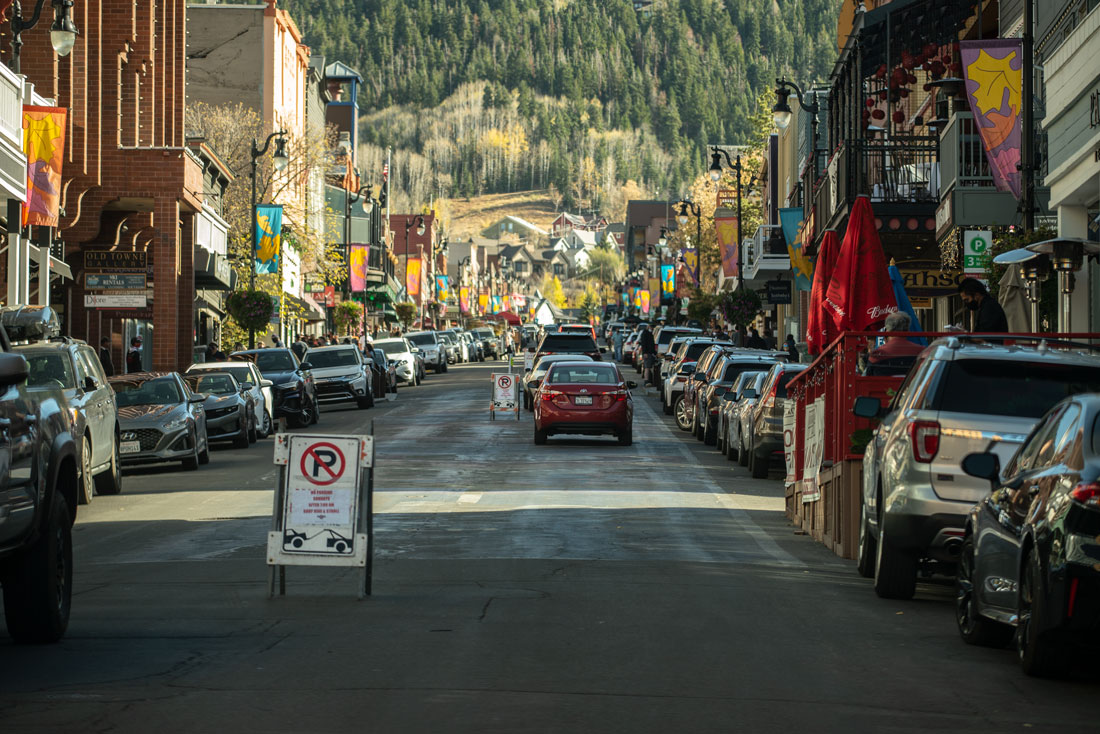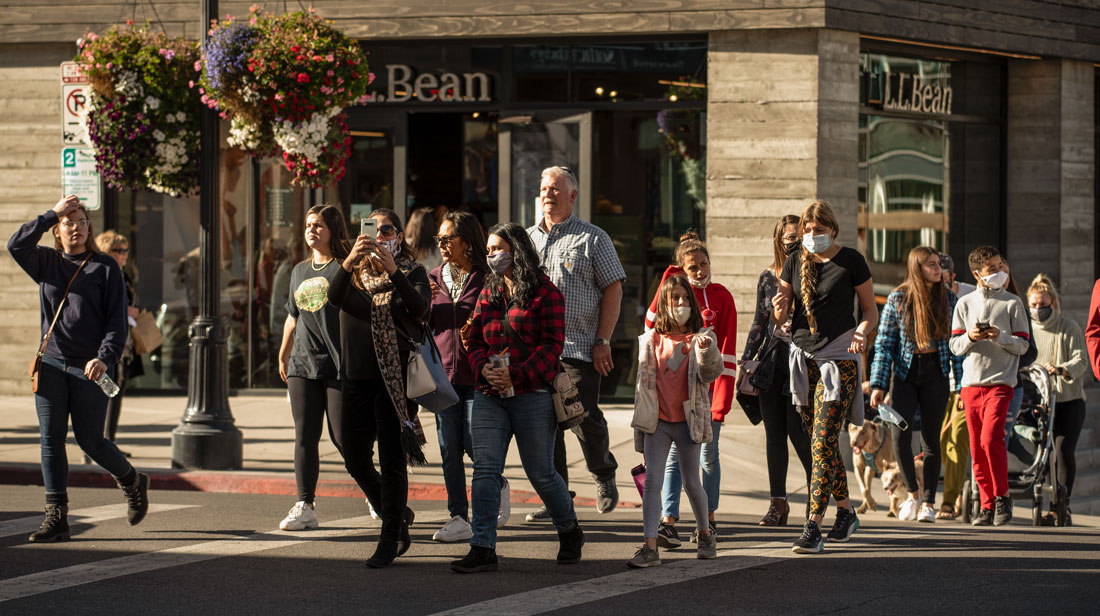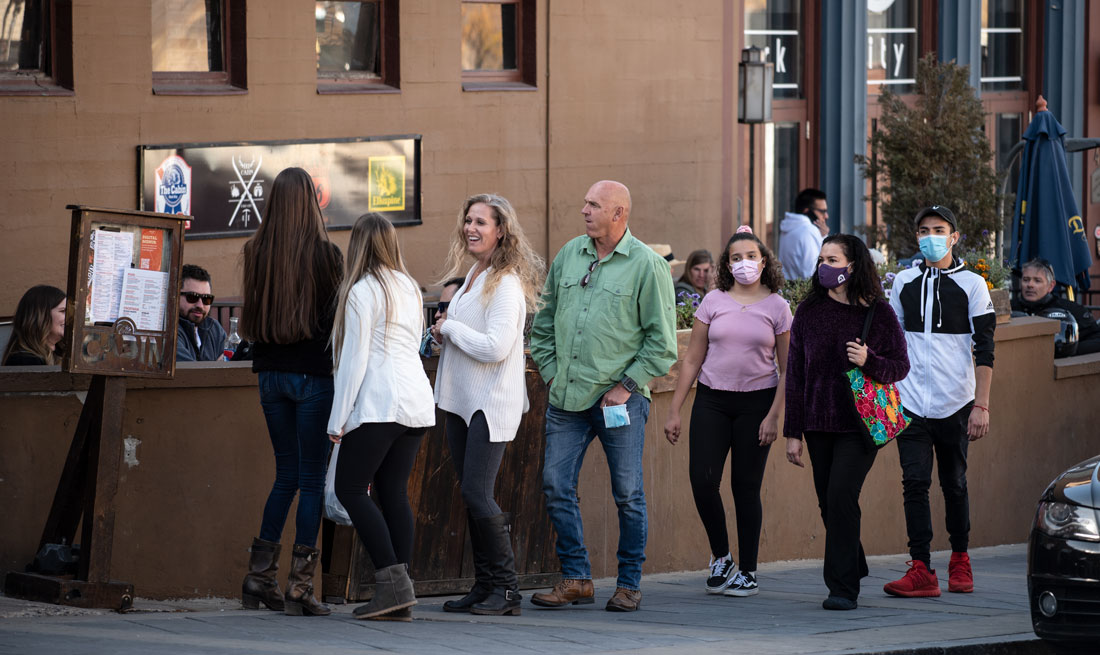 Park City, a picturesque former mining town that is now a booming ski area attracting tourists from all over the world, has had among the highest COVID numbers in the state during the pandemic. It was hard to see how this scene wouldn't develop into a super spreader. This crowding was happening in a state that is worried about more than 70 percent of its intensive care units being filled and in which health officials are saying almost every county is experiencing "very high" rates of new cases.
We drove through Park City and headed back to Provo Canyon, where we met apocalyptic scene no. 3. The famous canyon's steep walls and gorgeous fall foliage by this time were obscured by thick smoke tinted a weird red by an afternoon sun. The fire had grown to 1,500 acres and prompted evacuations of houses in the area (by Monday, it was up to 3,000 acres).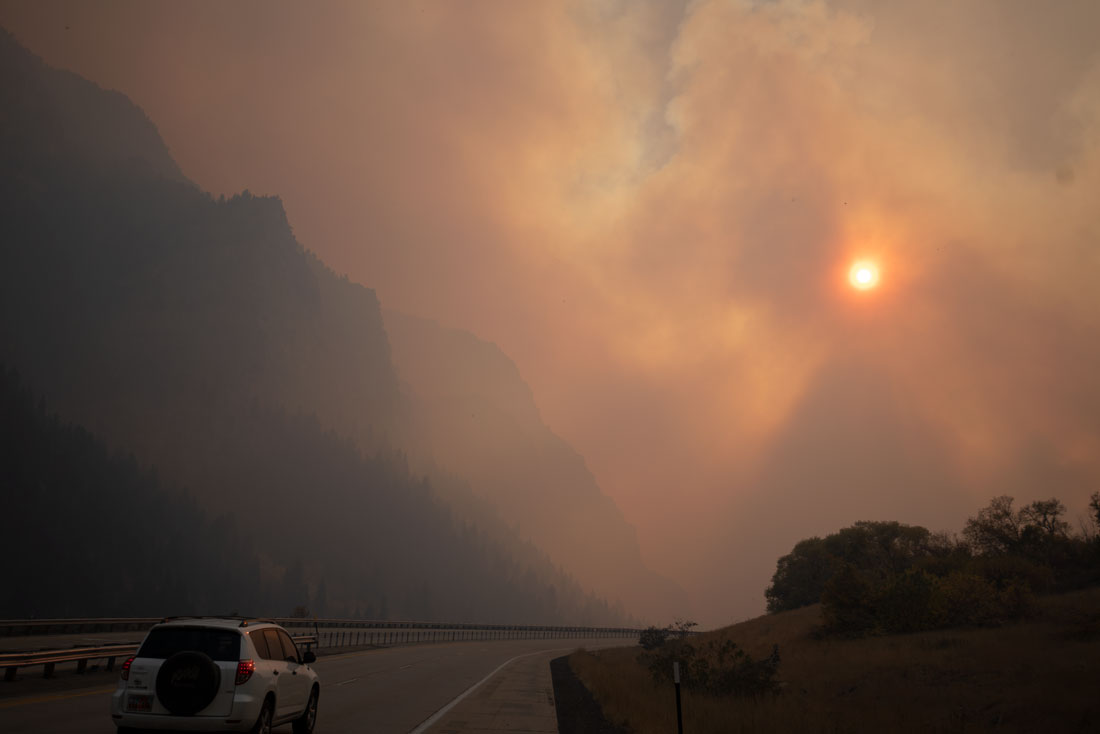 Emerging from the canyon just before it was closed to traffic, we found ourselves in the middle of apocalyptic scene no. 4 – a political rally in which vehicles were waving flags on which was an image of the president of the United States riding on a tank and carrying a gun. Other flags mounted on trucks were emblazoned with a mixture of profanity, religious slogans, "Don't Tread on Me" with its snake symbol, campaign slogans, skulls and a controversial black and white striped U.S. flag with a single blue stripe that began as a symbol of support for the police but also has been flown at white supremacist rallies.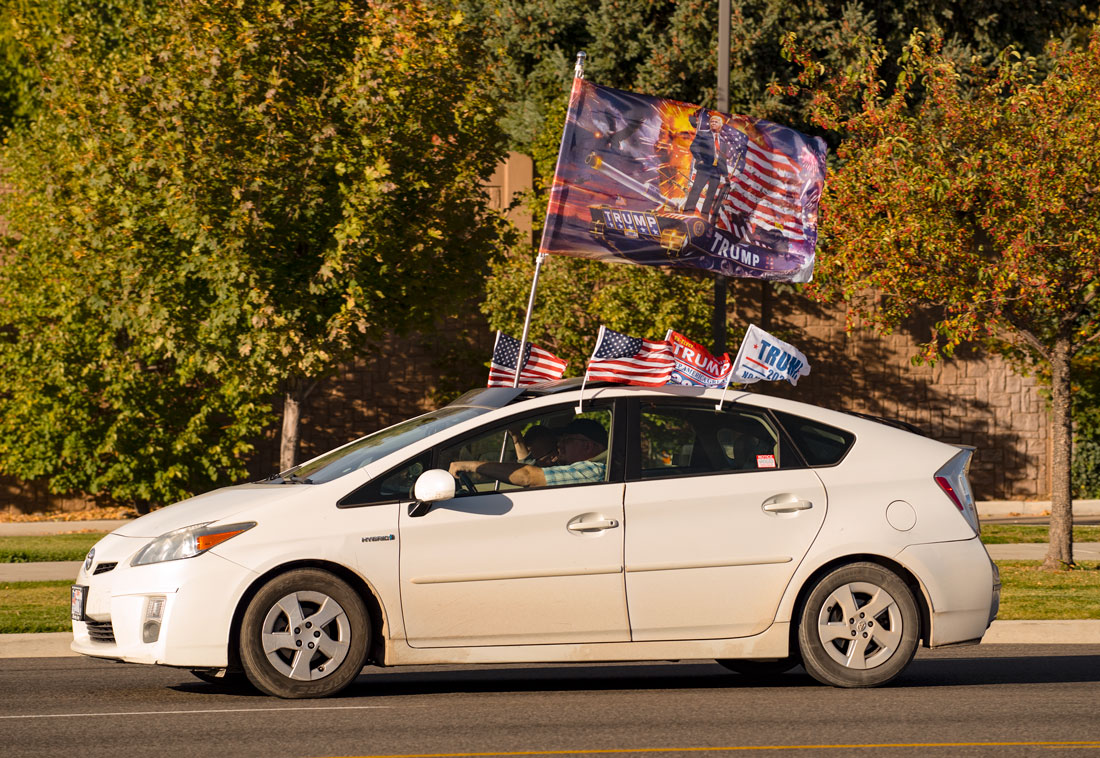 Some attendees were in military-style gear and others in T-shirts with political slogans. Not so many masks. Beyond the event itself, the other unreal thing was that it was carrying on as the mountain above it was on fire.
Whatever happened to photos of politicians that depicted them as ordinary people, not banana republic dictators in military parades? And what happened to benign and usually boring political rallies where people ate hot dogs or barbecued ribs, asked politicians civil questions at a photo app that appeared on the news (maybe) and (in pre-pandemic days) took home a balloon and a bumper sticker?
Some restful outing. We gave up and headed home, pulling into the driveway of our quiet, peaceful house with a collective sigh of relief.
So much for cabin fever. We felt like we had just gotten a complete cure for it. As far as preparing my mental health for what's ahead, I'm good. Cabin fever has nothing to offer that's anywhere near as nutty as going out my door in 2020.
Related photos:
Check out these related items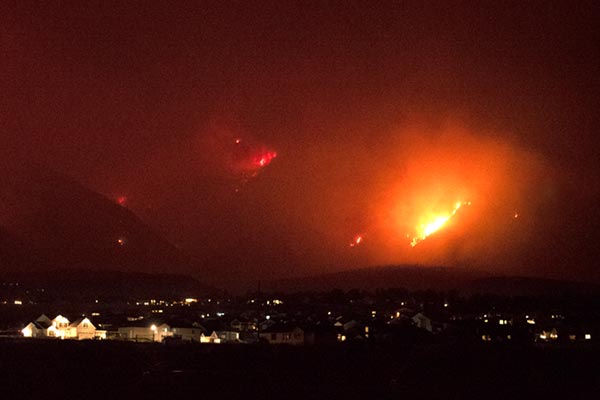 Are record wildfires the new norm in the West? As fires threaten homes and communities, here are answers to questions about them.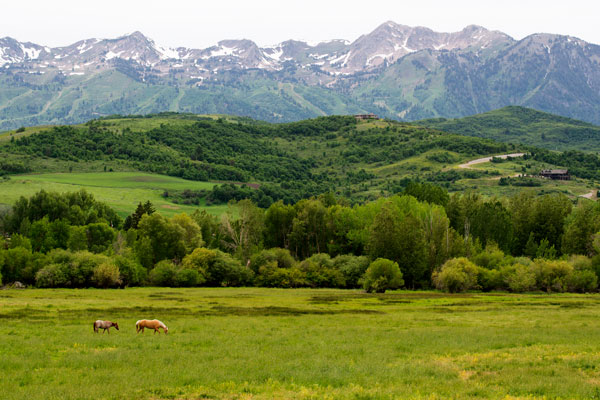 Vacationing at home looks to be the main travel trend for the near future. Here are some ways to enjoy it.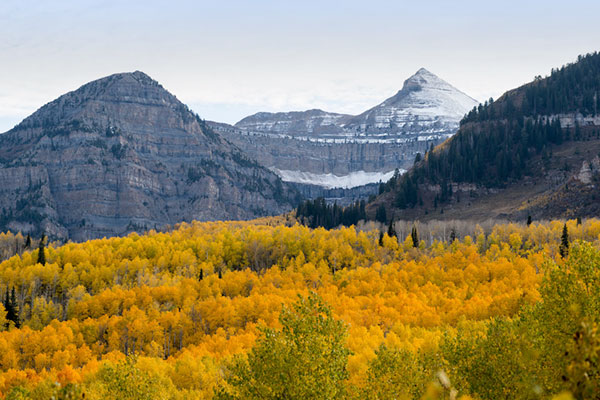 The Wasatch Back is the chief year-round playground for residents of the booming Wasatch Front in Utah.